Whether your event is a citywide or small conference, it's important to make the most of your budget. Savvy planners are always cost conscious and looking for ways to stretch every dollar spent on every event. Events held in the Eugene, Cascades & Coast region of Oregon automatically save without having to do a thing because there is no sales tax.
You read that right. You can save up to 10% just by hosting your event in the region. Think about it. That means savings on venue rentals, food and beverage costs, audio visual equipment and vendor fees. The savings really do all add up and that means you have that extra money to add a reception, an offsite dinner or a fun team-building experience.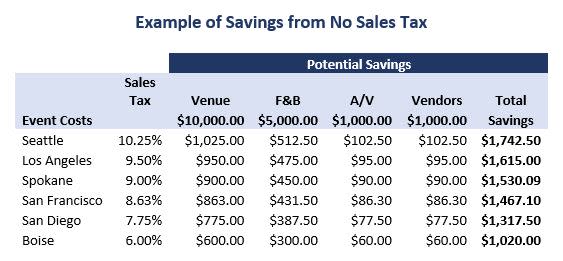 In the example above, it's easy to see how the savings start to stack up just by choosing to host your event in the region. What could you do with the savings?
Beyond the savings on the event itself, attendees will love saving money too and enjoy coming to shop for all the unique things the region has to offer. Whether they are interested in specialized running gear, fishing accessories or clothes and fashion, this is the place for attendees to get the goods at a discount. We hear stories all the time from attendees that buy higher-priced goods while they're here, too. The savings on purchases like computers, designer handbags, clothes, luggage or jewelry goes right back in their pocket to help their travel budget.
The savings add up for attendees when exploring the rich culinary scene in the region, as well. There are exquisite dining experiences to be found from James Beard nominated restaurants like Lion and Owl to beautifully crafted farm-to-table Pacific Northwest cuisine from restaurants like Marché and rye.
You can save even more money just by hosting your event in the region if your event qualifies for our Planner Incentive. Qualified events receive $5 per room night up to $3,500! Talk to Juanita Metzler, senior director, conventions, to determine if your event qualifies for the Planner Incentive and see how much you could save simply by choosing the Eugene, Cascades & Coast region for your event.
Our professional services team is ready to help every step of the way and will help build an itinerary that attendees will long remember for far more than the money they saved.
Contact Us Today

Juanita Metzler, CMP, CGMP, SEPC

Senior Director, Conventions
Juanita secures meeting and conference bookings for the Eugene, Cascades & Coast region. She manages all local and national meeting markets. She specializes in business-to-business relationship building.