Meet in a Brewery or Distillery
Pay homage to the Willamette Valley's rich agricultural basin when you choose to meet at a local brewery or distillery. The Eugene, Cascades & Coast region of Oregon has earned the reputation as a top craft beer and spirits destination focusing on sustainable brewing and award-winning craft distilleries. Get out of the meeting room have fun making your next event a brew-haha or spirited meeting.
Steelhead Brewing Company is one of Eugene's landmark breweries and opened in 1991. This spacious restaurant located in downtown Eugene features delicious food, an extensive wine list, a full-service bar and friendly staff. Brewery tours are offered for attendees that are curious about the inner workings of the brewery. A private party room is available to rent for groups of up to 25 people. With wifi, wheelchair accessibility, and two flat screen TVs, this room is perfect for hosting a team-building event or department retreat.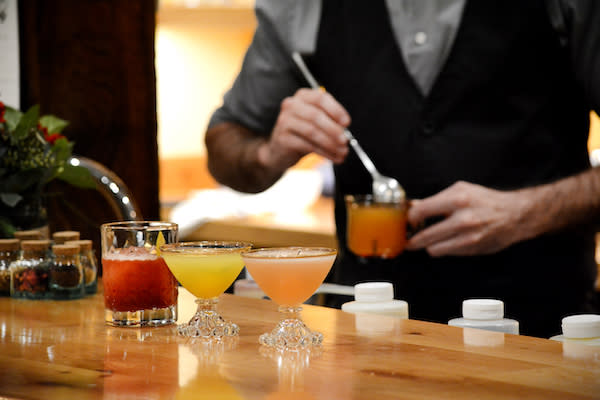 Thinking Tree Spirits by Colin Morton
Thinking Tree Spirits is a craft distillery in the heart of the Whiteaker Neighborhood of Eugene that produces gin, vodka and rum. Focusing on farm-to-flask, they source all of their products as locally as possible and distill from scratch at their location. For events, there is a semi-private Whiskey Lounge that is available to rent with a capacity of 20 people. There is also a 600-square-foot outdoor patio with heated and covered areas for events of up to 75 people. To add an extra touch to your gathering, take your attendees on a tour of the distillery.
Perpetuate better living in the Whiteaker Neighborhood when you book the Ninkasi Better Living Room. Bringing favorite Ninkasi beers together in a restaurant and gathering space, the Ninkasi Better Living Room offers event space options that can be semi or completely private. The Private 3rd is a floor bar and patio that is great for events between 25 to 125 people. 
The Ninkasi Training Room is an elevated meeting space that overlooks the beautiful Better Living Room backyard and centerpiece tree. This space is perfect for company meetings of 10 to 35 people. If a space with more extensive event-related technology is needed, the Ninkasi Entertainment Room is a private room that can host up to 65 people, with a large-format projector screen, multiple TV's and microphones. This room is ideal for company presentations, post-convention happy hours, etc. If you are looking for a space that can host a large group, the 272 Tasting Room is a mostly outdoor space suited for larger events of 150+ people. Ninkasi also offers the option to rent out the entire Better Living Room if the event needs to be completely private. Ninkasi's full-service kitchen features a menu of locally sourced items and all are available for any hosted event.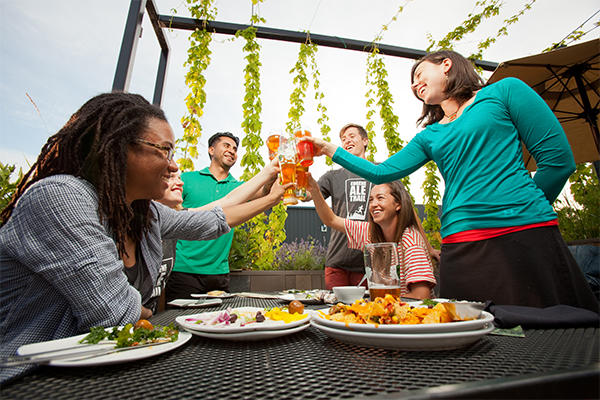 Hop Valley Brewing Company courtesy of Eugene, Cascades & Coast
Another Whiteaker Neighborhood original, Hop Valley Brewing Company's tasting room is a summer favorite because of the fantastic outdoor patio that is shaded with hops and has overhead misters for hot days. Hop Valley is a great place to discover great craft beers and tasty food options while listening to a speaker or attending a post-conference event. Hop Valley's Barrel Room is a more private group option and can accommodate groups from 10 to 100 with a mix of comfortable and cozy seating. Additional space and seating can be found on the patio. A fully stocked bar with a diverse selection of wine and spirits is available for patrons that would prefer variety in their selections. Hop Valley is also available to do catering and other special events on request. 
Since 2005, the Bier Stein Bottleshop and Taphouse, a European-style bottleshop, has featured Eugene's largest beer selection. Offering more than 1,000 bottled beers and more than 30 on tap, the Bier Stein's knowledgeable staff is there to help in choosing from their vast selection. A semi-private, wheelchair-accessible back bar area is available for events and can seat 30 people or host 50 people standing. The Bier Stein also offers a catering menu and/or a private bartender for events. 
Just a short walk from downtown Eugene and the University of Oregon campus, Elk Horn Brewery is a gastropub serving delicious Southern-style food with a Pacific Northwest twist. A variety of craft beers, perrys and apple-based ciders are served daily. Elk Horn Brewery is located in a renovated two-story building with the brewery located just below the restaurant. A wheelchair-accessible banquet room is available to rent for events with a capacity of 50.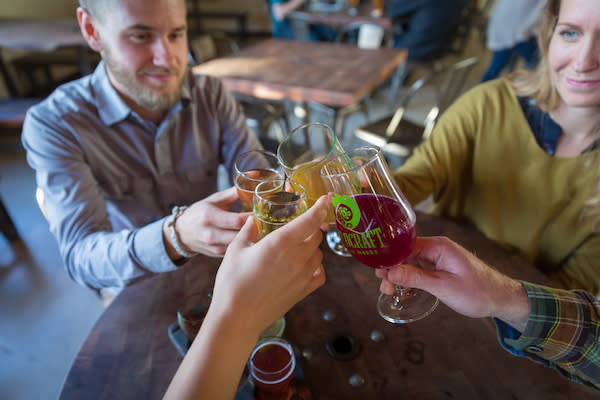 Wildcraft Cider Works by Michael Sherman
WildCraft Cider Works is an incredible cidery in Eugene with space to host an event for up to 250 people. Amenities for this creative-inducing space include a full stage, a sound and lighting system, built-in sound baffles and deflectors for high-quality sound, a horseshoe-shaped bar, a full kitchen, a banquet countertop for serving food and a private dressing room with a bathroom. WildCraft's spontaneously fermented dry hard ciders, perries, and pommeaus are as unique as the Willamette Valley landscapes from which they hail.  
Heritage Distilling Co. is among the top premier craft distilleries in the United States. Heritage Distilling makes a variety of whiskeys, vodkas, gins and rum from as many local ingredients as possible. The upstairs mezzanine lounge is the perfect place for small gatherings up to 49 people. Outside catering is welcome.
Just a few steps away from the Gordon Hotel and just across the street from the Graduate Hotel, the newly remodeled 6th Street Grill is a Northwest-style restaurant that offers special event and meeting space. The space can fit up to 100 people in a 'mix and mingle' style set-up or up to 55 people when seated. With a big screen for presentations, the 6th Street Grill is the perfect location for business meetings and networking events. The room and menu can be dressed up or down to create the right atmosphere. Catering can also be customized to suit different needs. Food options include steaks, seafood, gourmet pastas, burgers, salads and more. 
Claim 52 Brewing is a small craft brewery serving Eugene since 2012. Claim 52 Brewing offers dank and hazy IPAs and extremely fruited sours at their two locations - Taproom at the Brewery and Claim 52 Kitchen. With seating for about 30 people, Claim 52 Kitchen's room layout can be customized for your next event or work meeting. Full A/V, a catering menu and a dedicated server are just a few of the available features. They also offer beer, wine, cider and kombucha on tap. The food menu includes small plates, appetizers, sandwiches and salads. Garage doors that open to the outside make this is a great spot for summer events.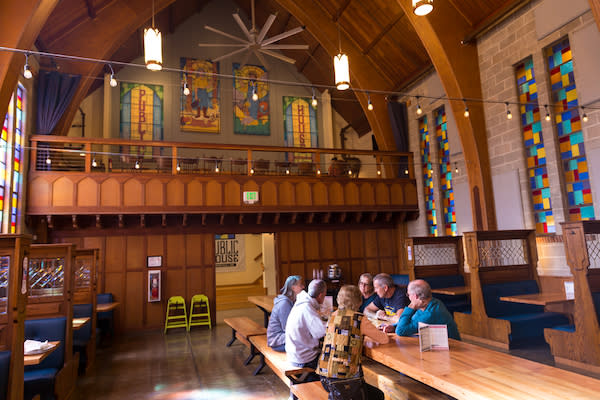 PublicHouse in Springfield by Joni Kabana
Located in downtown Springfield, PublicHouse is a great place for attendees to gather to enjoy great food, beer and conversation. Formerly a First Christian Church, PublicHouse has quite a unique atmosphere. From the beautiful stained glass windows to the ornately carved booths, at PublicHouse attendees feel transported back in time while still having all the modern amenities. PublicHouse has a semi-private banquet room with a capacity of 30 people. The space is wheelchair accessible and has wifi. Food options from the vendors located in-house vary from Indian fare to pizza. The Beer Hall, Whiskey Lab and Outdoor Arbor Bar round out the space and offer great beer, wine, cider and cocktail selections.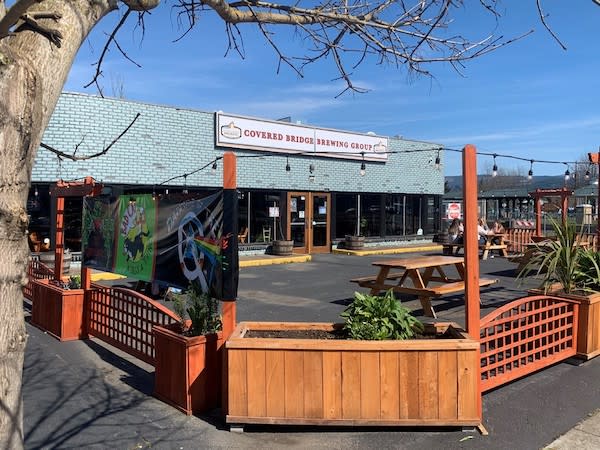 Covered Bridge Brewing Group courtesy of Eugene, Cascades & Coast
Just outside of Eugene in Cottage Grove, the Covered Bridge Brewing Group is a brewery with great passion for craft beverages. Their award-winning beers and ciders have garnered accolades from the World Beer Cup, World Beer Awards, and several others. There is a completely private conference room available to rent and can fit up to 15 people inside. Their Back Beer Garden is home to three great food trucks, a stage with regular entertainment and a host of heaters all under coverings. The Beer Garden is available to rent and, combined with their conference room, can host up to 60 guests. 
Tucked away in the mountain town of Oakridge is the 3 Legged Crane Pub and Brewhouse, Oregon's only real ale public house and brewery. The 3 Legged Crane aspires to be neither a restaurant nor a bar, neither a coffee shop nor a pool hall. There aren't any gambling machines, overbearing television sets, or blaring piped-in music. The classic brewpub atmosphere combined with tasty American fare complements planners seeking to create a more outdoorsy event experience for up to 50 people. Outdoor seating can raise the capacity by 40. Offering great views of the mountains, the 3 Legged Crane is truly a one-of-a-kind space to host your next event as Oakridge is one of only two cities in Oregon completely surrounded by National Forest.
Make your next event memorable and try some fantastic craft beer or spirits when you choose to Meet & Explore in the Eugene, Cascades & Coast region.
Contact us today!

Juanita Metzler, CMP, CGMP, SEPC

Senior Director, Conventions
Juanita secures meeting and conference bookings for the Eugene, Cascades & Coast region and manages all local and national meeting markets.