Whenever I travel I always ask the locals and the hotel concierge the same few questions: "Before I leave your town where should I eat? and "What is the one food that I should sample?" So, when you are my guest in the Eugene, Cascades & Coast region here are my tasty tidbits to answer those tasty questions!
Hummus – UO Catering Department makes amazing hummus from scratch using locally grown garbanzo beans (OR & WA). The end result is a creamy texture full of amazing flavors. Dip their homemade pita bread into this savory treat and you will wish you had a larger plate. You can find this yummy treat at the UO campus Fresh Corner Market in the Erb Memorial Union.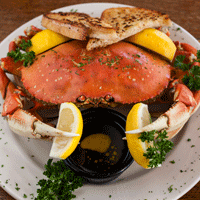 Dungeness Crab Cakes – Bridgewater Ocean Fresh Fish House in Florence makes crab cakes that melt in your mouth. Make sure that you order from the Starters portion of the menu because they will fill you right up.
Smoked Salmon Bruschetta – Rain Northwest. Think crostini's with smoked salmon and guacamole. The flavors combine for a savory satisfying sampling.
Calamari – Fisherman's Market fries their calamari crisp but not overdone. Plus, they offer sweet chili sauce or cocktail sauce for those who wish to dip. Their Northwest seafood is always fresh and you can taste the difference.
Pizza Slice/Side Salad – Pegasus Pizza.  Personally, I really enjoy their cheese pizza and Gorgonzola Pear Salad. The great combination of mozzarella on the pizza with the gorgonzola in the salad is fantastic. Plus, the pears and the walnuts are a perfect companion to the field greens. Warning, take a friend if you are looking for small bites.
Fries – Brewer's Union Local 180 in Oakridge has out-of-this-world sweet potato fries. This is a local favorite and you can request a large or small order.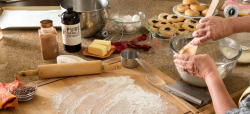 Muffins – Eagle Rock Lodge at Vida serves fresh pastries daily to their overnight guests.  Nancy's Blueberry Muffins should make you seriously consider spending the night just to be able to indulge in them. Fresh berries and a bit of lemon zest put these muffins on your must have list.
Hazelnut Sticky Bun – Creswell Bakery is noted for its made-from-scratch items and the Hazelnut Sticky Bun is a favorite. Ask to have it heated if you don't get there when it is pulled from the oven – the extra moment to do this is worth the wait.
Gluten Free Cinnamon Rolls – Jazzy Ladies Café and Coffee House. They understand how to bake and cook gluten free, in fact many of their items are gluten free. Try their cinnamon rolls – they are a treat that you deserve. They always bring a smile to my daughter's face.
Dessert Pizza – Coburg Pizza Company has 6 different dessert pizza's but I recommend the Cinnamon Roll. Just imagine the best cinnamon roll turned into a pizza – they say you can taste the love on top of it. Can't decide which dessert pizza – take a bunch of friends and try all of them. They also have 65 regular pizza's for your dining pleasure.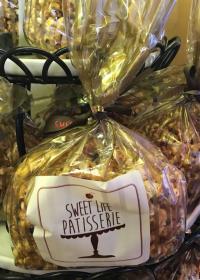 Dessert – Sweet Life Patisserie has so many decadent choices but I finally come to the conclusion that the bacon caramel popcorn is the choice for this category. The description of the popcorn says it all.   
Chocolate Dessert – Euphoria Chocolate Company, provides so many chocolate options that you need to take someone with you to get several options!  Their products are all sourced locally and their truffles are a signature piece that the locals recognize.  My favorite is the double dark chocolate hand dipped truffle with a dark chocolate center.  You can't go wrong with this selection.
Ice Cream Scoop – BJ's Ice Cream in Florence (they have 2 locations for easy access). Their Cascade Mountain Blackberry is amazing (we even found it in Fairbanks, Alaska) and the Oregon Trail is a rich chocolate ice cream with a thick ribbon of Marionberry jam and hazelnuts throughout.  What could represent Oregon more?
Now that we have eaten our way through the community we need to get out and walk it off. Did you know that from downtown Eugene or Springfield you can be at a waterfall in under an hour? So start nibbling and get ready to explore Eugene, Cascades & Coast. Call me before you decide to come for a visit/event and I'll help you with some suggestions of where to go and what to do.