Stage Your Meeting in a Theater
If you are looking for a unique alternative meeting venue with lots of seating, a screen or stage and extra amenities for a large number of guests, a theater will fit the bill. The Eugene, Cascades & Coast region of Oregon has a number of unique theater venues to consider. 
The crown jewel of Eugene's vibrant art district, the Hult Center for the Performing Arts is a regional performing arts center located in the heart of downtown. Two beautiful theaters, the Silva Concert Hall which seats 2,500, and the Soreng Theater which seats 495 people, are both perfect for meetings. The Hult Center also has The Studio, a versatile, multipurpose 3,000-square-foot space perfect for receptions, meetings, lectures and presentations for up to 200 people in a theater-style setting or 150 people for a banquet. Adjacent to The Studio is the Plaza, an open patio that can be used for overflow. A canopy, sound cart, large screen monitors and a catering/bar service rounds out The Studio's amenities. The whole facility is wheelchair accessible.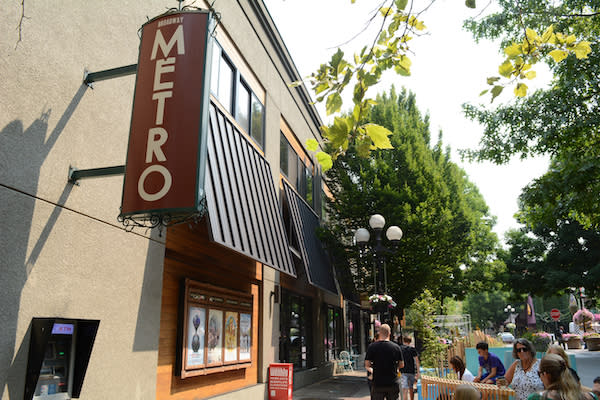 Broadway Metro Theater courtesy of Eugene, Cascades & Coast
Updated and renovated in 2019, the Broadway Metro cinema features seven auditoriums, ranging in size from 18 to 100+ seats. It can accommodate various media formats, ranging from state-of-the-art digital cinema and 35mm film projection to home video formats and web streaming options. The auditoriums have front-of-house HDMI and high-speed internet connectivity so one can easily run a PowerPoint or mirror a computer's desktop onto the cinema screens. The concession stand serves a variety of beverages—over 20 Pacific Northwest craft beers and ciders, plus a selection of regional wines, espresso drinks and more. Group discounts and bulk purchase options are available for groups. Complimentary parking spaces are adjacent to the venue. 
The Oregon Contemporary Theatre (OCT) seats 166 and is located right in the heart of downtown Eugene. OCT offers beautiful, intimate spaces for rent including the lobby, studio and mainstage for hosting meetings and events. Availability can be limited during the production season from September through mid-June.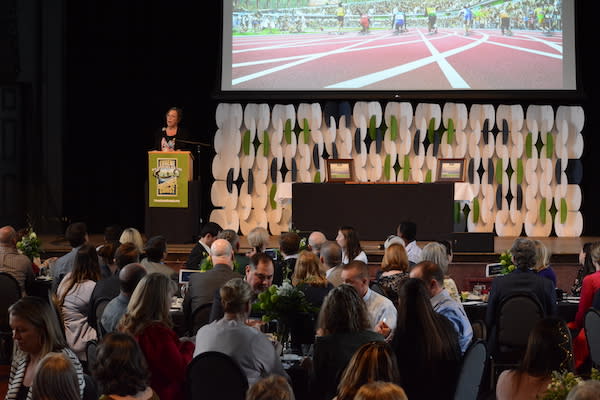 The John G. Shedd Institute for the Arts courtesy of Eugene, Cascades & Coast
Located in downtown Eugene, The John G. Shedd Institute for the Arts offers four distinct, versatile rental spaces. The Jacqua Concert Hall is 7,689 square feet and can accommodate groups of 780 in a lecture seating style, 230 in a table seating style, or 184 in a dining style seating arrangement. The Recital Hall has 1,204 square feet. and can accommodate 165 in a lecture seating style and 75 in a banquet seating style. Warren Court is 2,808 square feet and can seat 225 in a lecture seating style and 176 in a dining style seating arrangement. The Cole Gallery has 1,260 square feet and can accommodate 100 people in a lecture seating style and 50 in a dining seating style. Committed to being fully accessible, the Shedd Institute is not only fully wheelchair-accessible but has installed hearing loop/telecoil systems in each of its meeting rooms. Free wifi, complimentary parking spaces, and the ability to bring in outside catering round out this versatile and unique event space.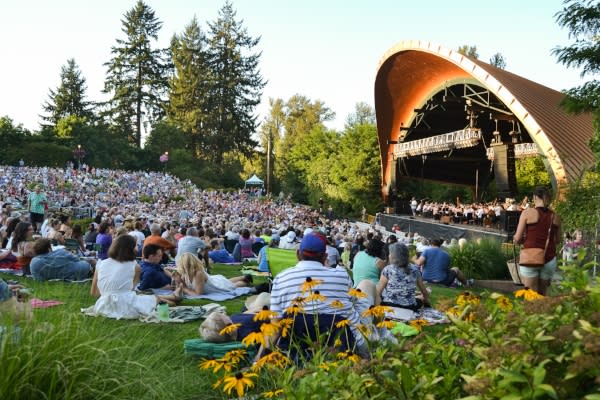 Cuthbert Amphitheater courtesy of Eugene, Cascades & Coast
The Cuthbert Amphitheater is a beautiful venue allowing meeting planners to take their event outside. Dubbed "The Jewel of the Willamette Valley", the Cuthbert Amphitheater is the most well-known local outdoor venue in the Eugene, Cascades & Coast region of Oregon and can host up to 5,000 attendees. Structured for superb sound, the Cuthbert Amphitheater can host events rain or shine with lawn seating, food booths and beer gardens. ADA parking is available at the nearby Eugene Science Center. 
The striking Richard E. Wildish Community Theater in Springfield features 283 seats in stadium seating and there is truly not a bad seat in the house. The excellent acoustics and flexible stage have become the calling cards of the venue. This theater provides an affordable, flexible and intimate venue for corporate events, business meetings, presentations, employee appreciation events, corporate training or event after-hours events. A Green Room is available separately.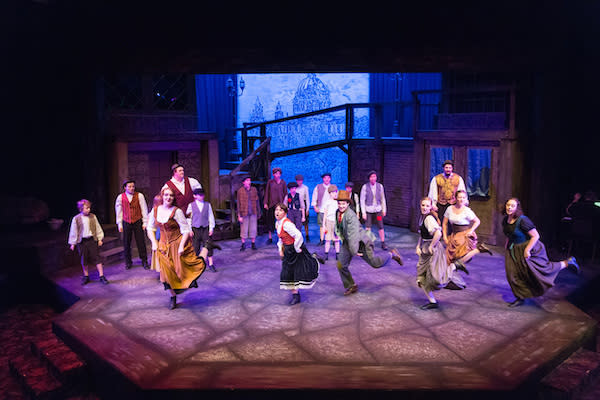 Performance at Cottage Theatre by Matt Emrich
Just south of Eugene in Cottage Grove, Cottage Theatre is currently in the process of being renovated, but this ADA accessible theatre plans to reopen in spring 2022 with brand new seats, improved sightlines, and better sound quality. Once completed, its main auditorium will be able to seat 195 people and there will be a smaller community room for meetings of 20-25 people.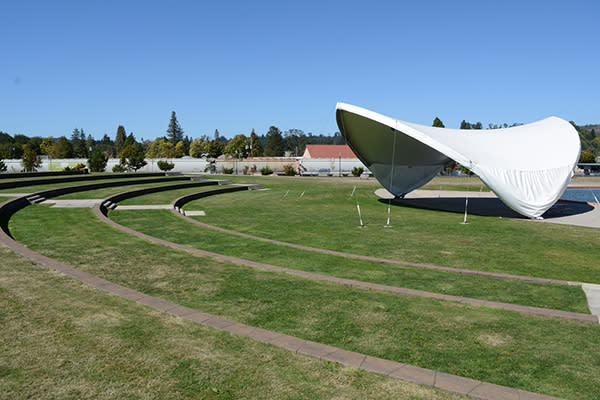 Bohemia Park Amphitheater by Colin Morton
Another outdoor theater/performing arts space, the 14-acre, multi-use Bohemia Park is located at the center of Cottage Grove. Featuring an amphitheater with seating for 2,000, Bohemia Park offers picnic shelters, a walking trail, 3-acre pond and parking lot.
Looking to hold your next small event out on the Oregon coast? City Lights Cinema, an independently-owned, four-screen movie theater, is a cozy theater venue and is available for private events of up to 25 people.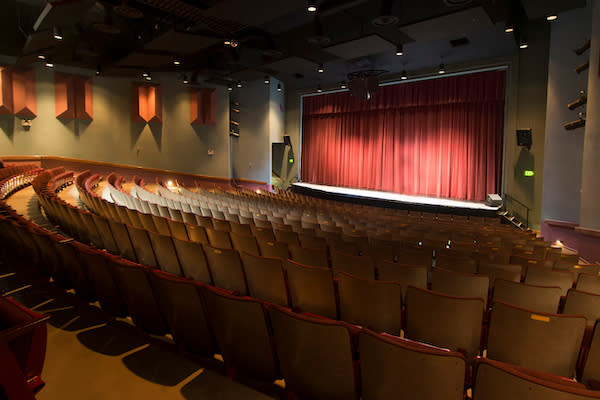 Florence Events Center - Theater courtesy of Eugene, Cascades & Coast
A focal meeting point for Lane County's coastal region, the Florence Events Center is a 21,000 sq. ft. state-of-the-art entertainment and events venue. In addition to a 7,500 sq. ft. convention/tradeshow floor, free parking, free wi-fi, and smaller conference rooms, the Florence Events Center has a state-of-the-art theater facility that can seat 455 people. With a 21st century sound system, the theater is handicap accessible with special equipment for hearing-impaired attendees. The Florence Events Center also offers customizable floorplan configurations, PA and sound systems, lights, pipe-and-drape, display tables, banquet tables, bistro tables, chairs, chair covers and table cloths, punch bowls, place settings, flatware, room dividers, projector and screen and podiums. Whatever is needed for your event, the Florence Event Center's friendly professional staff will provide to help put on a memorable, stress-free event.
Theaters are great venues for group meetings and our staff can help you determine which theater best fits the bill for your next event.
Contact us today!

Juanita Metzler, CMP, CGMP, SEPC

Senior Director, Conventions
Juanita secures meeting and conference bookings for the Eugene, Cascades & Coast region and manages all local and national meeting markets.