Back To Previous Page
Vineyard Venues
Published: October 05, 2021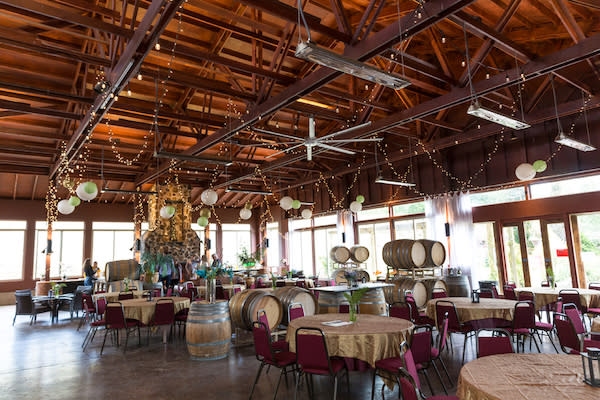 Winery Meeting Guide
Recognized as a top wine destination, the Eugene, Cascades & Coast region of Oregon is dotted with many award-winning wineries and vineyards, both rustic and urban. Having an event at a winery will be a one-of-a-kind experience and will have your attendees buzzing for months afterward. 
A boutique winery and tasting room, Pfeiffer Winery specializes in small lots of high-end Pinot Noir and Pinot Gris not sold in stores. A maker of many award-winning wines, including a wine served at President Obama's pre-inaugural dinner, Pfeiffer Winery is a wine enthusiast's paradise. A Grand Fireplace Pavilion set in the middle of Pfeiffer's vineyards, opens out to a spectacular water garden, making this location perfect as an indoor or outdoor venue. With 2,400 total square feet of space, plenty of parking, a PA system, catering, wifi and seating for up to 200 people, Pfeiffer Winery's water garden and villa will be sure to leave a lasting impression on attendees. 
Established in 1979 and maintained in the tradition of a small European winery, Silvan Ridge Winery is the ideal setting for any event, meeting or corporate function. From their intimate dining room to their ever-popular banquet room and tasting room, every aspect of the facility is designed to create an elegant and formal, yet relaxing atmosphere. Only 12 miles from downtown Eugene, Silvan Ridge is able to accommodate up to 100 people indoors or can create a combination of indoor and outdoor arrangements for groups larger than 100. Book your next event at Silvan Ridge Winery and try some of the finest, most stylish varietals being produced in Oregon today.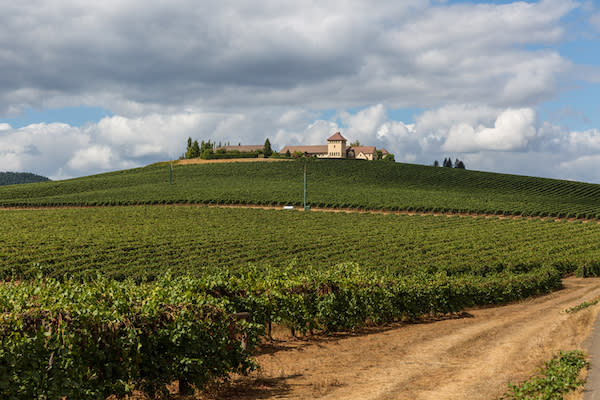 King Estate Winery by Joni Kabana
The breathtaking 1,033-acre King Estate Winery is one of Oregon's leading wineries. Founded in 1991 by the King family, this spectacular European-style winery with unparalleled views is well known for its Pinot Gris and Pinot Noir. Events at King Estate are catered by their award-winning restaurant and complemented by their award-winning wines. Their recently-renovated largest venue, the Bistro, creates a fresh and elegant space for up to 150 guests. Their Fountain Terrace space can accommodate up to 40 people for seated dining and offers panoramic views of the vineyard against a verdant backdrop of trees and flowers. Separate from the main dining room is their Private Dining Room with space for up to 20 guests. The Fountain Terrance adds additional space for spillover to the outdoors. King Estate also has a Conference Room, a private space situated above the Restaurant, with room for up to 20 seated guests. This room is perfect for day-long business meetings. This variety of options ensures that any event held at the King Estate will be unlike any other.
Sweet Cheeks Winery's location is just as unique as its name. In 1978, after Dan Smith, the owner, had just finished planting his vineyard, he noticed the curious shape of land and christened his new vineyard "Sweet Cheeks". Known for their Pinot Noir, Pinot Gris, Chardonnay and Riesling, Sweet Cheeks Winery & Vineyard strives to truly connect its visitors to their wines. With panoramic views, a beautiful vineyard backdrop and a banquet room capable of hosting 50 people, Sweet Cheeks' casual elegance and range of experiences is perfect for your next event.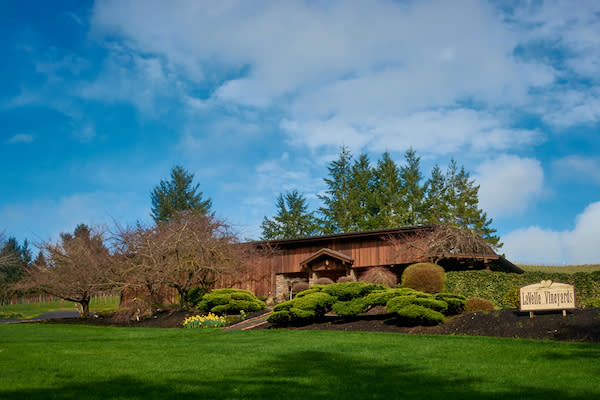 LaVelle Vineyards by Thomas Moser
15 miles west of Eugene is the beautiful 25-acre property of LaVelle Vineyards. The lush and tranquil property features a rustic tasting room, beautiful outdoor seating areas, and views of the vineyard. Wines are produced and bottled at the winery. Their newly remodeled party room is air-conditioned, making it perfectly comfortable for summer events and can hold up to 50 people. A garden, picnic area, food truck service and gift shop round out the winery.
For planners wanting to host a winery event in the heart of downtown Eugene, the Oregon Wine LAB offers limited meeting space. Intimate and cozy, this urban wine bar also features a tasting lounge and winemaker events. The banquet room can host up to 15 people and can be completely private. If hosting a bigger event, the interior can fit 60 people with additional outdoor seating. Da Nang Vietnamese Eatery food cart is on-site daily and can provide food for an event.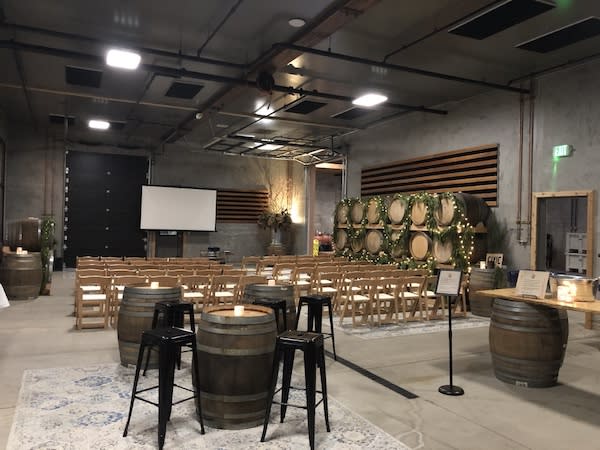 Civic Winery & Wines Event Space courtesy of Civic Winery
Whether hosting an post-event celebration, corporate party, or formal gathering, Civic Winery & Wines combines modern urban styling with rustic old-world charm. One of Eugene's newer urban wineries, Civic Winery's beautifully finished space features unique wood trusses and high ceilings mimicking the style of the historic Civic Baseball Stadium. The Winery and Barrel Room combined can accommodate up to 250 people. This space is perfect for a cocktail reception, intimate after-party or private event. An additional 1,700 sq. ft. of extra space is adjacent to the winery and can accommodate 100 people. With a rolling door that opens out onto Civic Winery's parking lot, this room has additional space for spillover. A water spigot and a space for outside catering to setup complete this additional space. Wheelchair accessibility and wifi make Civic Winery & Wines the heart of downtown on 11th.
Located in the heart of Eugene's urban wine district, Capitello Wines Tasting Room combines small-batch handcrafted wines from New Zealand as well as selections from the fertile South Willamette Valley. Featuring local beer on tap and award-winning Pinot Noirs, Sauvignon Blancs and Brut Sparklings, Capitello Wines can create a custom menu of food and wine tailored to each planners' needs. Their Barrel Room event space can host up to 75 people and can be dressed up or down depending on the event's formality. Rotating local art, wheelchair accessibility, wifi and warm hospitality make Capitello the perfect urban location for your next event.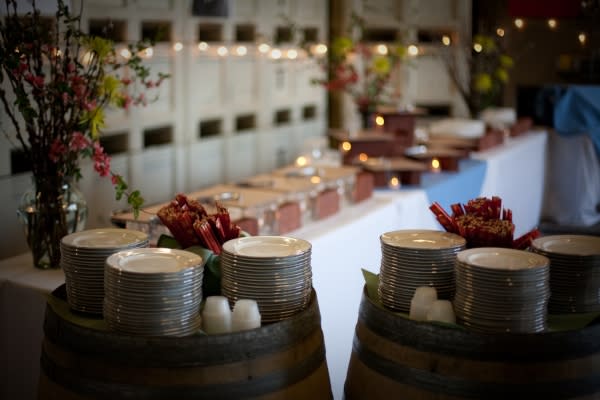 Territorial Vineyards & Wine Company courtesy of Territorial Vineyards & Wine Company
Territorial Vineyards is Eugene's hidden jewel. This 12,000 square foot coffee warehouse turned winery offers planners a unique meeting space. This urban wine-making facility grows its grapes in Oregon's coastal range foothills but crushes, ferments and bottles their wine right in downtown Eugene. Territorial's swanky tasting room welcomes large groups and special events. Their wheelchair-accessible wine room can be used to hosts groups of up to 45 people or the entire place (Wine Room and Cellar) can be rented for groups of up to 300 people. Groups are allowed to bring in their own caterer. Territorial Vineyard's staff will work with you to help bring your envisioned event to life. 
Consider hosting your next meeting or team-building event at one of these top wineries. After all, wine flies when you're having fun! Contact us to learn more about the Willamette Valley wine scene or chat with us about other alternative meeting spaces in the Eugene, Cascades & Coast region of Oregon.
Contact us today!

Juanita Metzler, CMP
Senior Director, Conventions
Juanita secures meeting and conference bookings for the Eugene, Cascades & Coast region. She manages all local and national meeting markets. She specializes in business-to-business relationship building.