Kentucky Falls
A venture into the Coastal Range, this challenging waterfall hike can be a gratifying experience for more experienced hikers.
Kentucky Falls Trail #1376 is located near Mapleton on Hwy 126 inland of the Oregon Coast. 
Kentucky Falls is all about adventure and accomplishment!
The trail is 4.4 mile (7.0811 km) hike out and back, with a steep climb on the return. 
There is an upper and a lower Kentucky Falls viewpoint. From the lower falls observation deck witness spectacular twin falls dropping 100 feet (30.480 m). The twin is called North Fork Falls.
Expect the unexpected on this lightly traveled trail. From downed trees, mudslides and lack of consistent trail maintenance, it's a walk on the wild-side. The reward is amazing beauty and few people.
Along the hike watch for wildflowers in spring and brilliant foliage in the fall. 
KNOW BEFORE YOU GO 
Directions: Confirm directions with Forest Service before departing due to possible road closures and/or detours.
Off Hwy 126, at the Whittaker Creek Recreation Area between mileposts 26 & 27 (east of Mapleton), drive south onto Siuslaw River Rd (Forest Service Road 4390). 
After 1.6 miles (2.57 km) turn right at the Whittaker Creek sign and cross the bridge. Follow the road for 1.5 miles (2.4 km), then turn left uphill onto Dunn Ridge Road. Continue for 7 miles (11.26 km) to a T-shaped junction at the end of the pavement.
Turn left on Knowles Creek Road and continue for 2.7 miles (4.34 km). Turn right onto Forest Service Road #23. After 1.6 miles (2.57 km), turn right onto Forest Service Road 919. After 2.8 miles (4.5 km), turn right into parking area. Follow signs to the trailhead.
MAP IT
Kentucky Falls Trail #1376 showcases three remote waterfalls that range from spring rages to late summer trickles. The Upper Kentucky Falls tumbles 100 ft (30,5 m) and the Lower Kentucky Falls drops 90 ft (27,4 m). Enjoy great views from the observation deck built over the confluence with the North Fork Smith River at the base of Kentucky Falls. The North Fork Falls is also visible from portions of the trail. This 2.2 mile (3,5 km) trek is difficult. Part of the Umpqua River watershed, these falls are in the Siuslaw National Forest. Verify directions with the Forest Service before departing.

Hwy 126 between milepost 26 & 27, Mapleton OR 97453

P: 541.750.7000

Book Now
If You Like Kentucky Falls, You Might Also Like:
An elegant fan waterfall at the end of a moderate hike near Cottage Grove.

Steep hiking trail leads to the base of a beautiful waterfall in the Cascade Mountains.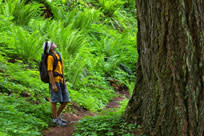 Walk beneath leafy bowers, through ebony lava fields and colorful wildflower meadows.…
More

Info

›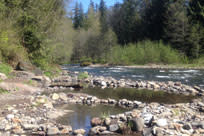 Soak in hot mineral pools with a forest backdrop and the accompaniment of birdsong…
More

Info

›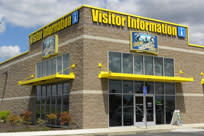 Visitor Information
Get maps, brochures, information and any necessary permits at the Adventure Center in Springfield…

Plan your trip to Eugene, Cascades & Coast.