Koosah & Sahalie Falls
Two easy-to-see roadside waterfalls that are popular must-stops on any road trip. Spectacular year-round, though parking may be limited depending on season.
Koosah and Sahalie Falls are located along the McKenzie River in the Cascade Mountains.
An easy family-friendly 2.6 mile (4.1843 km) loop trail connects Koosah and Sahalie Falls. The hike borders the McKenzie River through towering forest. The trail is not wheelchair accessible due to stairs.
Koosah Falls drops approximately 70 feet (21 m) into a deep pool. 
Sahalie Falls is a mass of foaming white water plunging 100 feet (30 m) over a natural lava dam. This famous falls can be spotted in Disney's movie "Homeward Bound".
The Sahalie Falls viewing platform is less then 100 feet (30 m) from the parking lot and is wheelchair accessible.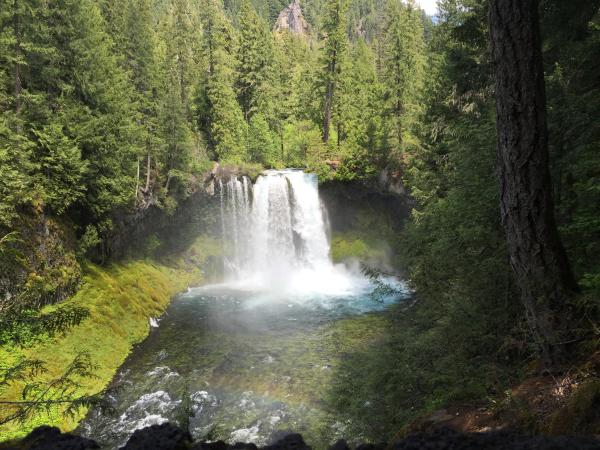 KNOW BEFORE YOU GO
Both sites have parking areas, but Koosah Falls has a larger parking area and may be less congested. There is a short hike between Koosah and Sahalie Falls
Parking alongside the highway is discouraged as it is not safe. If you do park along the highway, pull your car all the way off the road. Do not park along the road in the winter as it is very dangerous
Accessible restrooms with vault toilet at Sahalie Falls only
Sahalie Falls observation deck is wheelchair accessible
Willamette National Forest - McKenzie River Ranger Station
No fee or permits needed
Directions: Northeast of McKenzie Bridge off Hwy 126. For Koosah Falls Day Use Area turn at Ice Cap Campground / Koosah Falls sign. For access to Sahalie Falls Day Use Area go north another .5 mile (.804667 km) and turn into the parking lot signed for Sahalie.
MAP IT
Koosah Falls plunges 74 feet (22.6 m) over an abrupt lava cap to the waiting pool below. Take Hwy 126, turn left at Ice Cap Campground, then to a small parking area. On the same 2.6 mile (4,2 km) loop trail, see the powerful Sahalie Falls. Both waterfalls are part of the McKenzie River watershed in the Willamette National Forest. Parking is usually less congested at the Koosah Falls trailhead.

Hwy 126, near milepost 5, McKenzie Bridge OR 97413

P: 541.822.3381

Book Now
MAP IT
Sahalie Falls plunges 100 feet (30.5 m) over a lava dam and then tumbles 40 feet (12.2 m) in a series of cascades. The wheelchair accessible paved paths to the observation deck wind between trees so that when you first encounter the falls you'll feel like you might be the first one to discover them. Koosah Falls, a one-mile (1.6 km) hike to the south, drops 70 feet (21.3 m) into a deep pool. Both falls are part of the McKenzie River watershed in the Willamette National Forest. A paved parking lot and restrooms are well signed right off Hwy 126.

Hwy 126, near milepost 5, McKenzie Bridge OR 97413

P: 541.822.3381

Book Now
FUN NEARBY ACTIVITIES 
Embark on a river rafting trip down the McKenzie River. Guides can take you on mild floats or wild runs
Hike the famous McKenzie River National Recreation Trail 
Throughout the summer there are unique family-friendly events along this corridor. Some highlights include the McKenzie River Chainsaw Art Festival and the McKenzie River Lavender Festival. 
If You Like Koosah and Sahalie Falls, You Might Also Like:
This is the second tallest waterfall in Oregon, plunging 286 ft (87.2 m). The Salt Creek Falls Observation…

Wildwood Falls drops 15 ft (4,6 m) in a few channels over a small basalt cliff, forming three to four…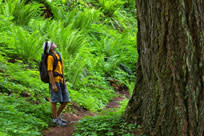 Walk beneath leafy bowers, through ebony lava fields and colorful wildflower meadows.…
More

Info

›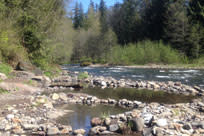 Soak in hot mineral pools with a forest backdrop and the accompaniment of birdsong…
More

Info

›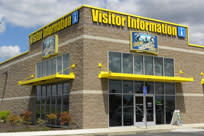 Visitor Information
Get maps, brochures, information and any necessary permits at the Adventure Center in Springfield…

Plan your trip to Eugene, Cascades & Coast.