Sweet Creek Falls
Superbly family friendly, this collection of small waterfalls enhances a shady hiking trail with fun bridges and metal walkways skirting the creek. Delightful year-round!
Sweet Creek Falls Trail Complex is located near Mapleton on Hwy 126 inland of the Oregon Coast.
Four tiered-plunges ranging from 10 to 30 feet (3.0480 - 9.1440 m) cascade for a total of 70 feet (21.336 m) creating a multiple waterfall effect. Many other smaller falls grace the hike in. Sweet Creek Falls is the grand finale.
This easy, family-friendly 2.2 mile (3.5406 km) hike (Sweet Creek Trail #1319) involves wooden bridges, damp dirt trails and small rivulet jumping. If you like to get your feet wet, wade in the small pools along the way. Please be cautious of slippery mossy rocks and fast moving currents.
There are four trailheads. For the full hike, start at the Homestead Trailhead - the first one you see. Next is Sweet Creek Falls Trailhead, Wagon Road Trailhead and Beaver Creek Falls Trailhead. Each subsequent trailhead offers a shorter hike.
There is a section of canyon wall "cat-walk" that is not popular with some dogs.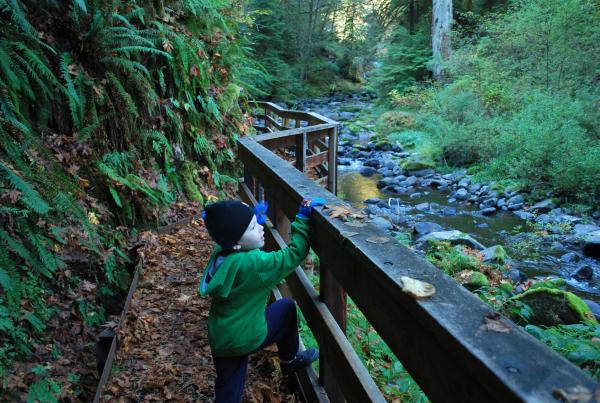 KNOW BEFORE YOU GO 
It's worth the ten-mile (16.093 km) detour off Hwy 126
Parking lots at each trailhead
Restroom with vault toilet at Homestead Trailhead
Siuslaw National Forest - Oregon Dunes NRA Visitor Center (Reedsport) 
Leashed dogs are welcome on this trail
No fee or permits required 
Directions: At Siuslaw Bridge in Mapleton, leave Hwy 126 and drive south on Sweet Creek Rd for 11 miles (17.703 km).
MAP IT
Sweet Creek Falls comprises four distinct waterfall tiers cascading a total of 70 ft (21,3 m), with the plunges ranging from 10 - 30 ft (3 - 9,1 m). The lush Sweet Creek Falls Trail Complex features 11 small waterfalls in all. Sweet Creek Trail #1319 has four segments totaling 2.9 miles (4,7 km), with four separate trailheads and parking lots. Homestead Trailhead is the most direct route at 1.1 miles (1,8 km). This hike is easy, family-friendly and year-round. Sweet Creek Falls is part of the Siuslaw River watershed in the Siuslaw National Forest.

Sweet Creek Rd, Mapleton OR 97453

P: 541.563.8400

Book Now
If You Like Sweet Creek Falls, You Might Also Like:
The Brice Creek corridor outside of Cottage Grove is a scenic, rocky canyon with numerous small waterfalls and…

This dramatic and plunging waterfall is part of the Layng Creek Watershed in the Umpqua National Forest…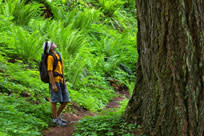 Walk beneath leafy bowers, through ebony lava fields and colorful wildflower meadows.…
More

Info

›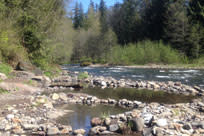 Soak in hot mineral pools with a forest backdrop and the accompaniment of birdsong…
More

Info

›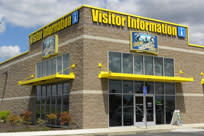 Visitor Information
Get maps, brochures, information and any necessary permits at the Adventure Center in Springfield…

Plan your trip to Eugene, Cascades & Coast.