Dog Friendly Oregon
Traveling with your dog? Find dog friendly beaches, parks and places to explore together across the Eugene, Cascades & Coast region.
Exploring With Your Dog
Enjoy the region's many dog friendly parks and public lands. Dogs can be ideal travel companions, especially on the hiking trail or in the water.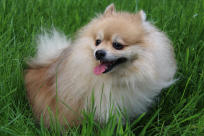 Join Art With Alejandro and create a masterpiece of your furry loved one. With customized step-by-step instructions from artist Alejandro…
More

Info

›
Dog Friendly Beaches
Oregon's public beaches are a great place for dogs. Who else is going to express such glee at discovering a skittering crab or a receding wave? Well, others may, but not by running and leaping and barking and generally indicating that life is truly remarkable. 
Just make sure that your dog is under voice control at all times. In Oregon State Parks, dogs must be on a leash no longer than six feet. And from March to September, dogs are restricted from plover nesting areas.
MAP IT
A lovely expanse of well-maintained park land featuring shaded picnic areas, kids' playground, skateboard park, amphitheater, paved bike paths and chip trails. The community center offers kids' camps, community classes for children and adults, and rental facilities. The grounds include a dog park, Amazon's seasonal outdoor swimming pool and the Hilyard adaptive recreation center.

2700 Hilyard St, Eugene OR 97405
MAP IT
A beautiful day-use park and RV campground on the banks of the McKenzie River only 5 miles (8.05 km) north of Eugene. Located on the outskirts of Coburg and adjacent Interstate 5. Reservations available. The 57-acre (23 ha) park features the Crilly Nature Trail, a two acre (.81 ha) off-leash dog park with water and shade, a tree-lined river path, volleyball, horseshoe pit, boat ramp, reserved picnic areas and shelters. Great for group events.

90064 Coburg Rd, Eugene OR 97408

P: 541.682.2000

Book Now
MAP IT
Comprised of 402 acres (163 ha), Eugene's largest riverfront park hosts year-round festivals, running and walking races, and community events. Visitors can enjoy Alton Baker's 230 acres (93 ha) of natural area, a fenced off-leash dog park, Cuthbert Amphitheatre, Pre's Trail, the Nobel Peace Park, and the Eugene Science Center. There is also an 18-hole disc golf course (12 holes during special events). Easy access to the Ruth Bascom Riverbank Path System with a 12-mile (19-km) path. Fish for trout, salmon, steelhead and bass. 2 boat ramps allow for canoe, kayak, SUP, and boating on the Willamette River Water Trail. Wheelchair accessible.
Free maps available at www.eugene-or.gov/parks. 
100 Day Island Rd, Eugene OR 97401

P: 541.682.4800

Book Now
MAP IT
This 4,700 acre recreation area is the largest of Lane County's 71 parks. Within the park, 17 miles (27 km) of trails provide hiking and horseback riding access to the summit of Mount Pisgah and diverse natural areas. Some trails are steep with rocky terrain but still suitable for both hikers and equestrians. Dogs are welcome leashed on Trails 1 & 2. On all other trails dogs may be off-leash but under owners voice command at all times. The Coast Fork Willamette River can be accessed via the short hiking trails from the northern parking lot. Suitable for canoes, kayaks, and SUPs; but carrying one's boat over uneven terrain is required. DAY-USE FEE AREA/RECREATION PASS REQUIRED
34639 Frank Parrish Rd, Eugene OR 97405

P: 541.344.8350

Book Now
MAP IT
You'll find an 8,000-square-foot playground, two large-group picnic shelters, sand volleyball, a nature trail and an almost 4-acre dog park at Lively Park. The dog park features separate play areas for large dogs and small dogs. All this is in addition to Splash!, Willamalane's indoor water park. Plan a group outing to Splash!, picnic at the shelters and play all day! For rental opportunities, call 541.736.4244.

6100 Thurston Rd, Springfield OR 97478

P: 541.736.4244

Book Now
MAP IT
Dogs enjoy free rein at four off-leash dog parks located at Alton Baker, Amazon, Wayne Morse Family Farm and Candlelight parks. Free maps available at www.eugene-or.gov/parks.

Various locations, Eugene OR

P: 541.682.4800

Book Now
MAP IT
A six acre park featuring a fenced dog park, children's playground and hiking trails. Access the dog park from Singing Pines Dog Park parking lot and the playground from Airport Rd.

Kingwood & Airport Rd, Florence OR 97039

P: 541.997.3436

Book Now
MAP IT
This city park is on the National Register of Historical Places as the former home and farm of Senator Wayne Morse. He is most known for his integrity throughout his public service. The 26-acre grounds include the Senator's home, grassy lawns and picnic facilities, a wooded park with trails, and a spacious off-leash dog park that is fenced. Tours of the home can be made by appointment, or attend the annual spring open house. Rental event space is available through the City of Eugene.

595 Crest Drive, Eugene OR 97405
MAP IT
Zumwalt Park features an Applegate Trail Interpretive Center and 74-acres bordering Fern Ridge Reservoir. The park is closed to traffic and has limited parking. Popular place for wildflower scouting and off-leash dogs.

Jeans Rd, Veneta OR 97487
Dog Friendly Hotels
Pet policies vary widely by hotel. Search by the amenities field for pet-friendly accommodations and talk directly with the properties.

Get a free travel guide