Road, Weather & Ski Reports
No matter the season, we want to make sure you travel safely and have a great time while you're here. Before you head out to the Oregon Coast or into the Cascade Mountains, we encourage you to use our Adventure Checklist to prepare for your road trip.
ROAD CONDITIONS
TripCheck- Oregon Department of Transportation
800.977.6368 or 511
Lane County
(Non-emergency weather-related calls) 541.682.3977
Transportation
TRAVEL SAFE
Drive the roads throughout the Eugene, Cascades & Coast region safely. Travel with extra water, snacks and blankets in your car and keep your gas tank at least half full.
Watch for deer, turkeys and smaller animals crossing the roadways, even in urban areas.
Watch for cyclists throughout the towns and along the scenic byways.
Plan your trips by checking weather and road conditions before you go.
Do not drive or walk through flood waters. Floodwaters may be contaminated with oil, gas or sewage and may be hiding hazards and debris. Just six inches of moving water on a roadway can knock over an adult. Twelve inches can carry away a small vehicle. Turn around, don't drown.
If your car stalls in water, immediately abandon the vehicle and move away from the flood waters. If you and your vehicle are trapped in rapidly moving water, stay in the vehicle and call for help. If water is rising inside, move to the roof.
Chains may be required seasonally when traveling over the Willamette and McKenzie-Santiam passes, even if the weather appears fine.
Highway 242 between the McKenzie River and Sisters is typically closed November - June. Instead drive Highway 20.
The Aufderheide connecting McKenzie River to Oakridge is not maintained during the winter.
If roads are closed due to hazards, please respect the barriers and do not circumvent on foot. Hillsides, roadways, structures and trees may be unstable. 
Download the Oregon Winter Driving (PDF).
Remember to take your time and enjoy the journey!
More Questions? Call our Visitor Center
MAP IT
Visit the Eugene, Cascades & Coast Visitor Center in downtown Eugene. Find information on things to do and see in Lane County, purchase parks passes and locally made gifts and souvenirs, and chat with our knowledgeable staff for recommendations. We are currently open Monday - Friday, 8 a.m. - 5 p.m.
In need of a parks pass? Visit our permits page to find local vendors or to purchase online.
Download a digital copy of the Eugene, Cascades & Coast Visitor Guide, or request to have one mailed to you.
Don't forget to sign up for our monthly e-newseltter to read our latest blogs on trip planning and to find the best things to do and see in Lane County.
754 Olive St, Eugene OR 97401

P: 541.484.5307

Book Now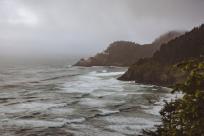 Witness weather at its extremes from crashing waves to whipping winds…
More

Info

›