Regions & Cities
The Eugene, Cascades & Coast region covers the 4,722 square miles (12,229.92 sq km) of Lane County, Oregon with a stunning stretch of Oregon's coast, a fertile swath of the South Willamette Valley and clear rivers surrounded by lush forests along the western Cascade Mountains.
Willamette Valley 
The Willamette Valley is home to Oregon's second largest metro area, Eugene - Springfield, and several small towns.
Cascade Mountains 
The Cascade Mountains include two magnificent rivers and highway corridors offering hiking trailheads, waterfalls and hot springs. Follow the McKenzie River (Highway 126) to Dee Wright Observatory for river rafting and fishing. Follow the Willamette River (Highway 58) to Oakridge - Westfir for mountain biking and skiing.
Oregon Coast
This stunning section of the Oregon Coast includes dramatic rocky headlands and tidal pools at Cape Perpetua, an Instagram-worthy lighthouse and the world's largest mainland Stellar Sea Lion cave. Plus there are 23 miles (37.01 km) of beautiful sandy beaches! Stroll the Siuslaw River boardwalk in Historic Old Town Florence for premier dining and shopping. Access the Oregon National Dunes Recreation Area on a dune buggy tour from Dunes City.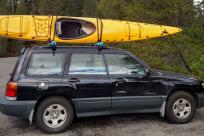 Explore regional resources for moving here.…
More

Info

›