Fern Ridge Reservoir
Slide your kayak into the glassy water at Fern Ridge Reservoir. At summer capacity, this 9,000-acre (3,463 ha) glimmering lake is an ultimate water playground for outdoor enthusiasts of all kinds from birders to boaters. Fern Ridge Reservoir is the largest lake in the Willamette Valley and it is just 15 minutes from Eugene, adjacent the country town of Veneta. Multiple lake front parks and campgrounds provide boat ramps, docks and easy access to the water. Walk or cycle along paved paths.
GO Veneta
Ideal for water sports from stand up paddle boarding to power boating, Fern Ridge attracts paddlers, sailors and boaters who come to enjoy water recreation and explore Veneta's quiet charm. Water ski or inner tube across the lake then head to town to eat and stock up on supplies.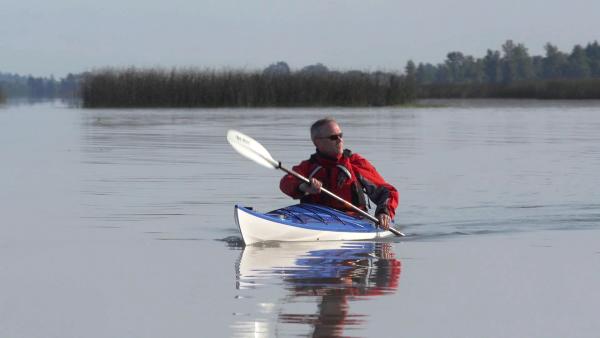 Kayaking & Canoeing
Fern Ridge Reservoir is a paddler's delight. From the wildlife watching channels of Coyote Creek to the wide open lakescape, enjoy smooth gliding. Launch your craft from multiple shoreline parks.

Sailing
As one of the best sailing lakes in the Northwest, Fern Ridge Reservoir is home to the Eugene Yacht Club (EYC) and the University of Oregon Sailing Team. The EYC hosts frequent regattas, including weekly Thursday races and periodic national championships. Both the EYC and the City of Eugene's River House Outdoor Sailing School provide sailing instruction for beginners and more experienced sailors.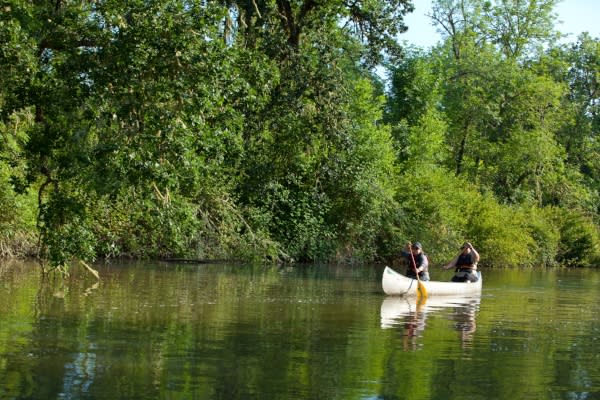 Fishing
Pick up your fishing license at the Bimart in Veneta, then head out to Fern Ridge for warm water fishing. Crappie, bass and catfish are the main attractions. Even on a windy day, anglers can navigate the calmer inlets and sloughs that edge the southern side of the reservoir. Paddle a canoe from Coyote Creek or fish off the dock at Perkins Peninsula Park.

Wildlife & Birding
Every winter the reservoir is drawn down, creating seasonal marshes and mud flats that are home to an abundance of wildlife. Over 250 species of birds have been noted in the area, including bald eagles, hawks, osprey, owls, sparrows, doves, pheasants, quail, sandpipers, pelicans, egrets, herons, snipe, marsh wren, mallards and geese.
In 1979, the southeast shore of the reservoir was declared a wildlife refuge. Paddle Coyote Creek or hike the Coyote Creek Nature Trail for glimpses of salamanders, newts, frogs, nutria and beavers. The 5,794-acre Fern Ridge Wildlife Area requires a parking permit that must be purchased in advance. Seasonal hunting is permitted in some sections but the reserve is closed January to March for the protection of wintering birds. Game includes pheasants, quail, dove, duck, snipe, goose and deer.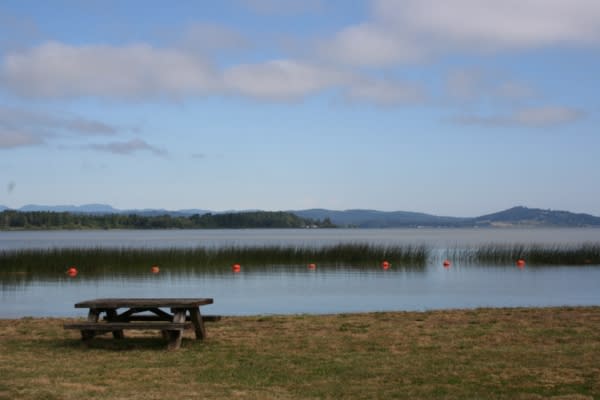 Picnics & Camping
Fern Ridge Reservoir offers shoreline parks with excellent amenities. Host a picnic gathering, play sports or take a swim in roped off (but unsupervised) natural swim areas. Perkins Penninsula Park, with its boat ramp and fishing dock, is an ideal day-use destination featuring easy access off Highway 126 and close proximity to wildlife areas. In the summertime Orchard Point Park offers concessions from food and sundries, volleyball courts, water craft rentals and boat gasoline. Roll up in your RV at Richardson Point Park for lakeside camping.
SaveSave
MAP IT
Fern Ridge Reservoir day-use park right off Highway 126 in Veneta. Wonderful picnic spot with picnic tables, unsupervised lake swimming area, grassy lawns, baseball diamond, boat ramp, dock and restrooms. Parking fee. Managed by Lane County.

26647 Highway 126, Veneta OR 97487

P: 541.682.2000

Book Now
MAP IT
One of the most popular Eugene-area campgrounds, Richardson Park, is located on Fern Ridge Reservoir. This family-friendly camping destination is ideal for water sports fans. Enjoy the shoreline path, hiking, kids' play structure, volleyball, horseshoe pits, amphitheater and picnic shelters. Seasonal and short-term moorage and a boat ramp with boat trailer parking are available. The eighty-eight-site campground is open mid-April to mid-October. Sites accommodate RV or tents. Sixteen miles (26 km) west of Eugene.
Close to the town of Veneta, the Fern Ridge area is excellent for birding and cycling through Oregon Wine Country. More campgrounds and RV parks are available across the Eugene, Cascades & Coast region.
25950 Richardson Park Rd, Junction City OR 97448

P: 541.682.2000

Book Now
MAP IT
This reservoir offers excellent warm water fishing for large bass and pan fish. Good bank access. Additional access at several parks and along the dam face. Explore the shallow lagoons and bottom land creeks on the south end from a kayak.

Clear Lake Rd & Huey Ln, Eugene OR 97402
MAP IT
Zumwalt Park features an Applegate Trail Interpretive Center and 74-acres bordering Fern Ridge Reservoir. The park is closed to traffic and has limited parking. Popular place for wildflower scouting and off-leash dogs.

Jeans Rd, Veneta OR 97487
MAP IT
The Fern Ridge ponds and wetlands are part of Willamette Valley's largest reservoir at 9,000 acres (3,642 ha). The perimeter marshes host over 250 speicies of birds including Great Blue Herons, Yellow-headed Blackbirds and Red-shouldered Hawks. Fern Ridge Reservoir was created for flood control in 1941 by damming the Long Tom River. In the summer it is maintained at its maximum and in the winter it is drawn down. Orchard Point Park is one of its many accessible shoreline parks offering picnic facilities. Coyote Creek Nature Trail links into the reservoir. Just west of Eugene.

Clear Lake Rd, Junction City OR 97448

P: 541.682.2000

Book Now
MAP IT
(9,000 acres/3,642 ha) Reservoir located west of Eugene. Boat ramps at Perkins Peninsula, Orchard Point and Richardson Parks. Fish species: white crappie, brown bullhead catfish, largemouth bass and bluegill. Seasonally watch for algae blooms which may be harmful to people and pets.

Clear Lake Rd, Junction City OR 97448

P: 541.682.2000

Book Now
MAP IT
The Fern Ridge Path is a 6.9 mile (11.1 km) multi-use paved path which winds through the West Eugene Wetlands and offers some of the best birding and wildlife viewing in the Eugene area. The western-most trailhead, Meadowlark Prairie Trailhead, begins on Greenhill Rd and runs along Amazon Creek.
At the trailhead there are restrooms, shaded picnic tables, and a viewing area with interpretive signs. Birders who are interested in identifying bird species can pick-up a free identification booklet at our visitor center. During the wet months, be aware that some sections of the path may be prone to flooding.
Greenhill Rd, Eugene OR 97402

P: 541.682.4800

Book Now