Athletes often inspire us with their achievements on the track and field of play. Whether it be a seemingly impossible last minute touchdown or setting a new fastest world record, athletes never cease to amaze us with their ability. During this past June and July, notable athletes shined in a different way as they participated in events that have provided a direct impact on our local community across the Eugene, Cascades & Coast region.
McKenzie International
The McKenzie Community Track is a wonderful track and field venue located in the heart of the McKenzie River Corridor. The track was a labor of love, entirely funded and built by the community and completed in 2010. In addition to hosting large track and field events, the facility also became a life saving refuge for families fleeing the devastating Holiday Farm Fire last year which burnt over 173,000 acres and destroyed many homes in businesses.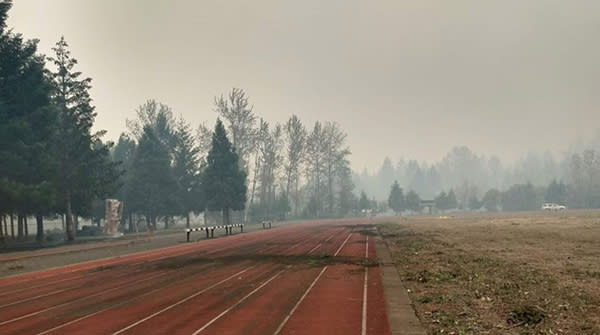 McKenzie Community Track After Fire Courtesy McKenzie Community Track
During the first rest day of the U.S. Olympic Team Trials - Track & Field on June 22, 2021, Portland Track along with community members hosted the McKenzie International meet at the McKenzie Community Track. 
It was the first event to be hosted at the facility since the start of the pandemic and area fires last year. The event gave athletes an opportunity to compete and in some cases achieve their Olympic qualifying dreams, while helping to support the rebuild of the community.
The event showcased amazing talent, with athletes competing in the 5,000 meter, 2,500 meter, and 800 meter races. Amongst the competitors, one current University of Oregon Duck and one alum shined bright. Charlie Hunter, a current member of the UO Track and Field team, ran quite the 800 meter race. His performance qualified him for the Tokyo Olympics and his first place time of 1:44.35 solidified him as the second fastest Australian of all time. Jessica Hull, originally from Australia as well, is a UO alum who now run's professionally for Nike. She placed first in the 1,500 with a time of 1:44.35, putting her under the Olympic qualifying standard time. Hull is already headed to the Tokyo Olympics.
Over 250 fans who were unable to attend in person were able to tune in to the live stream, paying only $6 to view the event remotely. Onward Eugene partnered with the event and brought much needed fiber internet connection to the area. This brought a wonderful resource to the community, while also enabling the event to be live streamed. 
In a true gesture of giving back, athletes donated all their prize money and spectators made donations for admission. In total, the event raised $4,500 for the McKenzie River community. With $2,500 going directly to the McKenzie Community Track, $500 going to the Oregon Community Foundation's Community Rebuild Fund, and $1,500 was also made for the Track through admissions and donations.
Justin Herbert Invitational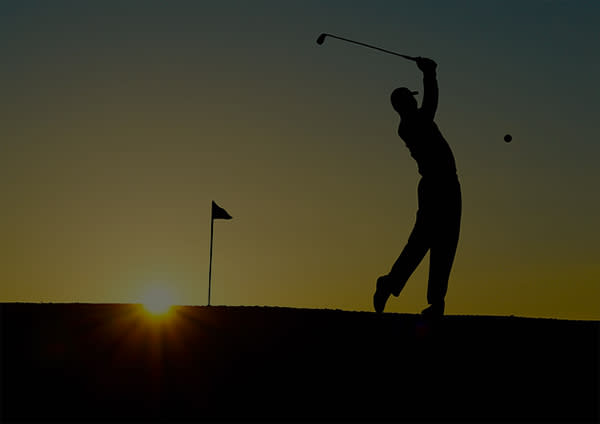 On July 8, 2021, Eugene hometown sports hero and former UO quarterback Justin Herbert returned to pay tribute to his roots and highlight the importance of youth sports programming in the community by hosting the inaugural Justin Herbert Invitational golf tournament.
The tournament was held at the beautiful Shadow Hills Golf Course and featured 18 holes of play for 30 teams of five. Each team was made up of four community members with the fifth player being a special celebrity guest. Special guests included current LA Charger players and former University of Oregon coaches and football team members. Amongst the special guests were some local sports celebrity favorites such as Marcus Mariota, Joey Harrington, and Dan Fouts. The event also included a large silent auction and a "party on the green" after-party.
The golf tournament benefitted Kidsports, a private non-profit organization that provides youth sports programs for pre-K through 12th graders in Eugene/Springfield and surrounding areas. Proceeds from the event are funding scholarships that will make Kidsports' programs accessible to even more kids in our community. New this summer, they are partnering with 4J School District to provide free "pop-up neighborhood camps" at local elementary and middle schools.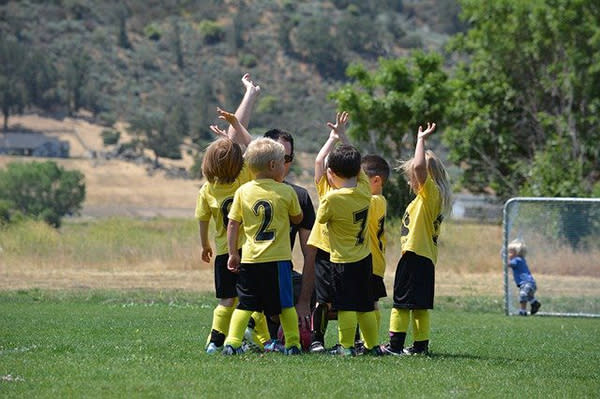 Justin is a Eugene native, who played sports for the first time through Kidsports programming. In interviews at the event, he highlighted the huge impact the organization had on him and how much he learned about sports and life during those early years. Justin started his football career playing for Sheldon High School followed by a legendary career at the University of Oregon where he earned a Rose Bowl MVP. He now plays professionally in the NFL as the quarterback for the LA Chargers.
This first-year-event was incredibly successful and exceeded its $100,000 fundraising goal prior to the silent auction opening. The funds raised will go a long way to support Kidsports annual budget this year and help them continue to meet their mission of "all kids play." 
We look forward to this event becoming a staple in the community and seeing how it grows next year.
Looking Ahead
These are just two examples of athletes giving back to our Eugene, Cascades & Coast communities. Do you know of upcoming sports events that will be benefitting a local community in our region? Let us know about it! Email Jessica Joyce at Jessica@eugenecascadescoast.org the event details and we can assist you with adding it to our events calendar. We look forward to highlighting more of these examples of generosity and giveback in our local community!