While I've lived in the Eugene-Springfield area for a long time – over four decades – I can't say I was here when commercial air service started. While I knew the airport was established in Eugene in 1919, south of 18th Avenue along Chambers Street, I had no idea that United Airlines began serving the region in 1943.  How things have changed over the past 75 years! 
Today's Eugene Airport is supported by more than 1,200 employees, of which 41 are City of Eugene employees alike, and offers 12 non-stop flights from five commercial carriers.  Increasing ridership by 68% between 2008 – 2018 has resulted in growing pains, but the airport staff has taken on these challenges by being highly organized, creative and inclusive. 
 A recently created art master plan is being implemented to the delight of passengers and employees, and this isn't the only plan that is rolling out. Work on the airport's 20-year Airport Master Plan is evident as parking expansion and a new parking entry and exit system have been completed. Taxiway improvements and airfield work, probably only noticed by airline and support staff, are proceeding and will continue in 2020 and beyond.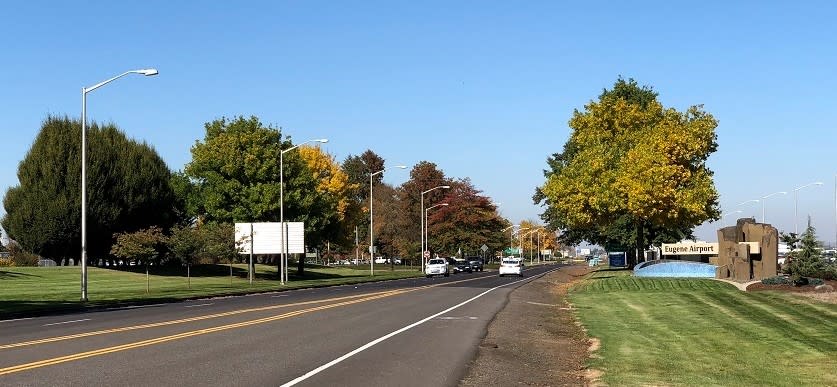 Significant needs exist for expanded terminal parking – and we aren't talking cars here. Aircraft are jockeying for space at the gates and "heavy pads" are needed for overnighting aircraft, both of which are contributing to the need for terminal expansion. Passengers are also jockeying for space inside the terminal, so with needs inside and out, it's no surprise that plans call for the construction of a C concourse in the future.
Based on a solid track record of maintaining operations on a balanced budget and having no debt, I suspect the airport will obtain a high bond rating for the approximate $25 million needed to fund concourse C construction. Assistant Airport Director, Cathryn Stephens, noted that passenger facility charges are an issue for airports across the nation. PFC's are $4.50 per passenger and have been since 2000, and are used by airports to maintain their physical infrastructure.
Efforts made to increase these fees have been met with opposition from the airlines. It seems the airlines have no issue adding baggage fees at rates five times the PFC rate, so why wouldn't they get behind a small fee increase that would go a long way toward improving the infrastructure they use and depend upon every day? Cathryn highlighted that an increase in the PFC to $8.50 would, "reduce the debt service repayment for the C concourse project by half."  I, for one, would be happy to pay an additional $4 to see airports be able to maintain and update their facilities and I'm guessing most of you would too.
Flying to and from a small hub airport like Eugene is often viewed as more expensive than heading north to a large hub like Portland International Airport (PDX). The cost gap was high in the past, but over the years the gap narrowed, and Eugene has recaptured around 2% of passengers from PDX.  The 12 non-stop destinations served out of Eugene has helped in the effort to keep folks flying local and recent additions, like the Chicago red-eye, are opening new opportunities for many organizations. For example. following a geo-targeted digital ad campaign aimed at Chicago-area meeting planners, Travel Lane County saw 1,300 visits to our Chicago meetings landing page in the first 30 days of air service to Chicago. This is a great response and one we hope leads to additional meetings and conference planners choosing Eugene-Springfield.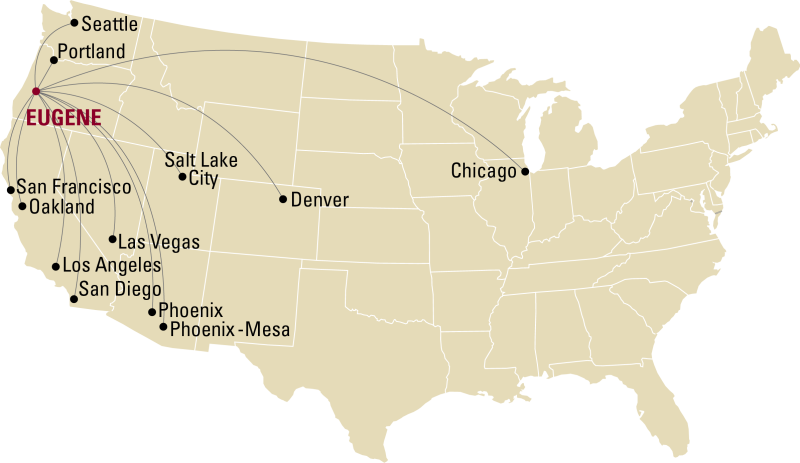 What's next in air service additions? Airport staff make pitches to carriers every year or so and Stephens noted that a second daily trip to Phoenix and direct service to Dallas-Forth Worth may be in our future. With my son's family living in Dallas, I know that connection would have two dedicated passengers!  Airlines are also becoming more nimble and may be looking to provide limited duration direct service for events like the World Athletics Championships - Oregon21. That would be very exciting! 
Watch for more improvements at the airport and kudos to Airport Director Tim Doll, Assistant Director Cathryn Stephens and the entire staff at flyEug!  Keep up the great work!