Up, Up and Away Gets Easier!
Recent Eugene Airport service improvements includes new airlines, new trips and new destinations and these changes are causing many area travelers to reconsider the a 2-hour plus drive to Portland International Airport.  
Low-cost parking, convenient check-in and security screening, competitive ticket pricing and recently installed hearing loop technology are making FlyEug the choice of travelers within a five-county catchment area and is luring residents as far away as Salem to change their travel habits. 
Air travel was devasted by the COVID pandemic. The number of flights plummeted along with the number of passengers, but increasing vaccinations has resulted in increases in flights and passenger enplanements approaching pre-pandemic levels. Additionally, airlines are looking to establish new markets by serving new destinations and, in some cases, starting new service that is creating competition between airlines. New service and more competition means that travelers coming to and from our region will see lower fares and have greater direct service options.
The hard work of recruiting new airlines, and getting existing airlines to add service, is something the  Eugene Airport staff works on each year. These multi-year efforts pay off and sometimes at the most unusual times. A surprise addition to the FlyEug stable is avelo Airlines. avelo is a start-up company based in Burbank, California. avelo service began in May 2021 and currently includes round-trips four days per week.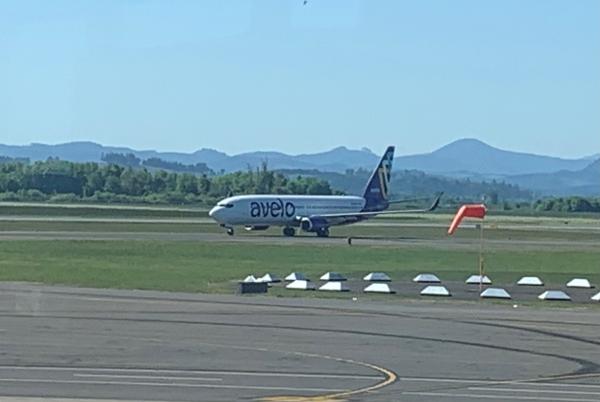 The addition of Southwest Airlines, coming in August 2021, has created a buzz in the region. Southwest is investing heavily in serving regional hubs like Eugene and regional residents will be able to choose from two daily trips to Oakland and once daily to Las Vegas. Connections from these international airports open up the entire world and even includes new Southwest service to the Hawaiian islands!
United Airlines has battled Alaska Airlines for the number one spot in market share at the Eugene Airport for many years and offers connections to major hubs in Denver and San Francisco. The addition of a Chicago flight in recent years gave them a boost, but this new service was a casualty of the pandemic. Following suspension of the Chicago flight during the pandemic, United plans a return of the Chicago flight in September 2021. 
Alaska Airlines has maintained a connection to the Seattle-Tacoma airport and plans a return of connecting flights to Portland International in September 2021. Delta Airlines also connects to Seattle and their popular Salt Lake City flight provides key connections from cities throughout the U.S. to our region.  
American Airlines provides convenient connectivity to the Eugene, Cascades & Coast region from the southwest U.S., Mexico and South America. Their Los Angeles and Phoenix-Sky Harbor connections have been supplemented with daily service to Dallas/Forth Worth starting in March 2021. These popular destinations offer southwest residents an easy way to escape the summer heat and come to our region for wine tasting, fishing, golf and more.
Allegiant Air provides year-round connectivity to Las Vegas, Phoenix-Mesa, Los Angeles and Oakland and brings seasonal service online to destinations that include San Diego (May) and Palm Springs (November). Allegiant operates less than daily service to these destinations, but with a little planning these low-cost flights provide opportunities to invite family and friends to visit throughout the year. 
Why spend hours driving up and down I-5, pay high parking costs and wait in long lines to get through security? It's time to take another look into flying to and from the Eugene Airport. With low cost and convenient parking, easy check-in and security screening, competitive fares and new service connections, it's time to FlyEug!