The River Democracy Act of 2021 & Lane County 
by Chandra LeGue, Oregon Wild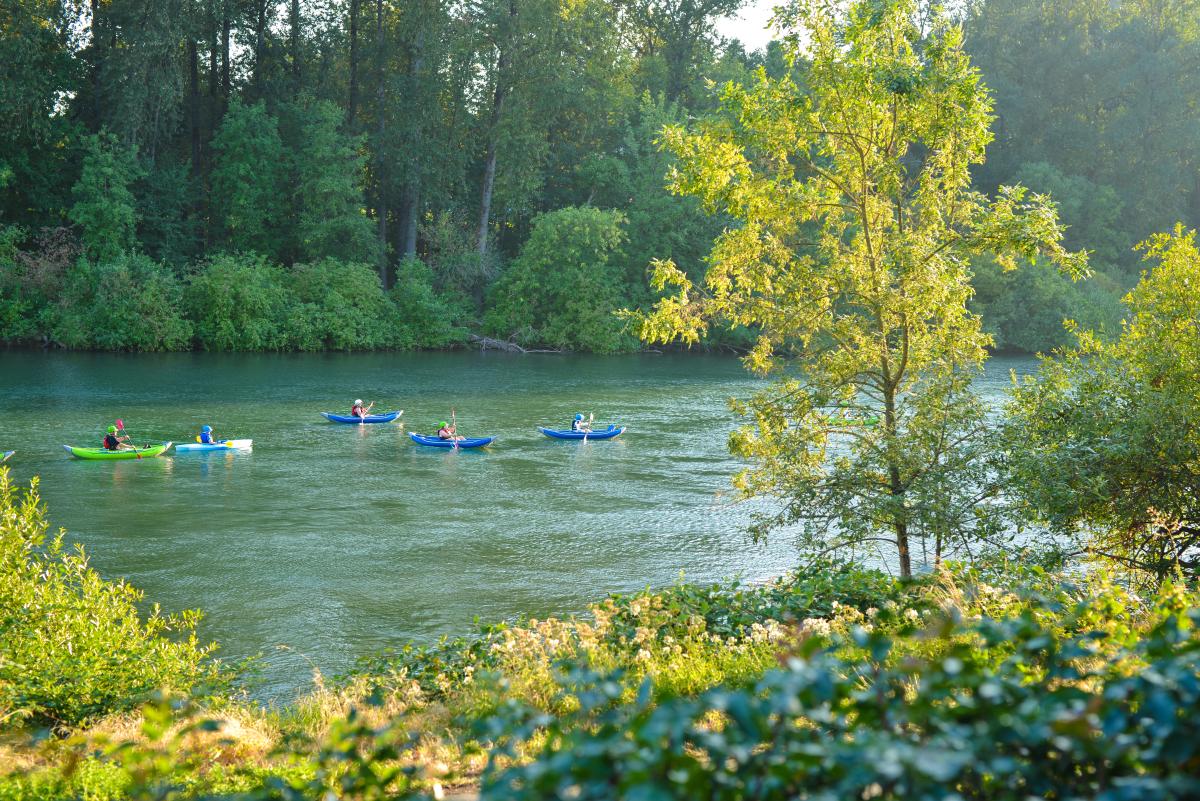 Kayaking on the Willamette River
Created by Congress in 1968, the National Wild and Scenic Rivers System was enacted "to preserve certain rivers with outstanding natural, cultural, and recreational values in a free-flowing condition for the enjoyment of present and future generations." The goal is to protect the nation's most pristine rivers and streams while balancing recreation, water quality, fish, wildlife, and other values. 
Currently, only 2% of Oregon's 110,000 miles of rivers and streams have been protected as Wild & Scenic, including some of the state's most treasured waterways like the John Day, Metolius, and Rogue Rivers. Many of our key sources of clean drinking water, recreational opportunities, and wildlife habitat remain unprotected. 
Now, there is an historic opportunity to add nearly 4,700 miles of Oregon's most pristine rivers, streams, and lakes to the Wild & Scenic Rivers system, increasing protected streams to 6%, thanks to new legislation introduced by Senator Ron Wyden (and cosponsored by Senator Jeff Merkley). This
legislation is the result of a multi-year grassroots process, and the work of hundreds of river enthusiasts nominating their favorite rivers, drinking watersheds, streamside forests, fishing holes, hiking trails, and kayak routes. The bill has broad support from small business owners, sportsmen, and other community members who all depend on these waterways. (See below for statements of support.) 
Benefits of Wild & Scenic Rivers 
Wild & Scenic Rivers benefit both human communities and natural ecosystems. 
● Drinking water. Millions of Oregonians across the state depend on rivers as their primary source of drinking water. Wild & Scenic protections can ensure that these sources remain clean and plentiful for future generations. In Lane County, for example, the population of Eugene depends on water from the McKenzie River. 
● Local economies. Outdoor recreation in Oregon supports 224,000 jobs and generates $15.6 billion in consumer spending. Rivers and streams are a big draw. Many of our best trails and campgrounds are found along free-flowing waters, and people come from across the globe to fish and paddle here. Communities that integrate recreation into their economy benefit from higher average incomes, faster earnings growth, a reliable stream of new residents, higher quality of life, and more stability during economic downturns. 
● Fish habitat. Oregon's clean, natural streams are critical to sustain salmon and steelhead populations. These native fish are a vital part of our ecosystems and economies.
● Wildlife habitat. Protected river corridors are generally more intact than surrounding landscapes, and these habitats can be integral in helping wildlife seasonally migrate or move to higher altitudes as the climate changes. 
● Climate change mitigation and carbon storage. The lush vegetation and forests that grow near waterways absorb vast amounts of carbon pollution, and provide a cooling effect on streams. 
What does the River Democracy Act introduced by Senator Wyden mean? This legislation would designate a half-mile protected corridor along either side of the nearly 4,700 miles of stream segments and lakes in the proposal. Each Wild & Scenic River will have its "Outstandingly Remarkable Values" (ORVs) identified. These values can include fish, wildlife, recreation, scenery, geology, cultural, wildness and other values. Management plans are created by the U.S. Forest Service or Bureau of Land Management, with public input, to guide the protection and enhancement of these ORVs, as well as what activities will be encouraged within the corridor. 
Designation will also mean the following: 
● It prohibits dams; limits the amount of new mineral, gas, oil, and geothermal extraction; and prevents new claims. 
● Activities that would degrade the outstandingly remarkable values for which the river was designated - such as clearcut logging - are not allowed, while other activities - including restoration that benefits fish and riparian ecosystems - are allowed to continue as long as they don't degrade these values. 
● Private property rights are protected and not affected in the rare instances where proposed streams flow through private lands. 
● Existing water rights and mining claims with valid existing rights are not affected. ● It would neither limit the public from accessing public lands within designated river corridors nor open private lands to public access. 
● There would be no effect on fishing and hunting, as those activities are regulated under state laws. 
● Boating access would not change unless specific issues are identified in the river management planning process. 
● Fire fighting is explicitly allowed to continue in the Wild & Scenic corridors.
Proposed Wild & Scenic Rivers in Lane County 
In Lane County, there are a total of 317 stream miles proposed as Wild & Scenic Rivers, as well as Waldo Lake. These fall into four main watersheds or regions - the McKenzie, Coast/Coast Range, Umpqua, and Upper Willamette. (See list of stream segments below.) The proposed streams include some of the area's most well-known recreation areas - from the Oregon Dunes National Recreation Area to the South Fork McKenzie to Waldo Lake and Salt Creek; some of the best salmon, steelhead, and bull trout producing streams; and the source of drinking water for the county's largest population hub. 
Nearly all of the proposed streams flow exclusively through National Forest lands managed by the U.S. Forest Service (Willamette, Umpqua, and Siuslaw National Forests), while a few segments flow through public lands managed by the Bureau of Land Management. Management direction or use restrictions under the Wild & Scenic Rivers Act or the River Democracy Act do not apply to privately-owned parcels that may be adjacent to these federal lands and waters. 
Some of the proposed Wild & Scenic Rivers are within the perimeter of the Holiday Farm Fire. These include the lower portion of the South Fork McKenzie River, and its confluence area with Delta Creek and the mainstem McKenzie; and the stretch of the mainstem McKenzie and tributaries Marten and 
Bear Creeks that flow through Bureau of Land Management land. Impacts from the fire do not diminish the outstandingly remarkable values of these streams or make them ineligible for designation. In fact, protection of these burned areas may become even more important in order to preserve these values. 
Additional resources 
Rivers.gov includes a lot of factual information about the Wild & Scenic Rivers Act and designated rivers, including this factsheet: https://www.rivers.gov/documents/q-a.pdf 
Senator Wyden's press release on the River Democracy Act of 2021 includes links to the bill text, a section by section analysis, a one-page fact sheet, and a statewide map. 
https://www.wyden.senate.gov/news/press-releases/wyden-and-merkley-introduce-legislation-to-prote ct-4700-miles-of-oregon-rivers-nominated-by-nearly-2500-oregonians 
Our Oregon Rivers is a great source of information from supporters of adding more Wild & Scenic Rivers in Oregon. www.ouroregonrivers.org 
Statements of support pertaining to Lane County 
State Senator Floyd Prozanski (Oregon Senate District 4) 
Many rivers in my District are essential for clean drinking water, fish populations, recreation, and scenic beauty, and during the pandemic they have become all the more critical to our quality of life. From the headwaters and tributaries of the McKenzie and Middle and Coastal Fork Willamette, to the vital waters of the North, South and main Umpqua, protecting more of our streams as Wild & Scenic Rivers will ensure these values continue to benefit our communities for generations to come. Thank you, Senator Wyden!
State Rep. Marty Wilde (District 11) 
The McKenzie river provides clean drinking water to over 200,000 Oregonians while also serving as an ecological focal point of the state, and a centralized space for nature-based community building in Lane County. It is critical to preserve the McKenzie's spring-fed water so that generations of Oregonians to come may still enjoy it in the future. 
Chris Daughters, owner, The Caddis Fly Angling Shop 
Oregon's storybook rivers draw people from across the world for all of the recreation opportunities they offer. The protection of these rivers and their stream-side environments ensure certainty into the future for river-dependent businesses like The Caddis Fly Angling Shop, and that is why we commend Senator Wyden for introducing legislation to create safeguards for our outstanding, yet unprotected, rivers and streams across the state. 
Randy Turney, Owner and Guide, Riparian Tours 
As one who gains part of my livelihood from the McKenzie river watershed, I try to educate folks on the watershed, its history, and the importance of preserving that legacy. That is why I support Senator Wyden's effort to expand our Wild and Scenic Rivers in Oregon. 
Nikos Ridge and Jamie Floyd, Co-owners, Ninkasi Brewing Company 
A main ingredient to our award-winning craft beer is the clean, clear water that flows out of Oregon's rivers. That is why we embrace Senator Wyden's forward-thinking plan to forever safeguard key waterways across the state. 
Steve Mertz, Owner, The Wheel Apizza Pub 
The top-notch, craft beer at The Wheel all starts with the outstanding water we use from the McKenzie River. Senator Wyden should be commended for his visionary leadership to further protect the waterways that make our state so special and our beer so tasty. 
Priscilla Macy, Executive Director, Oregon Outfitters and Guides Association 
A love for rivers is a value that is deeply embedded in the history, culture and identity of our state — and Oregon is home to some of our nation's most amazing and scenic rivers: from the Illinois to the Umpqua, the Owyhee to the Santiam, we have an impressive diversity of rivers that provide an abundance of opportunities for outdoor recreation, conservation, and board enjoyment by the residents and visitors of our state. Preservation of Oregon's rivers is a vital part of the state's outdoor recreation economy which supports 172,000 jobs in Oregon and generates $16.4 billion in economic activity statewide. We applaud Senator Wyden's continued efforts and advocacy for the preservation of many of Oregon's exemplary waterways. 
Dave Peterman, President, Willamette Kayak and Canoe Club 
Last year, members of the Willamette Kayak and Canoe Club worked to identify eligible rivers for designation. Paddling free-flowing rivers allows quality canoeing and kayaking experiences enjoyed by our members. Preserving and protecting river resources for recreation has additional benefits of
providing clean water and healthy ecosystems. Healthy rivers promote quality recreation, protect aquatic resources, support robust ecosystems, and promote the local economy. 
As new Wild & Scenic River designation proposals are introduced, count on the support of the Willamette Kayak and Canoe Club leadership and members. Your support and leadership in designating Wild & Scenic Rivers is appreciated by those of us who play in Oreogon's rivers. 
Ian Isaacson, Oregon Board Chair of Backcountry Hunters and Anglers 
Wild and Scenic Rivers and the public lands they connect hold many values for backcountry hunters and anglers: they offer us opportunities for solitude, they provide necessary fish and wildlife habitat, and they provide an economic boost to local economies. We look forward to hunters and anglers enjoying these rivers for generations to come. 
Robin Hostick, landscape artist who lives in Eugene 
I'm a professional artist and fourth generation Oregonian. Like many Americans, I have a special relationship with the natural beauty of our wild places. For me, our wild rivers are a timeless and priceless source of inspiration and it is my life's work to express and share that inspiration with others. The proposal to extend the National Wild & Scenic designation to more Oregon rivers will help preserve the qualities that make Oregon, and America, a place of enduring beauty and inspiration. This is the legacy of a generation. I wholeheartedly support Senator Wyden's proposal. 
---------------------------------------------------------------------- 
Streams in Lane County included in the River Democracy Act of 2021 Watershed/Region Specific Segment Miles 
McKenzie South Fork McKenzie River, upper 16 
McKenzie South Fork McKenzie River, lower 4 
McKenzie Blue River 9 
McKenzie Horse Creek 13 
McKenzie Delta Creek 1 
McKenzie Horse Creek, lower 1 
McKenzie East Fork Horse Creek 1 
McKenzie West Fork Horse Creek 1 
McKenzie White Branch 6
McKenzie Lost Creek 4
McKenzie Deer Creek 10
McKenzie Roaring River 6
McKenzie McKenzie River 6
McKenzie McKenzie River 1
McKenzie McKenzie River 4
McKenzie Bear Creek 3
McKenzie McKenzie River 6
Oregon Coast South Fork Lobster Creek 2
Oregon Coast East Fork Lobster Creek 4
Oregon Coast Gwynn Creek 3
Oregon Coast Sutton Creek 4
Oregon Coast Siltcoos River 2
Oregon Coast South Fork Alsea River 9
Oregon Coast Yachats River 4
Oregon Coast Berry Creek 4
Oregon Coast Quarry Creek 1
Umpqua Canton Creek 17
Umpqua Steamboat Creek 24
Umpqua North Fork Chilcoot Creek 3
Umpqua South Fork Chilcoot Creek 2
Umpqua Chilcoot Creek 1
Umpqua No Man Creek 3 
Umpqua McKinley Creek 3
Umpqua Annie Creek 1
Umpqua St Peter Creek 3
Umpqua City Creek 7
Umpqua Horse Heaven Creek 5
Umpqua East Fork Steamboat Creek 3
Umpqua Hobart Creek 1
Umpqua West Branch North Fork Smith River 3 
Umpqua Big Bend Creek 11
Upper Willamette Fall Creek 18
Upper Willamette Middle Fork Willamette River 30
Upper Willamette Tumblebug Creek 7 
Upper Willamette Fairview Creek 3
Upper Willamette Brice Creek 13
Upper Willamette Skyline Creek 3
Upper Willamette Ray Creek 2
Upper Willamette Unnamed Tributary to Salt Creek 3
Upper Willamette Salt Creek 14
Upper Willamette Swift Creek 6
Upper Willamette Bear Creek 2
Upper Willamette Indigo Creek 2
Upper Willamette Waldo Lake & associated watershed 0 
Lane County total: 313