Back To Previous Page
Best Places to Kayak
Published: July 10, 2019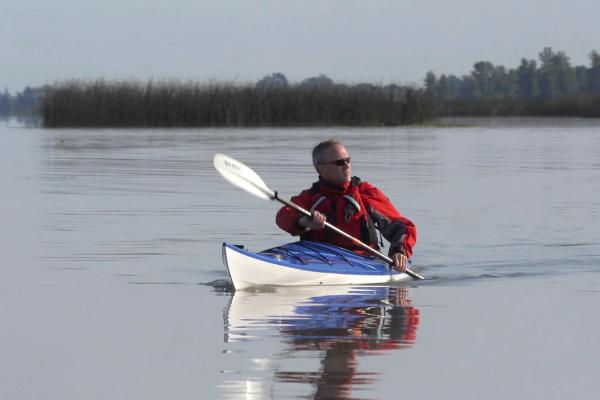 The Eugene, Cascades & Coast region offers many lakes and rivers, even the Pacific Ocean. Explore these beautiful waterways by paddling your kayak around these top spots. Make sure you have the right permits before heading out.
Waldo Lake
Waldo Lake is located just past Oakridge in the Cascade Mountains. It's one of the largest natural lakes in Oregon and one of the purest in the world. Its crystal-clear waters provide an amazing paddling experience. Only electric boats traveling under 10 mph are allowed here, so it's very peaceful. Also, there are three designated campgrounds surrounding Waldo Lake – be sure to make reservations in advance.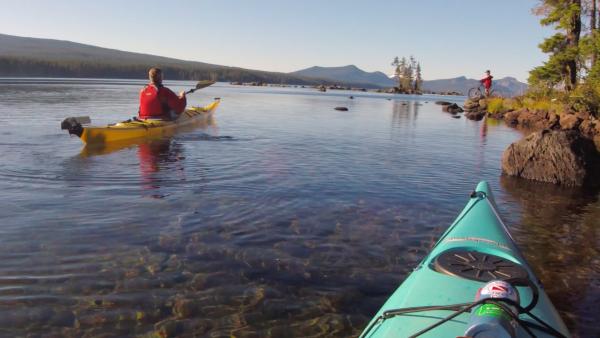 Kayaking at Waldo Lake by Michael Sherman
Dexter Reservoir
Dexter Reservoir is located in the Jasper/Lowell area. There are two access points of the lake – at the Lowell State Recreation Site on the north side and at the Dexter State Recreation Site on the southwest side. Dexter Reservoir offers crystal clear (but very cold!) water. The perfect kayaking spot for a relaxing and scenic paddle. Motorized boats are permitted.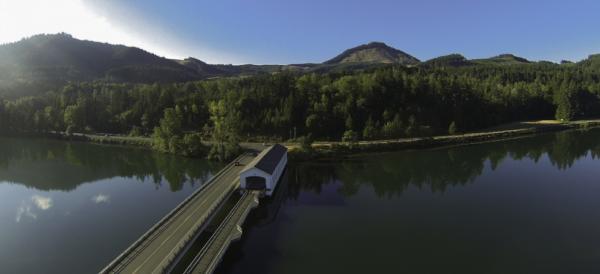 Lowell Covered Bridge at Dexter Reservoir by Dave Horton
Siltcoos River Trail
The Siltcoos River Trail leads from Siltcoos Lake to the Pacific Ocean. This easy three-mile paddle allows you to travel down to the Pacific Ocean and back to Siltcoos Lake. It'll take you through sand dunes and forested areas. There's a lot of wildlife viewing along this trip – you may even see river otters! Please note that during the late spring/early summer Snowy Plover nesting season, sections of the riverbank may be restricted. Paddlers are asked to stay in their kayaks. Located just six miles south of Florence.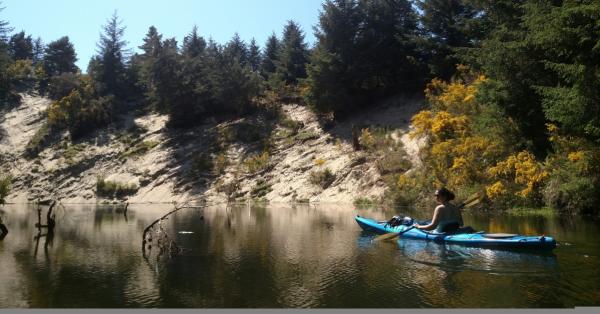 Kayaking on the Siltcoos River Trail by Wyatt Pace
Fern Ridge Reservoir
Located along Hwy 126 near Veneta, Fern Ridge Reservoir offers calm waters and scenic views along an incredible wildlife area. This popular birding spot has almost 250 recorded bird species. Paddle from the day-use Perkins Peninsula Park or launch your craft onto the still waters along the Coyote Creek Nature Trail.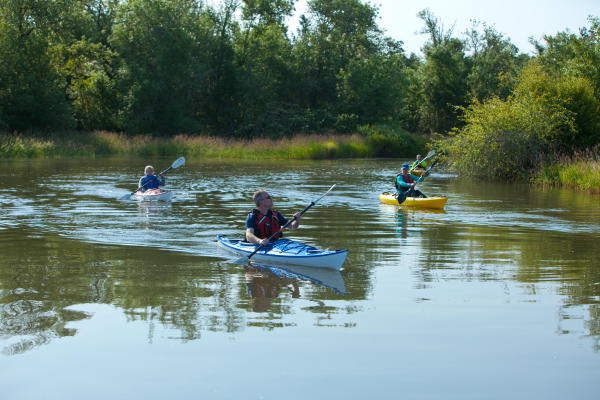 Kayaking on Fern Ridge Reservoir at Perkins Peninsula courtesy of Eugene, Cascades & Coast
Scott Lake
Scott Lake offers stunning views of the Three Sisters Mountains. This lake is located along the McKenzie Highway (Hwy 242). Start out on the first lake and then paddle your way through a small canal into an even larger second lake and then across and through to a smaller third lake.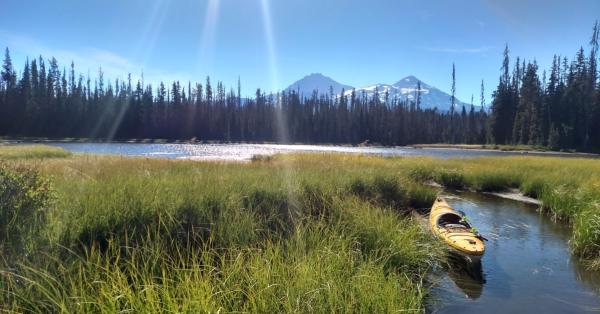 Scott Lake Kayaking by Wyatt Pace  
Willamette River
Flowing through the heart of Eugene, the Willamette River Water Trail is one of the most extensive water trails in the state. This broad river affords paddlers with many options, including multiple launch sites along more than 40 miles of river. View a mile-by-mile map of the water trail.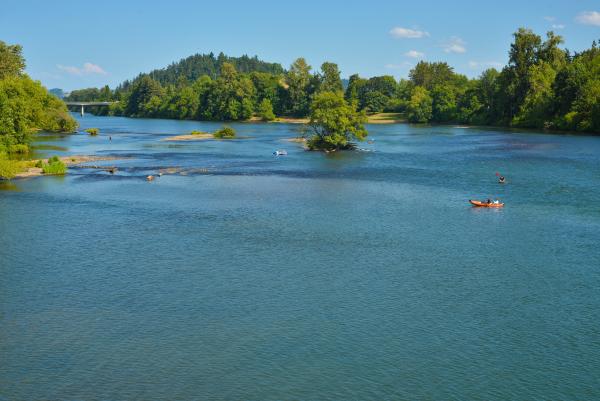 Willamette River by Melanie Griffin
McKenzie River
The McKenzie River travels from Clear Lake in the Cascade Mountains all the way to the confluence of the McKenzie and Willamette Rivers just north of Eugene in Coburg (almost 90 miles). There are many access points and boat ramps, but a good section is to put in at Hayden Bridge Boat Ramp in Springfield and take out at Armitage Park.
Rivers can be swift and there are some challenging and swift portions of this trip. Be sure to follow these kayaking safety guidelines.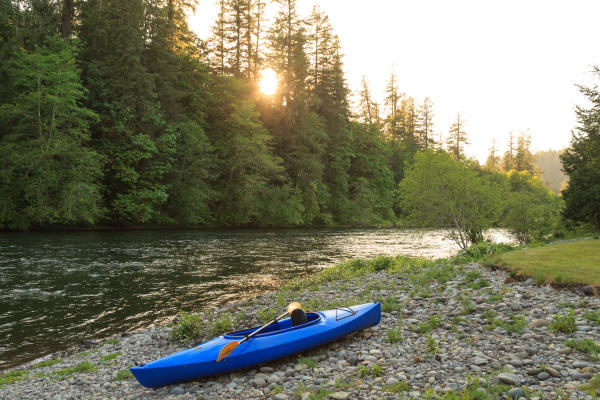 Kayaking on the McKenzie River near Eagle Rock Lodge by Jumping Rocks Photography
Siuslaw Estuary Water Trail
This water trail has over 30 miles of paddling opportunities from Mapleton to the Pacific Ocean. The Siuslaw Estuary Water Trail system is excellent for wildlife watching and birding. Set your adventure dial to match your mood, from the 17.4 mile North Bank trail to the 3.06 Old Town Sunset Loop, there's a trail for everyone.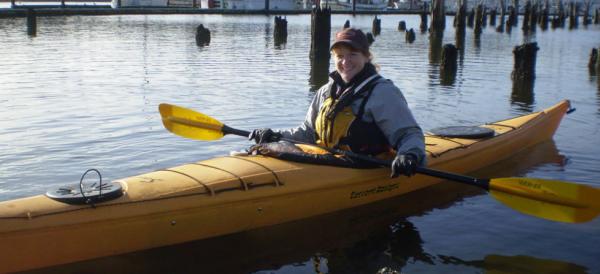 Paddling the Siuslaw River by Jennifer Archer
Need to purchase or rent a kayak, canoe or stand up paddle board? Check out Oregon Paddle Sports in Eugene for all the gear you need. You'll also need to get a Waterway Access permit, so plan ahead!