Back To Previous Page
Best Books to Read in Oregon
Published: January 05, 2023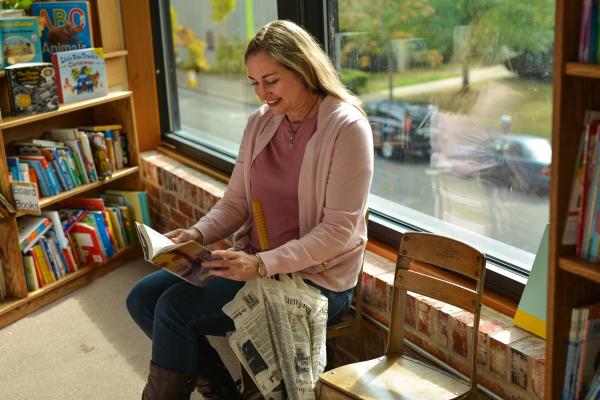 If you are packing a book for the plane ride, planning to curl up with a good book in a cozy B&B, or stashing a book in your beach bag for the lake or river...here is a list of great books about Oregon or by Oregon authors. Delve into the diverse stories from and about Oregon's people, places, events and ideas — all illustrating the irrepressible spirit manifest across the Eugene, Cascades & Coast region.
Author Danuta Pfeiffer
Danuta Pfeiffer is a local winemaker and vibrant member of the Eugene, Cascades & Coast community. She and her husband Robin are natural storytellers and entertainers, both in person with their knack for hosting events, and through the pages of Danuta's literature.
Pocket Full of Seeds Trilogy
"Libertas" and "Firmitas" are the first two books in a planned trilogy chronicling the adventures of Fredericka, the daughter of a White plantation owner, and Horace, a Black house slave, and their quest for freedom during the 19th century. In the second book, the two flee for freedom along the Oregon Trail enduring narrow escapes and plenty of hardships.
Author Ken Babbs
Babbs and Kesey were best friends, and Babbs is also a counter-culture author. His most recent book is "Cronies", available at Tsunami's bookstore.
The Singing Creek Where the Willows Grow 
The Rediscovered Diary of Opal Whiteley by Benjamin Hoff
On to Oregon by Honore Morrow
Walk a Mile in My Shoes by Tom Cunneff
The Casey Martin Story
More Authors & Books
Lane County is home to many more authors and poets that have found quiet places to reflect and write. Here are other regional and statewide authors and books to help round out a sense of place in this multi-deminsional and varied community.
Ursula Le Guin  — A feminist science fiction writer known best for "Left Hand of Darkness" and her "Earthsea" series inspired by the Oregon Coast. Le Guin lived in Portland, Oregon and Eugene's UO Library houses the largest collection of her work nationwide.
L.J. Sellers — Eugene-based author Sellers writes crime fiction often set in Eugene - Springfield. With over twenty mystery thrillers, the pages can't be turned quick enough.
Gerald Duane "Boomer" Wright — A native Oregonian, Wright is a children's author and former educator who just so happened to spend many years managing the famous Sea Lion Caves on the Oregon Coast. "Caption Cox and The Cave of Many Voices" is historical fiction about the discovery of the sea lion caves — aptly written for the many children that marvel year round at the massive, barking sea lions.
Geri Larkin — A Zen Buddhist teacher and author, best known for "Stumbling Toward Enlightenment", Larkin choose the solace of Eugene's gentle landscape for her home. Read "Plant Seed, Pull Weed" for a spiritual exploration through gardening. Her masterful insights and lyrical prose transform reading into a walk through the garden of the soul. You'll be inspired to visit the nearest nursery and plant your own seeds.
Eline Kristina England — "Eating Close to Home" is not just a cookbook, it is a guide to connecting with Lane County's local foods. Organized by seasons and with detailed descriptions of regional crops and what to do with them, this is a perfect way to acquaint yourself with the culinary rhythms of eating local. 
"Eugene Oregon Walks" — A simple, hand-printed book by Tyler Burgess, this is the guide to your neighborhood! A collection of 32 maps with step by step directions to notice Eugene's highlights. Like Frog's Joke Books, this a book that every longtime Eugenian has or should have.
Local Bookstores
Pick up a copy of these area-based books at a local bookstore. Oregon's authors are also frequently available for book signings and discussions at regional markets and fairs.
Smith Family Bookstore offers online orders and shipping for rare books that they have in stock. Their downtown Eugene location is jam-packed with an exciting collection of used books.
Tsunami Bookstore bundles up selections grouped around age/genre to make gift giving easy. Or go explore their South Eugene store in person. Check their calendar for author signings, lectures, live music and other community events.
Additionally, the Eugene Public Library can connect local residents with an extensive e-books inventory, or you can visit in person. Smaller community libraries are throughout the region.
Books 'n' Bears is a beloved boutique bookshop in Historic Old Town Florence which showcases new and used books — and teddy bears!
The Duck Store on campus in the University of Oregon bookstore for students, so academic books can be scouted out there.
Another tip for book lovers: The Shelton McMurphey Johnson House frequently hosts book club meetings. The schedule is listed on their website.