Back To Previous Page
Want To Cut Your Own Tree This Christmas?
Published: November 26, 2021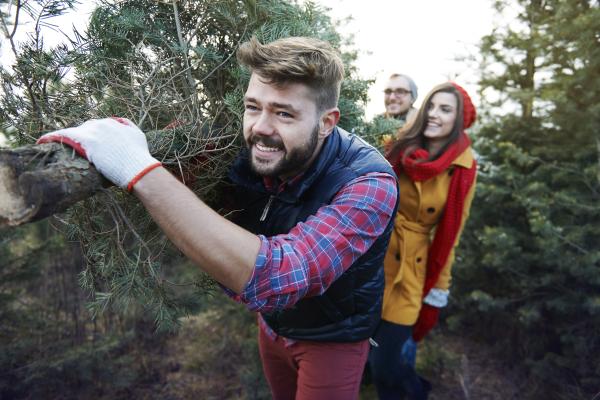 Celebrate the holiday season by chopping down your own Christmas tree! This is a challenging yet rewarding day-trip that you can do with the whole family.
Things you will need to prepare for a Christmas tree adventure
Christmas tree permit — only $5! Get yours online this year at Recreation.Gov or at the Visitor Center in downtown Eugene
Follow a map for harvesting a tree in Willamette National Forest to plan your route
A vehicle that can carry your glorious hand-picked tree. Some areas may require chains or snow tires
Something to strap-up your tree to your vehicle.
A tool to chop down your tree — a saw should do the trick
Layers — it's cooler in the mountains and there might even be snow
Bring water and snacks
Let someone know where you are going and what time you expect to be back
How-to Christmas Tree Hunt 
Venture into nearby national forest lands to hunt for your perfect tree.
Before heading out, purchase your Christmas tree permit and map online. The permit allows for the removal of one tree under 12 feet tall on National Forest Land. Five tree permits are allowed per household. Fourth graders are eligible for a free holiday tree permit — please see Every Kid Outdoors to obtain your fourth grader park pass and order through Recreation.gov. These special free passes are not available at the Visitor Center, and must be ordered in advance online.
Please note the following tree cutting restrictions (from the USDA Forest Service September 2015):
The following restrictions are designed to maintain scenic quality, prevent erosion and protect our resources. 
Christmas tree cutting is prohibited within 50 feet of trails and paved roads, within 300 feet of campgrounds, and within 100 feet of streams. 
No cutting is allowed in fenced plantations. 
Please do not cut in areas which are posted, "Christmas Tree Cutting Prohibited"
Please keep all debris at least 50 feet from roadways.
Five-needle pines, sugar and white pines are protected. Please do not cut any of these.
ORNAMENT HUNT
A seasonal holiday ornament hunt takes place until January on designated National Forest lands along popular trails. Seek out your free keepsake ornament. If you find one of these Oregon-crafted wooden ornaments, enter the sweepstakes to win an Oregon adventure!
Tree Farm
Prefer a Christmas Tree Farm? Head over to Northern Lights Christmas Tree Farm for both pre-cut and u-cut tree options. They've made it easy this year to enjoy cutting your own tree, safely, and close to Eugene - Springfield.