Back To Previous Page
Best Sunset Spots in Eugene
Published: August 01, 2021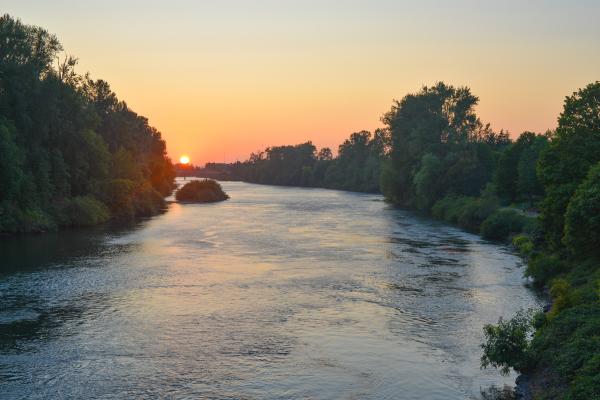 When your perfect day in Eugene just can't end yet, head to one of these top sunset spots and watch the colors change and the stars come out. Bring a picnic and a flashlight and enjoy the show at these top sunset spots in Eugene. 
If you choose a hike as your sunset watching destination, like Mount Baldy or Wild Iris Ridge, be sure that each person has a flashlight. Please leave promptly after sunset and hike cautiously to avoid injury in the dark. Always tell someone your plans when heading out into nature and check out our Adventure Checklist for smart planning. 
Skinner Butte Park (The Columns)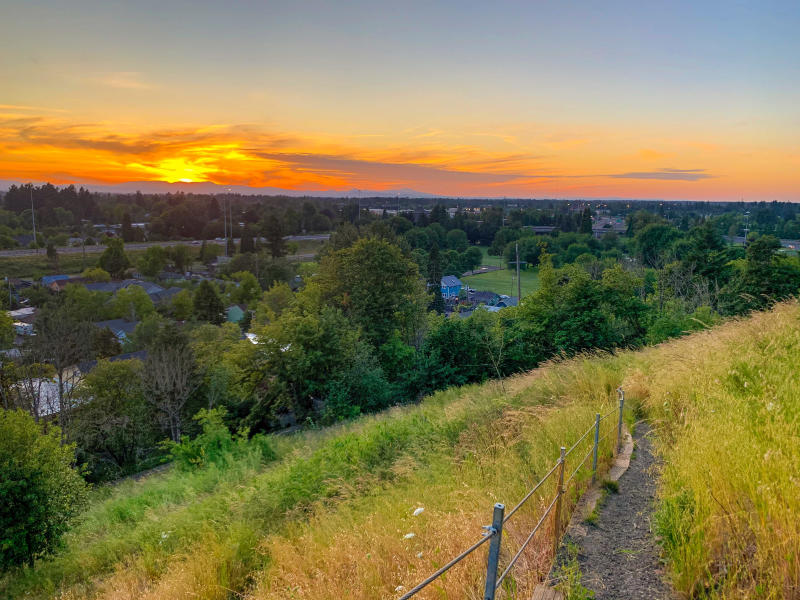 Skinner Butte is by far Eugene's most popular hangouts for a stunning sunset with a full view of downtown and beyond. But walk to the west side of the butte where the basalt climbing columns are and you get a spectacular view with fewer distractions. 
Orchard Point - Fern Ridge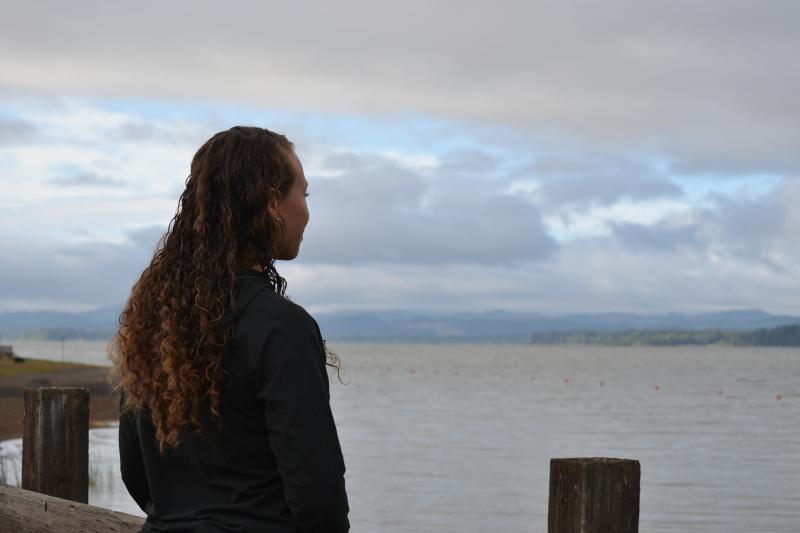 Just outside of Eugene, Fern Ridge Reservoir at Orchard Point is a great place to watch the sunset. You can park here and stand on the docks or walk the trail above the water on the east side for an easy stroll with a beautiful view. 
Ferry Street Bridge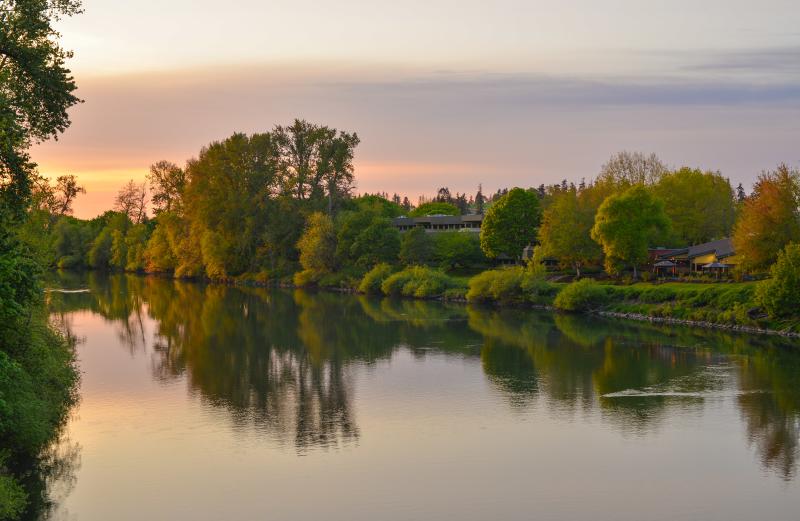 This is a popular spot to view as the sun appears to dip into the Willamette River. The street lights make it a safe place to view the sky even after the sun has disappeared. This is a short and easy walk from either side of the Ruth Bascom Riverbank Bike Path. 
Wild Iris Ridge
In the springtime, Wild Iris Ridge is full of blooming purple/blue irises. But year-round this is a great place to watch the clouds turn to cotton candy as the sun goes down. This hill faces West giving a prime view of the sun as it drops. 
Delta Ponds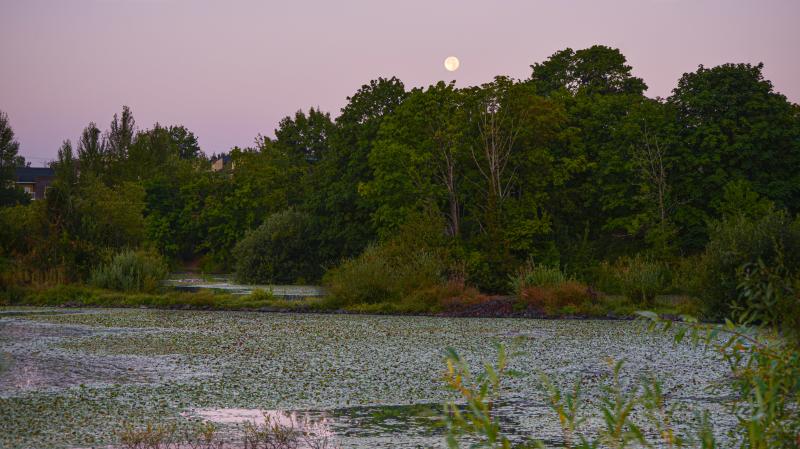 The Delta Ponds are perfect for sunsets because the calm waters reflect the sky and make sunset feel even bigger. This is also a great option because of its easy parking and many accessible trails. Keep your eyes open for Osprey, nutria, beavers, Great Blue Heron and Western Pond Turtles.
Mount Baldy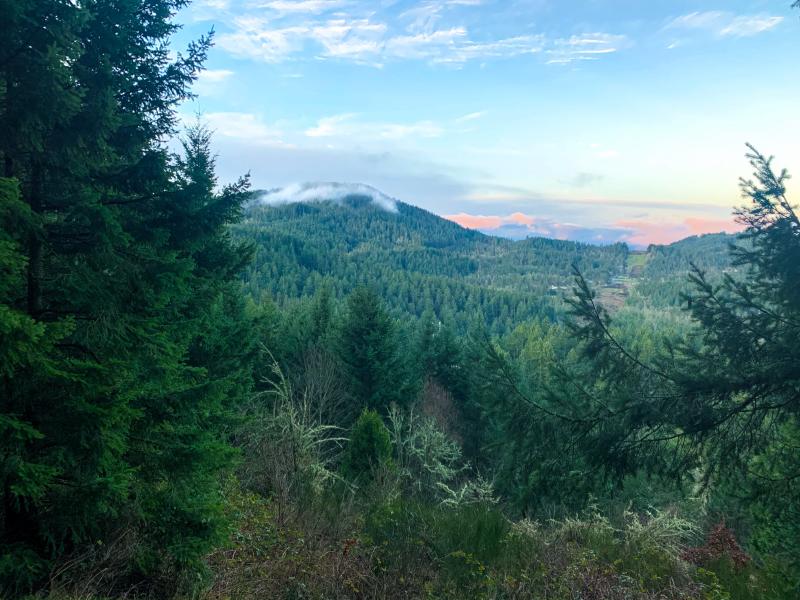 Mount Baldy is another hike but this one is typically less crowded. There are plenty of great spots to sit and watch the sunset but only one bench at the top. The open view from the bald top makes it a great spot for sunrises too since you can see in every direction. 
Hyatt Place SkyDeck Lounge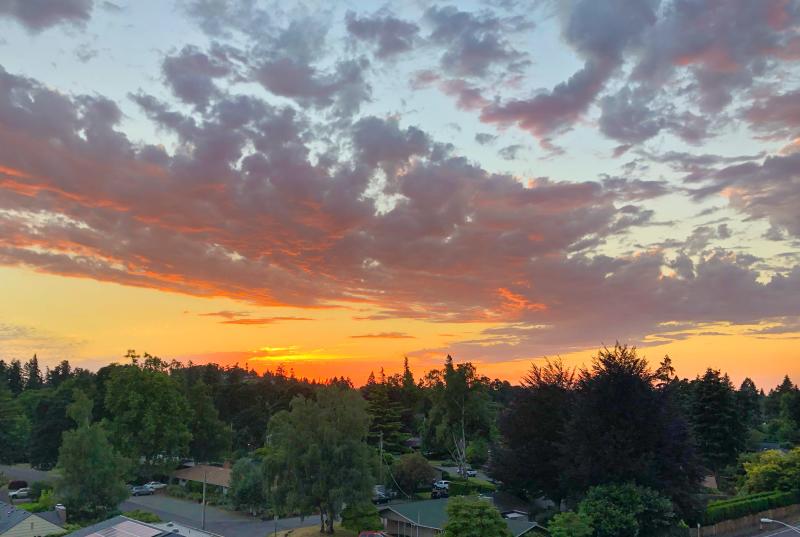 If what you want is a place to sit and watch the sunset with drinks in hand and a firepit keeping you warm, the Skydeck Lounge at Hyatt Place is the perfect spot. The Skydeck offers a limited food menu and a full bar with plenty of heat sources for when the sun sinks.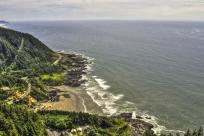 Watching the Oregon Coast's weather roll in and out over the beautiful Pacific Ocean is a dance of dazzling beauty and fearsome…
More
›