Back To Previous Page
Family Friendly Bike Paths
Published: May 10, 2021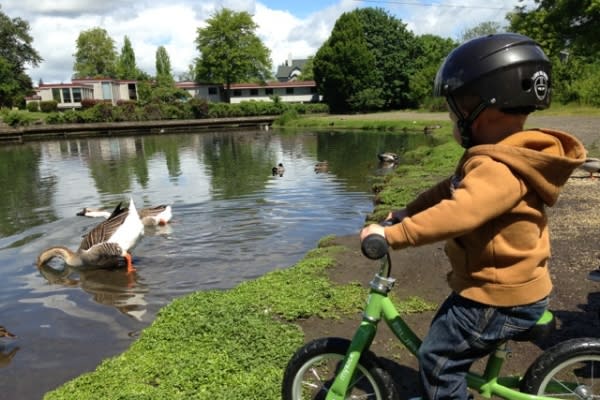 From trailers to training wheels to "Watch me, Mom!", where are the best bike paths to ride with your kids? We've listed flat and fairly traffic-free routes around Eugene - Springfield. May is "Bike Month" so this is the perfect time to enjoy cycling with your family.
1. Ruth Bascom Riverbank Path System - Eugene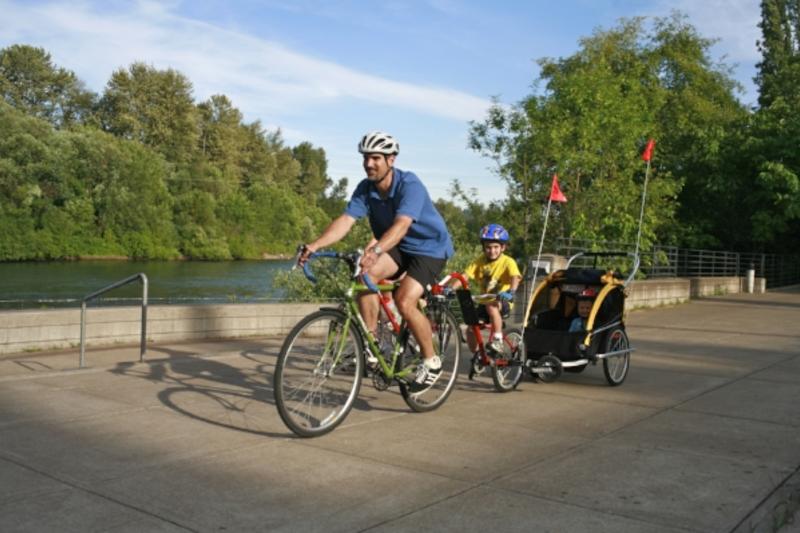 Cycling in Eugene by Michael Kevin Daly
Also known as the Willamette River Trail, this paved bike path loops the Willamette River as it flows through Eugene. The path can be easily chunked into smaller sections for shorter, easier rides. Along the route there are children's play areas, restrooms, ducks, gardens and park and wildlife.
The North Bank Path (5 miles) which passes the BMX Track, the Eugene Science Center and winds through Alton Baker Park is a favorite. Hungry child? Take a break for lunch at McMeniman's North Bank riverfront restaurant with outside patio seating. Or ride over to the Valley River Center mall to choose from their food courts.
The South Bank Path (4 miles) passes the Owen Rose Garden and the RiverPlay Discover Village Playground at Skinner Butte Park. Use one of the five bike bridges along the trail to create a small loop ride. My child loves all the playground possibilities along this ride which can make for a longer afternoon!
2. Mill Race Path - Springfield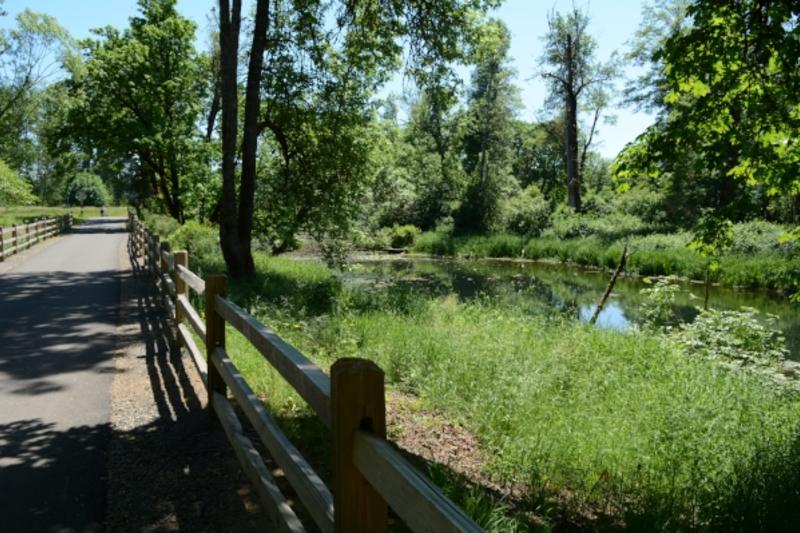 Mill Race Path by Colin Morton
The Mill Race Path is a pleasant ride that parallels the Springfield Mill Race, a constructed waterway from the 1800s. Its three miles course through wetlands which make it an interesting journey for children eager to spot wildlife from nutria to frogs to ducks. There are also industrial views of factories and the older Booth-Kelly buildings. The Mill Race connects downtown Springfield to the Middle Fork Path (Clearwater Park) for a larger seven-mile stretch. There are restrooms and a picnic area at the Booth-Kelly trail head.
If you are comfortable riding in business districts with your children, end the ride with a stop in downtown Springfield along Main Street. There are great restaurants and cafes here and the large colorful murals are fun to see. The Springfield Museum is always a treat and inside the kids can pose with a replica Simpson family for a photo! (Or pose outside with The Simpsons mural.)
3. Middle Fork Path - Springfield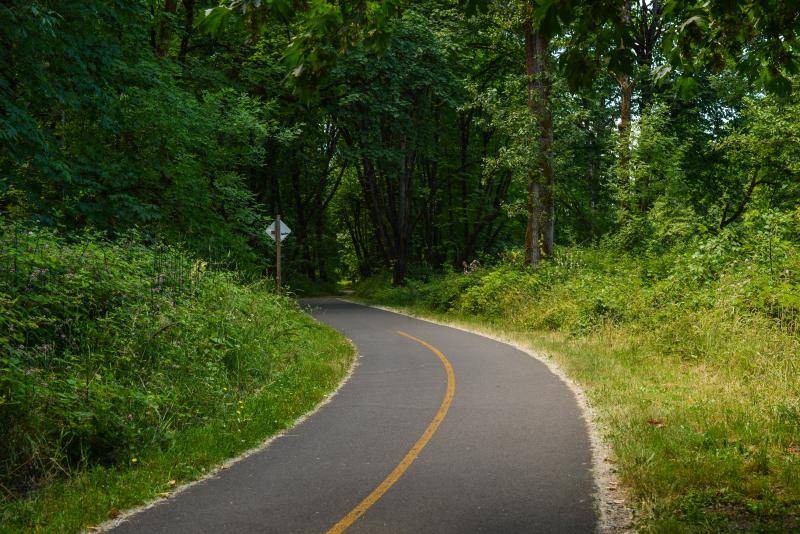 Springfield Clearwater Park Bike Path by Melanie Griffin
The Middle Fork bike path from Clearwater Park to Dorris Ranch is a wide, shaded four-mile long lane along the Middle Fork of the Willamette River. There are restrooms at each end and one near the midway point. What's great about this path is the easy access to the water. Cool your feet off in the shallows but always stay with your children and beware the rapids can be stronger than they look. Rather than swimming, it's just nice to have a rest by the water's edge and soak in all the beauty.
4. Fern Ridge Path - Eugene
Fern Ridge Bike Path by Melanie Griffin
The Fern Ridge bike path is excellent for a family ride because it is mostly flat and wide open. Schools often pick this path for larger group rides for the same reasons. The 6.9 mile (11.1 km) path crosses through wetlands and native prairie and hugs the Amazon Creek. Look for spawning fish, Great Blue Herons and spring camas. In the wet season use caution as some lower levels of the path are prone to flooding.
The path is mostly buffered from cars but it does cross a few roads as it parallels the length of West 11th. Some of the crosswalks feature flashing lights for pedestrian crossing. Have your children stop to wait for you and cross together (sometimes kids are prone to speed ahead for the sheer joy of riding fast and outpacing their parents!).
Parking is available at Meadowlark Prairie trail head on Green Hill Road. There are restrooms here and picnic tables under shade.
5. Row River Trail - Cottage Grove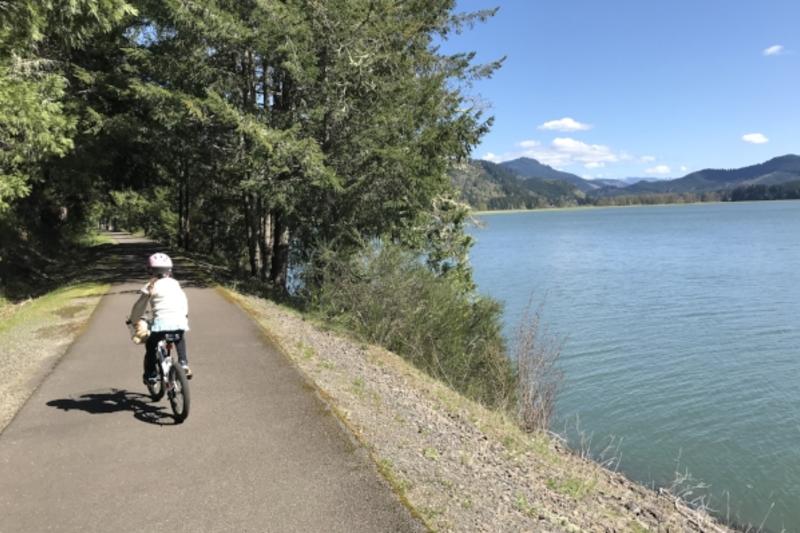 Row River Trail's Dorena Lake Views by Taj Morgan
The Row River Trail is a beautiful trail alongside Dorena Reservoir. It is a great trail for older and experienced cyclists because it is 15 miles long and has a slight incline in places. However, if you plan out your turn-around, it is always great for younger families because it has long flat stretches and is mostly buffered from traffic. There are just a few road crossings and the biggest have been enhanced with pedestrian-crossing safety features like flashing lights.
This is a favorite ride of ours because the views are gorgeous whether through meadow, along the shore or through dark, shady forest. It is also part of the Covered Bridges Scenic Bikeway that rolls through several covered bridges and covers 35 miles. So if you are feeling ambitious...