Back To Previous Page
Find the Best Chowder in Florence
Published: September 27, 2019
A must have foodie experience on the Oregon Coast is clam chowder. But with so many chowder options, it can be hard to choose where to go. Here is an insider's chowder guide to get you started. For the ultimate chowder tasting weekend, don't miss the annual Florence Wine & Chowder Trail in October.
Mo's Chowder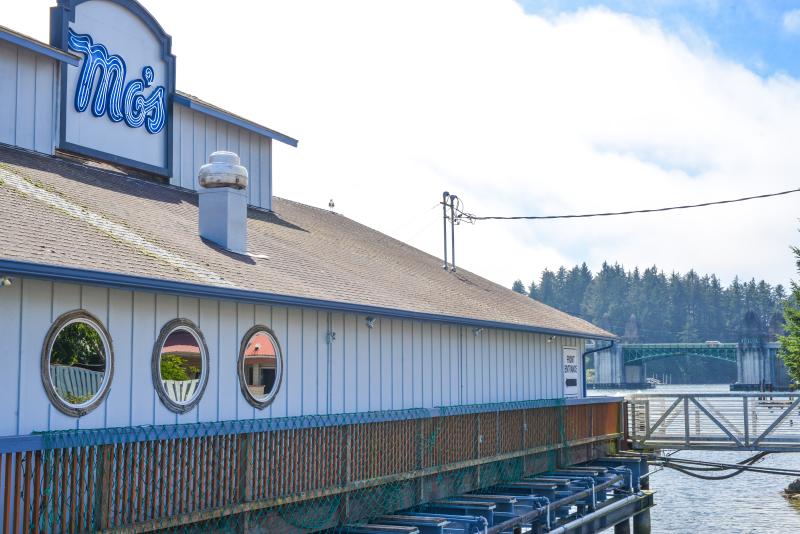 Mo's is an Oregon-based family dining restaurant with a popular Florence location. Photo by Melanie Griffin  
Probably the most famous of all chowders is at Mo's. In 1978 this "Oregon original" from Newport opened its fifth location on the docks in Florence. Rebuilt after a devastating fire in 1983, Mo's Florence restaurant continues to be a favorite Old Town attraction. The picnic table-style diner has sweeping views of the Siuslaw River and serves up chowder, chili and stews. Their classic chowder is a New England style made with bacon. You can order it with home baked bread, garlic cheese bread or in a sourdough bread bowl. A variation is their "Slumgullion" served with Oregon bay shrimp. Expect a wait on weekends at this family-friendly hub, but browsing the gift shop will keep the little ones entertained — there are lots of fun toys for sale. And yes, you can also buy the clam chowder base to go (just add milk and heat at home).
Surfside Restaurant at Driftwood Shores Resort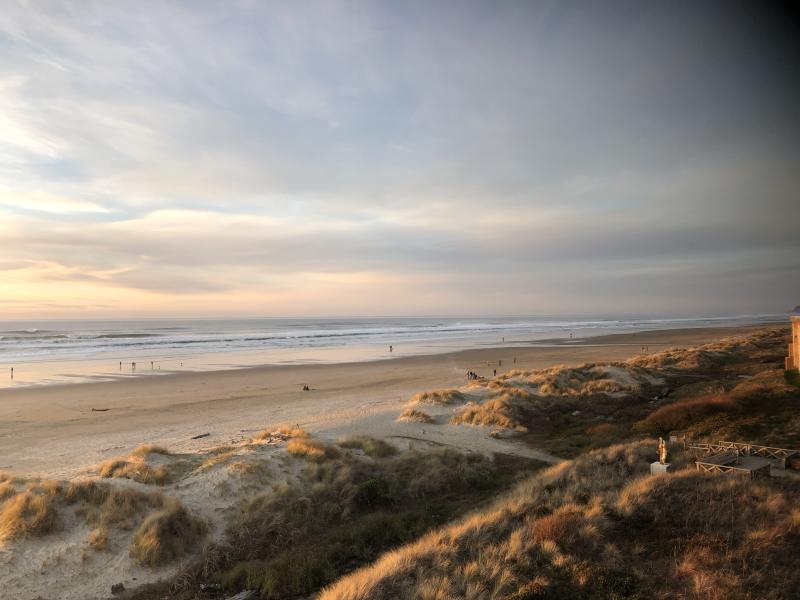 The winter beach in front of the Driftwood Shores Resort. Photo by Diana Wells
One of the best places to storm watch from the beach, the Surfside Restaurant offers a cozy atmosphere with picture windows. And they serve up their own award-winning clam chowder at lunch and dinner. Made with smokey bacon, chopped clams and Yukon Gold potatoes, this creamy dish is accompanied by oyster crackers or served in a bread bowl. This is the perfect destination restaurant after an invigorating winter walk along the miles of pristine beach in front of the hotel.
The Waterfront Depot
Tucked near the base of the magnificent Siuslaw River Bridge, this tiny, romantic restaurant is only open evenings. Housed in the former train depot building from Mapleton, the historic Waterfront Depot is now a great place to get really good clam chowder. Of course, you'll want to pair it with a nice bottle of wine -- and the Waterfront Depot is just the place to do that. Oh yes, and enjoy stunning riverfront views.
Bridgewater Ocean Fresh Fish House
Known for their scrumptious seafood, this popular destination offers both an "Ocean Food Soup" which is a tomato-based fish soup and an "Ocean Food Chowder" which is a cream based chowder with bacon, clams and shrimp. Bridgewater is a fun stop with their zebra themed bar (do not overlook their drink menu) and prime location on Bay Street. And because of their great food, it is a popular spot with locals.
Mari's Kitchen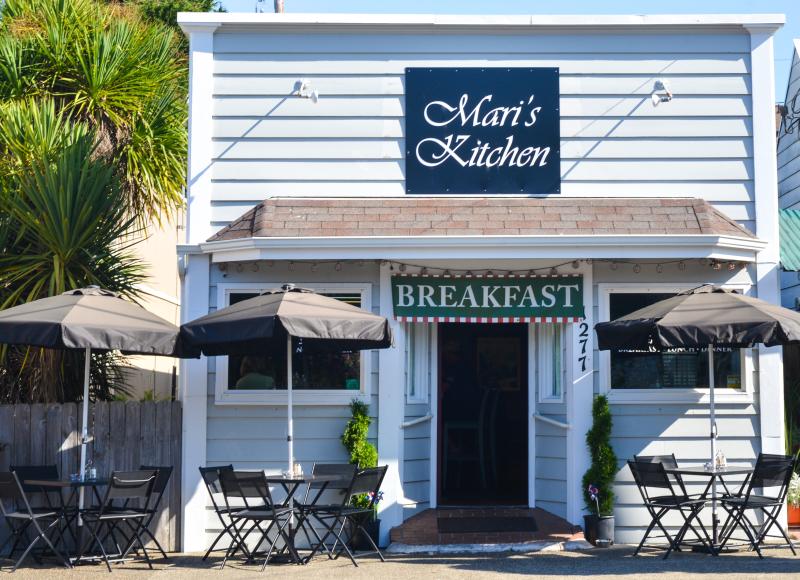 Mari's Kitchen sidewalk seating in Old Town Florence. Photo by Melanie Griffin  
Casual American dining is perfected in this Bay Street restaurant. Along with crab melts, order their creamy clam chowder for a taste of perfect coastal dining. Mari's is rocking the Yelp reviews and it is easy to see (and taste!) why. Their chowder is pictured at the top of this page.
1285 Restobar
Their twist on clam chowder is serving it "Florentine" in keeping with their Italian cuisine. Delicious with plenty of clams,1285 Restobar has won their share of "best of" awards over the years. And don't worry if the sidewalk seating and front room is full —  there is also a wonderful covered patio in the back.
Novelli's Crab Chowder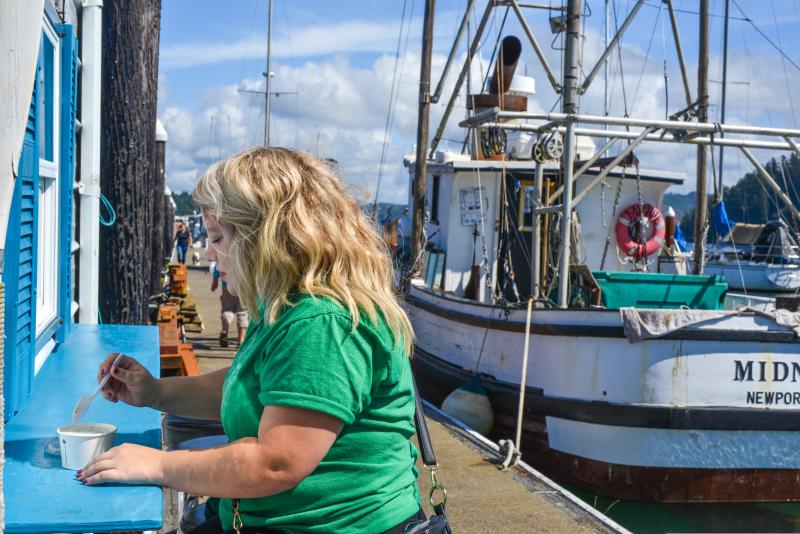 Crab chowder at Novelli's Crab & Seafood on the Florence docks. Photo by Melanie Griffin  
Walk down onto the docks for a casual cup of Novelli's crab chowder. Pull up a seat at the outdoor counter or cozy up at a table in the small indoor crab shack. Then dig into "boat-to-bowl" award-winning crab chowder. The owners catch all their own crab, selling it live or cooked right there on the docks, and serving up crab cocktail too. Their crab chowder can also be purchased to go, so you can take it home for a delicious family meal.
Annual Wine & Chowder Trail
Do you want to try it all? And vote for your favorite chowder? Mid-October, just when the coastal weather is getting cool again, Florence hosts their famous chowder trail. A three day festival starts with a glass float treasure hunt on Friday, wine tasting on Saturday and chowder tasting on Sunday. To participate in the chowder tasting, pick up a $5 chowder trail map with a ballot at Gazebo Park on Bay Street.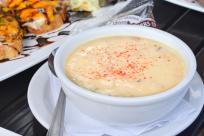 Explore the wine and chowder trail through Historic Old Town Florence and along the way, search for hidden glass floats. Taste wine from…
More
›