Back To Previous Page
Eat Outside — Restaurants with Tented Outdoor Dining
Published: April 30, 2021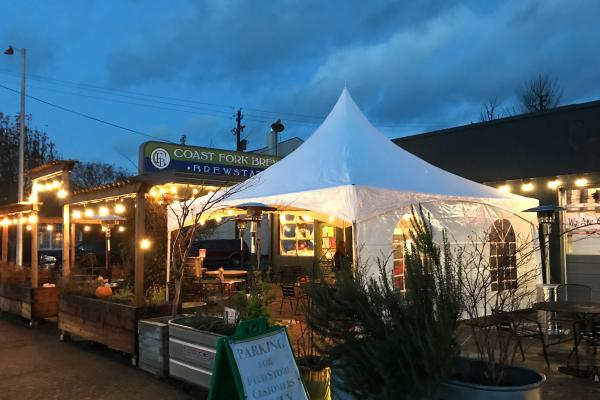 White tents are popping up across the Eugene, Cascades & Coast region to accommodate diners with outdoor eating options. Many restaurants have set up socially-distant outside seating areas to provide cozy—yet ventilated—spaces to dine. Canopies have been erected, heat lamps rolled in and tables spaced out across sidewalks, parking lots and courtyards.
When you'd like to sit down rather than taking meals to go, find a restaurant with a tent! If you are catching up with family and friends, it may also feel a lot more comfortable to do your "entertaining" at a venue outside your home. Sticking to the group size and household guidelines, meet up at a restaurant, winery, brewery or hotel that offers structured protocols and safe spaces. You can feel better knowing that these environments are carefully sanitized, food and drink prep is handled meticulously, and physically distancing is easier to maintain here than at home. 
Here are some highlights for your next meal out:
Eugene - Springfield
6th Street Restaurant & Sports Bar
This Eugene favorite has re-opened with outside seating in the back. Pull up a comfortable seat at 6th Street under their white tent with string lighting. They are open limited hours, so plan ahead.
McMenamins East 19th Cafe
Outside seating under a white tent is available at this University of Oregon neighborhood brewery. East 19th Cafe serves up the popular handcrafted McMenamins brews along with pizza, burgers and salads. They are also offering value meal packages called "Family & Friends To Go" that can feed up to four people. McMenamins North Bank (with river views!) and High Street Brewery & Cafe locations are also open for outdoor dining.
beergarden.
This family-friendly, tented beer garden is flanked by four food trucks: Bounty Meat & Cheese, Lani Moku, Moi Poki and Once Famous Grill and Coffeegarden. Along with beergarden's 42 taps and hundreds of bottled beer, order off all the menus through a contactless system (no cash). Seating is limited, as is party-size, and based on first-come, first-serve. Please be prepared to wait on evenings and weekends. 
The Bier Stein Bottleshop and Pub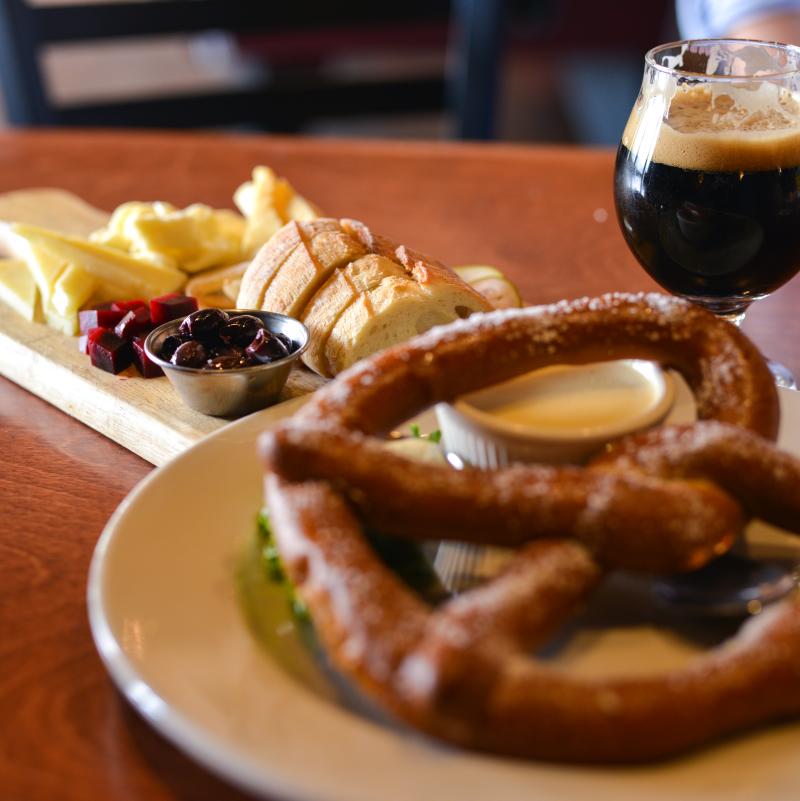 A convivial meeting place, The Bier Stein offers outside seating which is now tented with heat lamps. Enjoy their full menu with favorites such as their "Bier Cheese" soup, Bavarian soft pretzel and their "Chicken & Doughnuts". A limited number of tables are available on a first-come, first-serve basis, for a maximum of six people per table; and you must first check in with the inside host. This ensures that all the proper sanitation procedures are in place prior to seating you. Shopping indoors is still possible, so stock up on beer from their extensive international and local selections. Contactless ordering is available from the outside tables.
Claim 52 Kitchen
Between downtown Eugene and mid-town, Claim 52's brewery kitchen serves up juicy hamburgers, hand-cut fries, and of course, great beer! They are known best for their Kolsch which is a German pale ale and their hazy IPAs. Outdoor seating is available by reservation, and the tent is lighted and heated.
Cornucopia Bar & Burgers and Cornucopia Restaurant
Cornucopia's "best of" awards are just as abundant as their menus offering classic pub fare, rice bowls, fresh salads and more. Both their Eugene locations offer outdoor dining made even more enticing by their Spanish coffees and hot toddies! 
Elk Horn Brewery & Cider House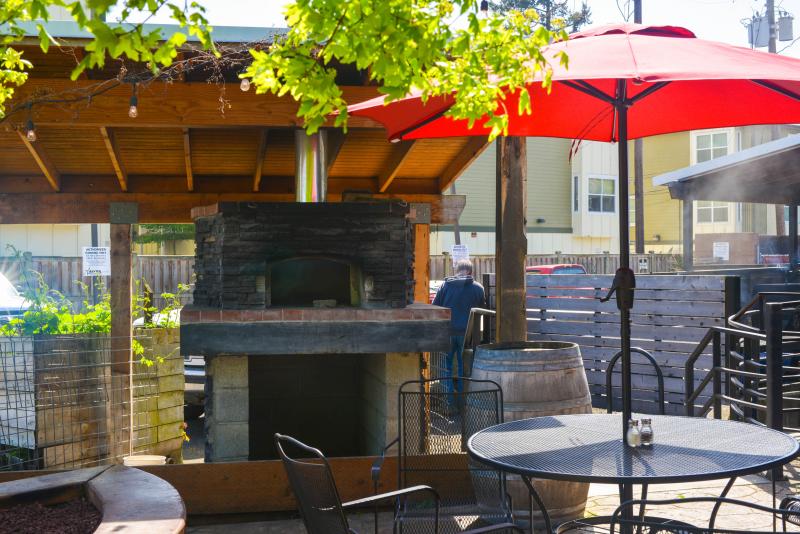 Between the UO campus and downtown Eugene, Elk Horn Brewery has cozy patio dining with fire pits and tented seating. Pair their Southern-style fare and delicious barbecue with cold craft brews for a perfect winter afternoon.
Marché
Located in 5th Street Public Market in downtown Eugene's market district, Marche's fine dining, along with its casual sister cafe, Provisions, is a lovely place to relax outside. Showcasing local ingredients prepared in a French-style, Marché is one of those must-visit destinations for a truly special experience.
For your peace-of-mind, Marché has installed the highest-grade MERV-13 air filters, physically-spaced tables and set up dividers to ensure the safest possible dining experience. Outside dining is tented and has heat lamps. Reservations are recommended, so call ahead. 
The Tap and Growler
The Tap and Growler is a downtown Eugene beer and wine bar dishing up pizza, burritos and bowls. Order and eat in their tented outdoor area. Ask for their spiked and spiced Mexican hot chocolate!
Gryff's Pub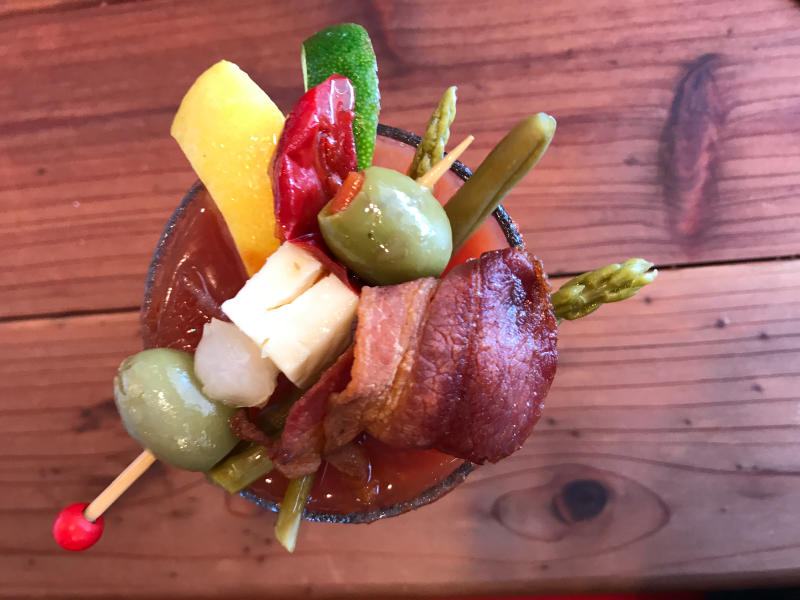 This Springfield sports bar just a block off Main Street has set up deluxe outdoor seating. Individual high-backed booths with heaters and covers create an ideal outdoor dining strip. Additionally, they have four separate fire-pit tables under umbrellas. Gryff's is the spot to order that 32. oz jumbo loaded Bloody Mary that you always see in your Facebook feed! From breakfast favorites and great cocktails to creative appetizers like fried avocado and burgers with all the fixings, indulge your dining out fantasies here.
Plank Town Brewing Company
Plank Town in Springfield offers sidewalk seating under umbrellas on a first come, first serve basis. Without tent walls and heaters it can be chilly, so dress warm! Historic Main Street is a charming spot for sidewalk dining with a great craft beer and meal. Ordering is done inside, or you can order online.
PublicHouse
Springfield's PublicHouse is a conglomerate of cash-only, contactless ordering restaurants around a central outdoor patio. Now covered with heat lamps, enjoy take-out from La Granada, Pig & Turnip and Lani Moku Grill plus access to an array of great craft beers.
Provisions South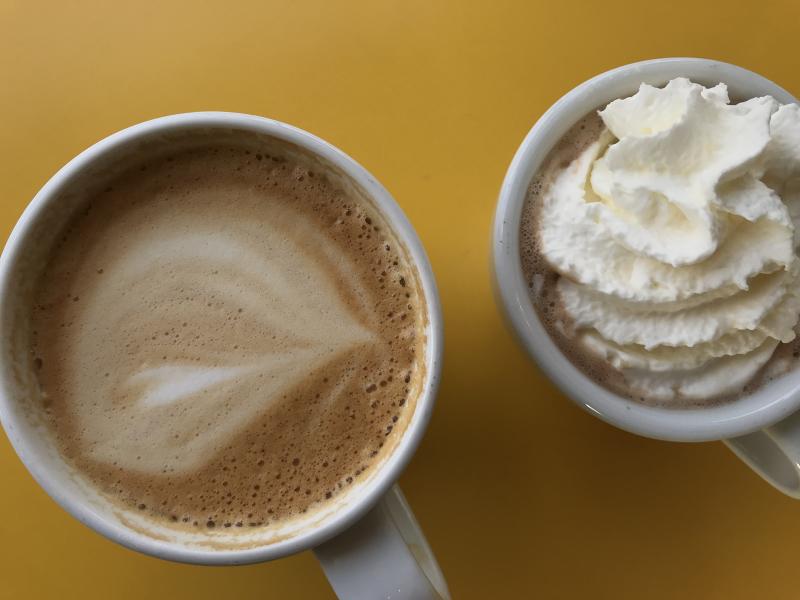 Cuddle up around the heaters in their big white tent to sip your latte in South Eugene. Provisions South offers cocktails, specialty coffees and great food from portobello burgers to avocado toast. Their downtown location in 5th Street Public Market also has access to outdoor tables for on-site dining.
Mucho Gusto Mexican Kitchen
Mucho Gusto on 18th Street in Eugene has tents up for those that wish to enjoy their dining on-site. Choose from a "build it yourself" Mexican menu through their online ordering system.
Viking Braggot Company Southtowne
Their heated and covered patio is just right for their special Sunday aebleskivers brunches. Plus with their spacious tents and fire pits, Viking Braggot is also the perfect destination for on-site lunches and dinners too!
Cottage Grove
Coast Fork Brewing and Feed Store
This fantastic country brewery has spacious covered outdoor seating out front (order inside). Pair your beer with a toasted sandwich, a chicken pot pie or a slice of house made pie! Adjacent Coast Fork Brewing's patio is their feed store — full of supplies for farm and home, plus great gift items.
Covered Bridges Brewing Group
The Covered Bridges Brewing Group, across from the Cottage Grove Visitor Center, converted their parking lot into an outdoor beer garden. Enjoy the winter sunshine at outdoor picnic tables, some with umbrellas (but not all). Food trucks pull up to the perimeter, making it a great lunch spot.
Willamette Valley Wine Country
Bennett Vineyards
Remember Bennett Vineyards spacious outdoor tented tasting room in Cheshire, pre-COVID? Well, this vineyard location is ideally suited for all of today's current protocols. There are heaters and fire tables for keeping warm, plenty of wine service, and plenty of elbow room. Bring your own picnic meal, as there is currently no food service. Call ahead, as there are limited weekend hours.
Sweet Cheeks Winery
Here too, you can enjoy Sweet Cheeks wine on their covered patio next to a propane heater of cheery fire-pit. Rain or shine, this is a wonderful place to get away and enjoy the view. Reservations are required.
Pfeiffer Winery
Sip wine at Pfeiffer Winery in their outside pavilion or beside their lovely water garden.
And More!
Check with individual restaurants to see what on-site seating options are available. Availability and offered services are subject to change at any time without notice.