Back To Previous Page
Summer Beer Patios
Published: July 03, 2021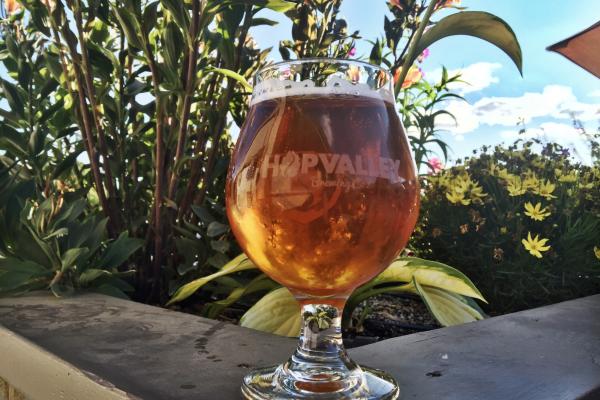 Sip a cold craft beer on a sunny patio! Here are a few favorite brewery patios for enjoying the local craft beer scene—although there are many more popular beer gardens. Just follow the Eugene Ale Trail to get a full experience of the region's top breweries.
McMenamins North Bank
Take in views of the Willamette River from McMenamins North Bank's decks and sidewalk seating. Umbrellas, heat lamps and fire pits make this destination adaptable for any weather, although plenty of sunshine is typical for Eugene summers. While they don't brew on-site at this location, McMenamins is known for their regional craft beers and great pub food.
Check out their McMenamins East 19th Street Cafe location for a relaxing side patio near the University of Oregon campus.
Ninkasi Better Living Room
The Ninkasi Better Living Room welcomes craft beer drinkers to explore spacious outdoor seating and two different bars for counter service. Along with their usual line up and seasonal releases, the Better Living Room is pouring more limited releases and experimental beers brewed in their 5-barrel Pilot Brewery. 
One of the first beers from that Pilot system is the new Stratascope IPA, which aims to explore all of the complex flavors of a single hop. It will be on tap, and available in bottles, throughout the summer. Other new brews include a to-be-released collaboration with Modern Times Portland, and beers using new and experimental hop varieties. And with the footsteps of champions still ringing in our ears from the Olympic Trials - Track & Field, Ninkasi's "Beer Run IPA" is a timely release.
Hop Valley Brewing Company Eugene
Sip craft beer among trellised hops on the outdoor deck area of Hop Valley Brewing Company Eugene. This is the perfect spot for watching the world cruise by in "The Whit", under the shade of an umbrella and with a cold craft beer in hand.
Oakshire Brewing
Just a few blocks away is another favorite, Oakshire Brewing. This urban patio is dog friendly and typically ringed with food carts. With 20 different taps, there is sure to be something to please every beer drinker. Look out for limited release cans – some beers are only available for a week or two and are quickly gone!
beergarden.
The beergarden. is another popular outdoor gathering place for beer drinkers. An enclosed courtyard offers tenting, multiple food trucks and often live music. While they don't brew their own beer, they have an extensive variety of local, regional and other craft beers on tap.
Viking Braggot Company
This gritty, warehouse scene in West Eugene is staged on asphalt beside chain link fences but its vibes are super relaxed and urban. Pull up a seat outside Viking Braggot on a balmy summer evening and feel like you've just discovered a very cool and unexpected secret. The frequent food truck and live music, in conjunction with other nearby beverage companies hosting their own warehouse tasting rooms, creates the atmosphere of a block party. 
Viking Braggot Company took advantage of the pandemic to remodel their Southtowne pub location. Check out their expanded outdoor seating, or marvel at the intricate wooden carvings around the new bar that will really make you feel like you're in a real Viking village. As always, no matter which patio you choose, their delicious honey-infused braggots will quench your thirst, and delicious Scandinavian-inspired treats will fill you up. Skol!
Elk Horn
More of a pocket patio, Elk Horn Brewery offers a chance to enjoy a nice summer day along with their excellent Southern dishes, beer and cider. Landscaped with plenty of green plants, it feels like a hidden garden.
Alesong at 5th Street
The unique barrel-aged beers produced by Alesong are now even more accessible with the opening of the tasting room at 5th Street Public Market. Enjoy the many seasonal releases, pair with a charcuterie board, and enjoy the views from their rooftop patio. The original location, out in wine country, is no longer directly open to the public; but instead now offers private guided tastings for groups of up to six. Highlights for this summer include a number of ales bursting with fruit flavors, including "Valley Preserves" and the "Stonefruit Symphony".
Falling Sky Brewing House
Falling Sky is under new ownership but retained all of the brewery staff and maintains the same commitment to quality local ingredients. Enjoy their newly released Spruce Banner Hazy Pale-Ale or dozens of other brews. Their Falling Sky Brewing House location and their Falling Sky  Ppur House & Delicatessen in the Whiteaker neighborhood both offer outdoor beer gardens.
Cornucopia
Cornucopia's friendly restaurant has a shady back garden, just perfect for escaping the heat on a summer day. Their downtown Eugene location and Springfield Main Street location have sidewalk seating.
PublicHouse - In Springfield
A beer hall that overflows into a courtyard, the PublicHouse offers table service with multiple food vendors to choose from. 
Beer Patios Across the Region
Heading out for a weekend adventure and need to quench your thirst afterwards? Or maybe you're just looking for something completely new to try? Then take a short trip to some of these other beer hot spots!
Just a half hour south in Cottage Grove you'll find Coast Fork Brewing with patio dining out front. This small craft brewery features a selection of their own beers, guest taps, a great bottle selection and an amazing food menu with locally sourced ingredients. The shepherd's pie paired with a Row River Red Ale is one of the best meals around! Just a few blocks away is Cottage Grove's second craft brewery – the Covered Bridges Brewing Group. This new and spacious beer garden is right on Main Street and next to Trailhead Park, so it's the perfect spot after a day on the trail or the lake. They brew a variety of beer styles and ciders, and have several food trucks in the back beer garden to satisfy your hunger. 
If the Cascade Mountains are your destination, no trip to Oakridge is complete without a stop at "The Pub". The famous Brewer's Union was sold to a new owner and is now known as the 3 Legged Crane Pub and Brewhouse. Don't worry – the famous wooden kegs and casks have stayed in place and are still maturing the beers in the English "real ale" fashion. If you haven't been to Oakridge in a while, you can expect some new beers as well as classics from the old brewer's recipes that they still serve.