Back To Previous Page
Santa, Holiday Selfies & Photo Opps
Published: December 05, 2020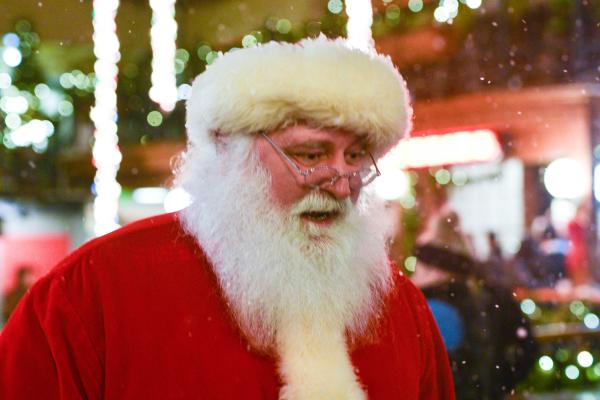 It's a little harder to track down Santa this year — and while sitting on his lap at the mall or spotting him strolling in a parade isn't likely to happen — there are other great holiday photo opportunities. Here are some of the top photo spots to snap that perfect holiday card picture.
1. Santa at Cabela's
Yep, he is there! And getting a photo with him using your own camera is free, you just need to reserve a time slot. Children's temperatures are taken, surfaces are sanitized between families and all staff is masked. Santa may be unmasked or wearing a face shield so you can see his friendly face, but he is distant behind a large acrylic wall. Your children can see him, wave, and stand in front of the clear wall for a photo. While you are in Springfield, get your gift shopping done at the many nearby stores.
2. Santa at Valley River Center
Reservations are recommended at Valley River Center mall, although some walk-ups may be permitted if there is availability. Santa will be masked and six feet away, but your masked children can talk to him. Photo packages are available for purchase. Hand sanitizer is provided and staff will be masked and have their temperatures taken before shifts. Santa's suit will be sprayed with disinfectant between shifts. Stores will be operating at a limited capacity, but this is also a great time to get some shopping done.
3. Selfies with Santa at Thinking Tree Spirits
For two Saturdays (December 12 & 19), Thinking Tree Spirits will have a culturally diverse Santa available for socially distanced photos following COVID-19 protocols. Please bring your own camera. Their parking lot will be transformed into distanced seating with heat lamps and warm drinks for grown-ups and kids, and a ramen food truck by Ojisan Ramen. Gift shopping opportunities will also be available. 
4. Holiday Scenes inside the 5th Street Public Market
Three festive holiday selfie scenes are set up in the 5th Street Public Market. The already picturesque indoor/outdoor mall is bright with garlands and lights. One set is on the first floor promenade outside of Velvet Edge, the second set is on the first floor walkway outside of Melange and the third features Santa inside the upstairs eateries. Tag your photos @5thstreetpublicmarket when you share socially. You can also head upstairs to the second floor courtyard area to mail a letter to Santa in a very special mail box. Throughout the season there is a scavenger hunt for the chance to win prizes. Since you are downtown already, walk around to see the holiday window displays organized by the downtown merchants.
5. Window Santa Selfies in Cottage Grove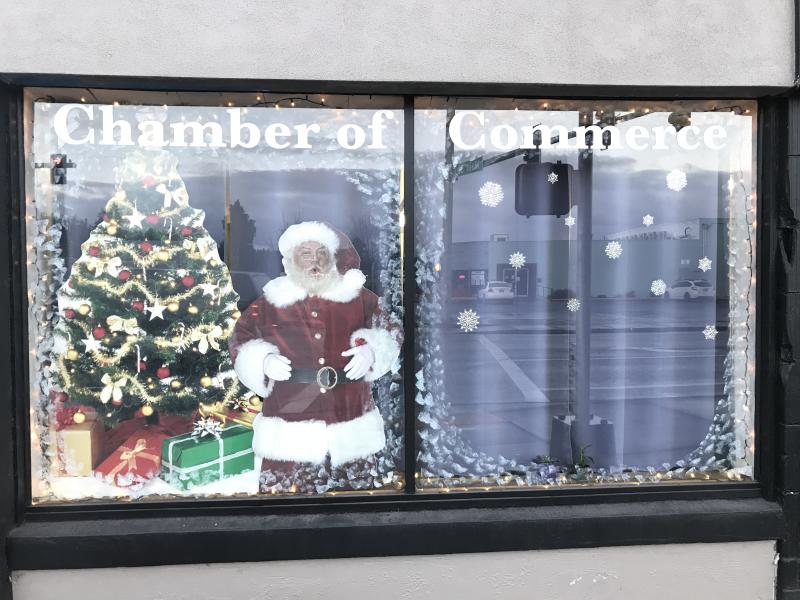 Main Street in Cottage Grove is a not only dressed lovely for the holidays, there are some outstanding antiques stores and book shops for finding unique gifts. While you are shopping, snap a Santa selfie in front of the Cottage Grove Chamber of Commerce's Visitor Center. A festive holiday window display provides the perfect backdrop! Walk over to the nearby square to admire the town Christmas tree and get a picture in front of the tree, and in front of the Opal Whiteley mural.
7. Old Town Park in Florence 
A spectacular Christmas tree graces the charming white gazebo in this riverfront "pocket" park. Pose with the family in front of the Old Town Park gazebo, then holiday gift shop along Bay Street. Don't miss Bears n' Books with their fun collection of new and used books—and bears!— or the LoveJoy Restaurant & Tea Shop for a cup of award winning chowder. Download a best "window decor" ballot and vote for your favorite decked out store or gallery. Submitted ballots are entered to win a "swag bag" from Santa.
Gift Trees & Toy Collection
Gifting is already a family tradition for many, and there has never been a better year for it with so many people impacted from the lockdown freezes and the recent wildfire devastation. Here are some virtual "trees" where you can help create a little magic and cheer in 2020.
Willamalane Giving Tree
Willamalane partners with community organizations for those in need. Instead of picking up wish lists in person, Willamalane created an online "tree" registry. Gifts can be shipped to Willamalane, where staff will coordinate deliveries.
Toys For Tots
Donate online or drop a toy off at a participating Bi-mart or UPS store. A variety of other stores throughout Eugene and Springfield are participating, including easy favorites like Eugene Toy & Hobby.