Back To Previous Page
Top 5 Holiday Light Displays
Published: November 25, 2020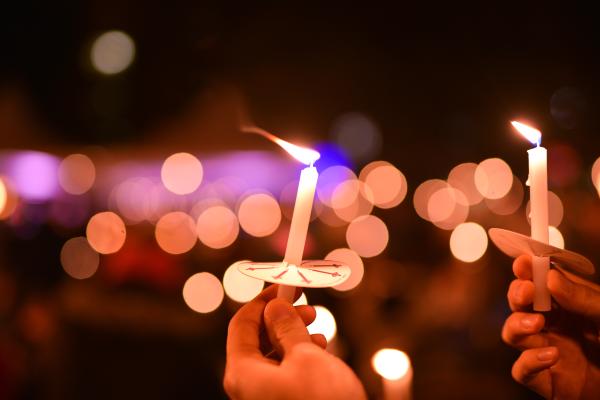 'Tis the season for festive light displays! Many family traditions include touring local neighborhoods adorned with thousands of twinkly lights for Christmas. This year we expect lights to still be strung, but enjoying the sparkle will be a quieter, individual affair this year — without the traditional festivities and fanfare.
Most lights are easy to drive by, and if you do get out to take a look, please respect social distancing.
Here are the top five best ways to enjoy Eugene's magical lights this year.
1. Tree & Covered Bridge Lights
Downtown Eugene kicks off the season when the lights illuminate a magnificent tree in the Park Blocks. There are additional lighted trees at 5th Street Public Market and Oakway Center. Springfield (at PublicHouse), Creswell and Veneta also have lighted trees.
But it's not just trees getting all the glory. Several of our historic covered bridges get bedecked in colorful lights too! On Highway 58, the Lowell Covered Bridge is magnificently illuminated with red and green lights which reflect off the smooth waters of Dexter Reservoir. Further along, Westfir's Office Covered Bridge, known for its dedicated pedestrian walkway, is decked out in full holiday lights. The Goodpasture Covered Bridge over the McKenzie River off Highway 126 is also lit up for Christmas. 
2. Community Holiday Light Tours
As a replacement to the lighting ceremonies, the City of Eugene is supporting holiday cheer and magic across individual neighborhoods with the campaign #LightUptheTown. Share your holiday display on Instagram with tag @EUGCulture for the chance to be included in their end-of-the-year celebration video. 
Eugene's bright spots include the Gilham neighborhood (think music and light shows) and McLean Blvd and Chambers St (no expense spared on some of these magical estates). Individual addresses change every year, so you may just need to jump in your car and drive around. But as the season progresses, we'll make updates here as best we can!
In Creswell, the Hoffstot family has a tradition of decking out their home for a mega-display drive-thru experience. They welcome people to drive by their home at 31208 Camas Swale Road, 5:30 to 9 p.m., daily until Christmas.
Veneta and Fern Ridge have planned a twinkling wonderland kicking off December 7. Follow the Chamber's map of participating residences and businesses on the Veneta / Fern Ridge Tour of Lights! 
3. Holiday Light Parades
Turn out for a magical line up of huge lighted floats through Creswell, Veneta, Coburg and Junction City. Since you are heading out to "wine country" towns, make plans to arrive earlier in the day to purchase wines from open tasting rooms. But call ahead to check their hours and protocols. Choose your favorite local wines for the holiday table.
4. Oregon Coast Holiday Lights
On the Oregon Coast, the Heceta Head Lighthouse is the brightest light year-round and its adjacent bed and breakfast celebrates the season with full lights. Historic Old Town Florence will also light their holiday tree and you can enjoy the added beauty of lighted boats in the marina. From Florence drive 60 miles south to Shore Acres State Park to tour their marine-themed light display in their oceanfront gardens. Please confirm ahead of time as viewing may be limited this year.