Back To Previous Page
Events at a Park or Amphitheater
Published: July 01, 2016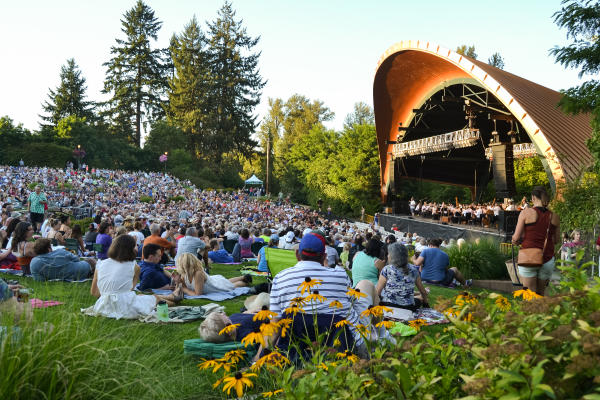 Host gatherings in special spaces specifically designed to spotlight the spectacular. Cuthbert Amphitheater and Bohemia Park are the two best known local amphitheaters but there are other natural ones like the grassy knoll at Amazon Community Center where Shakespeare is performed every summer, and the lovely site at Silvan Ridge Winery where they host weekly summer concerts. Greenwaters Park in Oakridge and Rolling Rock Park in Lowell are also great options for outdoor concerts and performances. The University of Oregon and the Hult Center for the Performing Arts also have urban amphitheater spaces for outdoor entertainment or presentations.
The Eugene, Cascades & Coast region has abundant outdoor spaces for all kinds of meetings and events. Find parks with picnic shelters, open lawns, ball courts, restrooms and other amenities. The multi-purpose park at Washington Jefferson Bridge features an urban plaza event space alongside its undercover skate park. Hendricks Park has a large shelter area with tables perfect for food-focused gatherings, and the riverfront Clearwater Park not only has easy river access but also plenty of parking. We can find the right park for your group size, activity and amenity requests. Here are some of our top recommendations, but there are many more. 
For Park Event Assistance:

Linda Norris
Director of Convention Services
Linda provides in-market support for convention meeting planners. She assists with venue and activity arrangements, delegate itineraries and tour options, and dining and transportation recommendations. Linda coordinates welcome table services, delegate information packets, "Show your badge" discount programs, meeting micro-sites and pre-conference collateral. Additionally, Linda offers resources for reunions, weddings and other group events.