Need a place for your group to dine? Ranging in size and cuisine, the Eugene, Cascades & Coast region has several group dining options and one is sure to be perfect for your group. We've rounded up a few planner favorites for you to consider.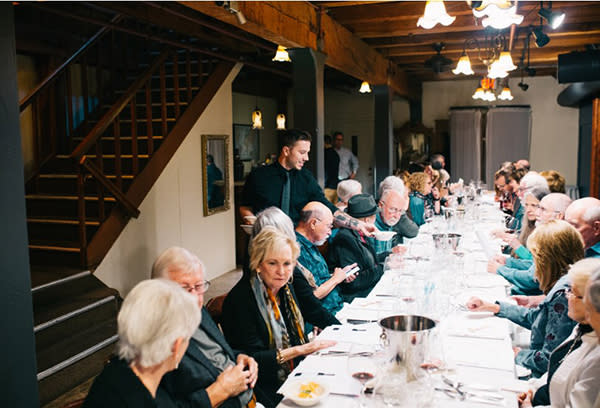 Ambrosia Restaurant & Bar
Ambrosia Restaurant & Bar in downtown Eugene has a sizable interior with an unmatched ambiance. Their Cellar Room boasts a spacious atmosphere that accommodates 45-60 people with a dedicated serving staff ready to help.
The Salon is another large meeting space on the first floor and accommodates up to 35 people for seated dining and 45 people for appetizer/cocktail style events. Vintage brick walls and beautiful artwork make this place a favorite for those visiting Ambrosia. Their staff is also happy to offer several options for seating configurations.
Ambrosia also has the Overlook section which is located on the second floor of the restaurant. This space accommodates 20-30 people for seated dining and offers city street views. Your group will appreciate the open atmosphere and beautiful floral glass windows.
Lastly, for a smaller group, Ambrosia offers the Study which is a small section of the restaurant also on the second floor. Although in the heart of the restaurant, this section feels private and intimate. The Study is great for private meetings accommodating up to 10-12 people.
With access to flat screen TVs and a high-quality music system, Ambrosia is a go-to for groups. Attendees will appreciate the original 1960's brick building exterior and delicious menu options including antipastos, calzones, wine and delectable desserts.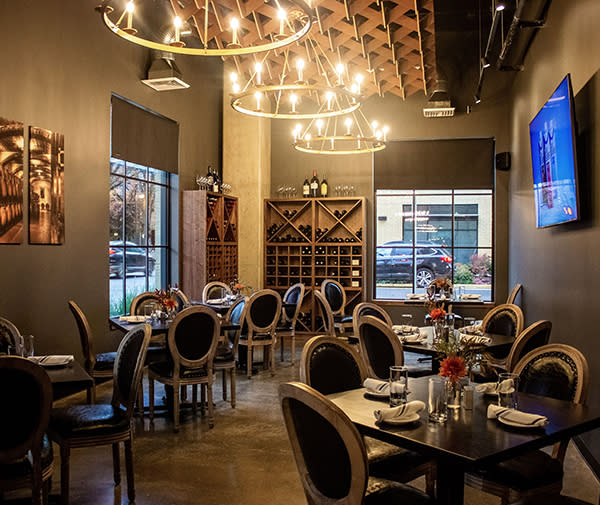 The Gordon Tavern
The Vintage Room at the Gordon Tavern seats up to 36 guests and is both private and posh. High quality ingredients are the catalyst in their classic Northwest-inspired American comfort food. Start with a few shared plates of fried calamari and burrata before digging into their fine entrees including fresh Pacific Northwest salmon and chicken Cordon Bleu. Fruit tarts, Crème Brûlée and other dessert options await your group's sweet tooth.
6th Street Restaurant & Sports Bar
6th Street Restaurant & Sports Bar is the quintessential sports bar and restaurant suited for large groups of people. Located in downtown Eugene, the restaurant side can be reserved for your group and can easily accommodate a sit-down dinner of 50-60 people. The catering menu allows planners to choose from existing options or customize the menu to suit the group. Need the room dressed up or down? Their superb staff has got you covered.
Hole in the Wall BBQ - Springfield
Hole in the Wall BBQ in Springfield prides themselves in cooking low and slow over real hardwood to create out-of-this-world barbeque. Their tap room seats up to 30 guests. Nothing beats a good BBQ platter among great company. Don't miss out on favorites including smoked brisket, pulled pork sandwiches and all the fixings.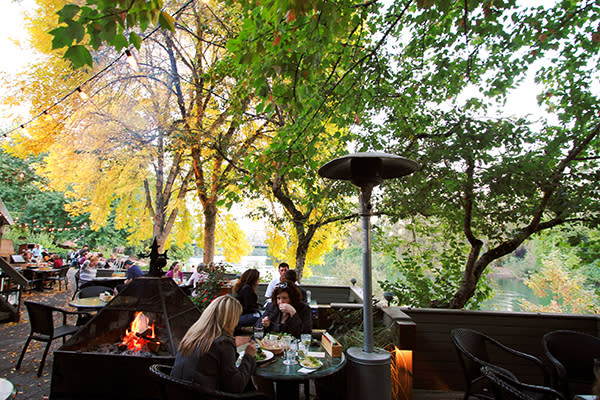 McMenamins North Bank
McMenamins North Bank is one of the few places to dine on the water in Eugene and has a beautiful back patio along the Willamette River with tables along the riverbank. The Mutton Room can hold up to 25 people and is on a first-come, first-served seating basis. McMenamins North Bank has a strong menu with favorites ranging from delicious truffle fries to mouthwatering burgers, sandwiches and cocktails.  With views of the Willamette River at every table, North Bank offers a memorable and unique group dining experience.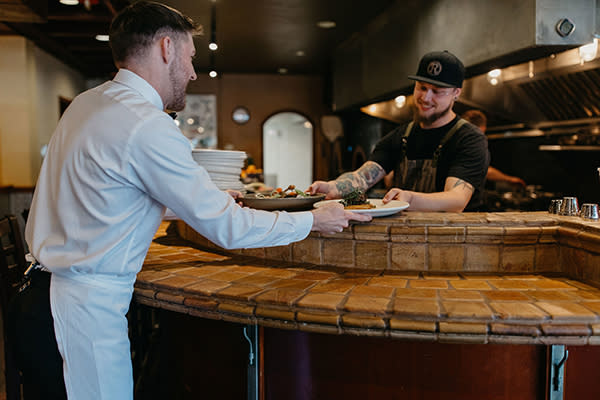 Marché
Marché is a French-based restaurant that focuses on locally grown, seasonal, regional and sustainable food practices. Located in the 5th Street Public Market, Marché gives guests a taste of France with a Pacific Northwest twist. If your group is 10 or less the private dining room will be perfect option and is equipped with Wi-Fi, a projector and a presentation screen.
Their courtyard dining room is another great option and is secluded by large French doors and a thick theater curtain. The courtyard can be reserved in advance and accommodates up to 20 people. Groups will enjoy the steak frites, oysters and remoulade, pacific halibut and incredible dessert options such as buttermilk cake with poached cherries, buttermilk sherbet and crème anglaise.
Flashback Grill
New ownership took over Flashback Grill in late 2019. From that moment on, they have been serving satisfied customers delicious comfort food in a classic, vintage environment. Located just minutes away from downtown Springfield, attendees will love the old-school feel and aesthetic of this establishment. Stop by for a milkshake or a classic cheeseburger and fries after a long meeting day. Reservations can be accommodated for groups of eight people and more, but the reservation must be 24 hours in advance. With enough notice, the entire restaurant may be rented for groups.
Group Options Abound
Call us today and we will help determine the perfect restaurant for your group. From brick cellar rooms to majestic river views, a unique and delicious group dining experience awaits.