Proxy Falls
Double rewards for a wayside ramble that's only accessible in the summer season before snow closes the road.
Proxy Falls Trail #3532 is located just east of McKenzie River off Hwy 242 in the Cascade Mountains.
One stream cascades into two separate shimmering veils dropping 226 feet (68.885 m).
Instead of feeding a stream, the water pooled at the foot of the falls seems to disappear, but it's actually sinking through the porous lava into the ground.
Touted as a family-friendly hike (but not ADA accessible), the dirt and lava-rock trail is an easy loop totaling 1.5 miles (2.4140 km).
The trail showcases two distinctly different waterfall views of the upper and lower sections of Proxy Falls. At the bottom it is possible to scramble close to the water and feel its spray. As with all waterfalls, watch for falling rocks and debris.
Proxy Falls is among Oregon's most frequently photographed waterfalls. So don't forget your camera!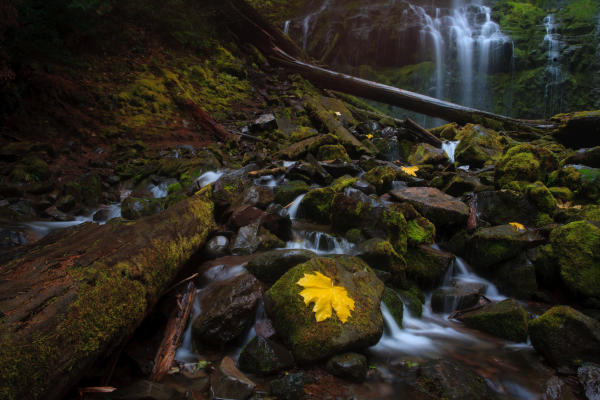 Autumn at Proxy Falls by Kimberly Gough  
KNOW BEFORE YOU GO 
Often crowded parking along roadside pullouts
Restrooms across the road with a vault toilet
Picnic area
Willamette National Forest - Three Sisters Wilderness - McKenzie River Ranger Station
Dogs are welcome on this trail
Day Use Fee Area ($5 a vehicle) or Recreation Pass required. Permits may be purchased at the Adventure Center in Springfield
Hwy 242 closes for snow, typically November - June. Bicycle access is still possible during the shoulder seasons 
Directions: From the junction of Hwy 126 and Hwy 242 (just west of Belknap Hot Springs), follow Hwy 242 for 6.5 miles (10.461 km) to roadside signs marking the Proxy Falls Trailhead.
MAP IT
A true sense of deep-forest solitude and mountain beauty is found at Proxy Falls. Hike the 1.5 mile (2,4-km) loop trail through open lava fields and dense forest to view two distinctly different waterfalls. Proxy Creek is part of the McKenzie River watershed in the Three Sisters Wilderness section of the Willamette National Forest. The road accessing Proxy Falls is typically closed to motor vehicles mid-November to mid-June. Pay station on-site or Federal recreation pass honored. DAY-USE FEE AREA/RECREATION PASS REQUIRED.

Hwy 126 to Hwy 242, near milepost 64, McKenzie Bridge OR 97413

P: 541.822.3381

Book Now
FUN NEARBY ACTIVITIES
Camp at Alder Springs or Scott Lake. Explore the area's GeoTrails.
Enjoy the scenic drive along Hwy 242 through barren lava fields to the castle-like Dee Wright Observatory.
Proxy Falls is close to Mt. Washington Wilderness and the Pacific Crest Trail.
Unwind at Belknap Hot Springs with its mineral fed swimming pools, family friendly riverfront grounds and beautiful lodging and campsites.
Hike or bike the famous McKenzie River National Recreation Trail. 
If You Like Proxy Falls, You Might Also Like:
The snowmelt-fed falls are 40 - 60 ft (12,2 - 18,3 m) high with one drop that can be a light misty veil or a…

Upper Trestle Creek Falls is accessible but Lower Trestle Creek Falls is still inaccessible due to the 2019…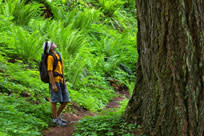 Walk beneath leafy bowers, through ebony lava fields and colorful wildflower meadows.…
More

Info

›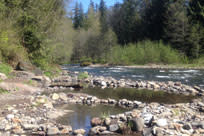 Soak in hot mineral pools with a forest backdrop and the accompaniment of birdsong…
More

Info

›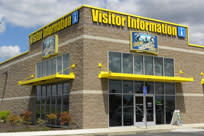 Visitor Information
Get maps, brochures, information and any necessary permits at the Adventure Center in Springfield…

Plan your trip to Eugene, Cascades & Coast.