Salt Creek Falls
This stunning waterfall is easy to see and worth the stop every time.
Salt Creek Falls Observation Site and Picnic Area is located near Oakridge - Westfir in the Cascade Mountains.
Salt Creek Falls is Oregon's second highest single drop waterfall, cascading 286 feet (87m). (Multnomah Falls is the highest.)
Salt Creek Falls is one of Oregon's most powerful falls, with an average yearly flow of 50,000 gallons per minute surging over the rocks.
The primary observation platform at the top of the waterfall is only 50 yards (45.720 m) from the parking lot. The platform is wheelchair accessible with railings that accommodate wheelchair sight-lines.
A loop gravel trail (Salt Creek Falls Trail #3673) with interpretive signage offers a short hike with multiple vantage points along the canyon rim.
A steep trail from the platform to the waterfall's base is short, but is not wheelchair accessible due to numerous stairs. The best viewpoint is said to be halfway down this path.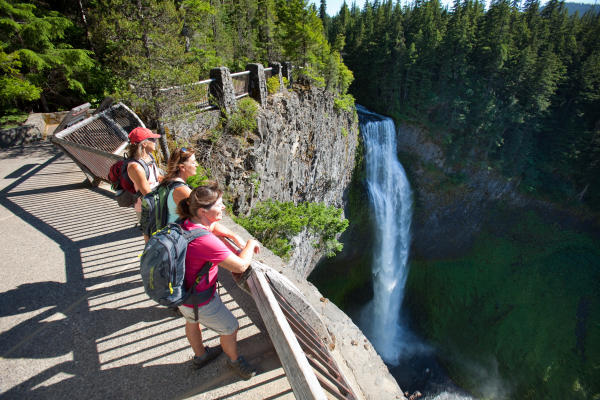 KNOW BEFORE YOU GO
Large paved parking lot
Wheelchair accessible restrooms with flush toilet
Picnic area
Willamette National Forest - Middle Fork Ranger District
Day Use Fee Area ($5 a vehicle) or Recreation Pass required. Permits may be purchased at the Adventure Center in Springfield
Facilities close in winter 
Adjacent the Salt Creek Sno-Park in winter
Connects to Diamond Creek Falls Trail #3598
Connects to Vivian Lake Trail #3662    
Directions: Salt Creek Falls Observation Site is 23 miles (37.015 km) southeast of Oakridge and approximately 5 miles (8.0467 km) west of Willamette Pass. From Hwy 58 look for the signs, turn onto FS Road 5893 and follow the signs.
MAP IT
This is the second tallest waterfall in Oregon, plunging 286 ft (87,2 m). The Salt Creek Falls Observation Site is wheelchair accessible right off the parking lot. From the observation deck a non-accessible trail drops steeply into the canyon, ending near the base of the waterfall. The park facilities close in winter but it's great for snowshoeing, and the falls are dramatic when encrusted by ice. Pay station on-site or Federal recreation pass honored. About 23 miles (37 km) southeast of Oakridge. DAY-USE FEE AREA/RECREATION PASS REQUIRED.

Hwy 58, east of milepost 58, Oakridge OR 97463

P: 541.782.2283

Book Now
If You Like Salt Creek Falls, You Might Also Like:
Koosah Falls plunges 74 feet (22.6 m) over an abrupt lava cap to the waiting pool below. Take Hwy 126, turn…

Sweet Creek Falls comprises four distinct waterfall tiers cascading a total of 70 ft (21,3 m), with the…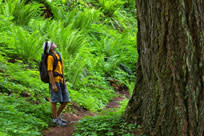 Walk beneath leafy bowers, through ebony lava fields and colorful wildflower meadows.…
More

Info

›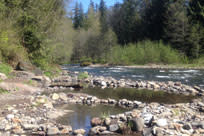 Soak in hot mineral pools with a forest backdrop and the accompaniment of birdsong…
More

Info

›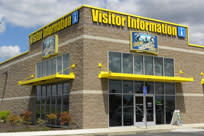 Visitor Information
Get maps, brochures, information and any necessary permits at the Adventure Center in Springfield…

Plan your trip to Eugene, Cascades & Coast.
Salt Creek Stories