Back To Previous Page
Positive Disc Course
Published: January 13, 2021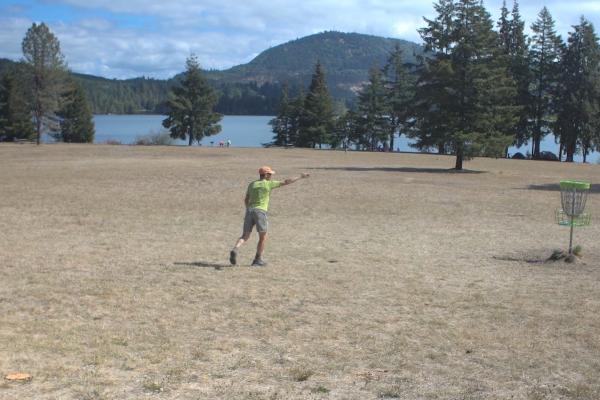 Disc Golf Flying High in the Region
New disc golf courses and clubs are flying high in the Eugene, Cascades & Coast region of Oregon. Recently opened courses on the Pacific coast and at the foothills of the Cascade Mountains provide stunning variations in terrain and technical challenges along with incredibly beautiful scenery that only the Pacific Northwest can offer. The enthusiasm of local clubs, and the number and variety of disc golf courses in the region, now make it well-suited for tournaments and events. 
New Courses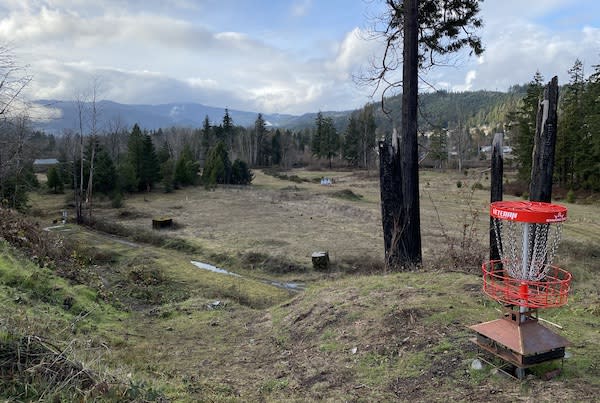 At the base of the Cascades Mountains, a new disc golf course in Oakridge opened in late 2020. Built to Professional Disc Golf Association (PDGA) standards, this course is founded on the site of a mid-to-late 20th century sawmill. The aptly named Old Mill Disc Golf Course has 18 holes. Most of the pins are standard length with some holes having a farther pin for pros. The course winds its way throughout the old sawmill site, incorporating the remains of the land used for manufacturing and the wooded areas surrounding it. There is plenty of variety in the course including open shots, wooded sections, and shots that include elevation change. Each tee box has a sign with historic photos and information about the local timber industry and the sawmill site itself. Tee boxes are topped off with old turf from the University of Oregon's Autzen Stadium. Throw in a winding creek, wetlands and charming tree groves and one has a course that is functional and unique. 
For future tournaments and events, there will be a parking lot on-site that will have room for 20-25 vehicles. If more space or staging is needed, there will be an adjacent lot available in the Oakridge Industrial Park.
The Oakridge Disc Golf Club is excited to host The Oakridge Old Mill - 2021 Veterans for Vets disc golf singles tournament in January 2021—the inaugural tournament on the course. Looking toward the future, the club's goal is to hold B-level PDGA events there by 2021.
There is also a coastal option opening in Florence's Munsel Park. This 18-hole course named Munsel Creek Greenway is being built to attract higher-end tournaments and will have bathrooms and a parking lot. While it is currently in development and will be finished soon, the disc golf community in the region is already looking forward to playing the course with great anticipation.
Existing Courses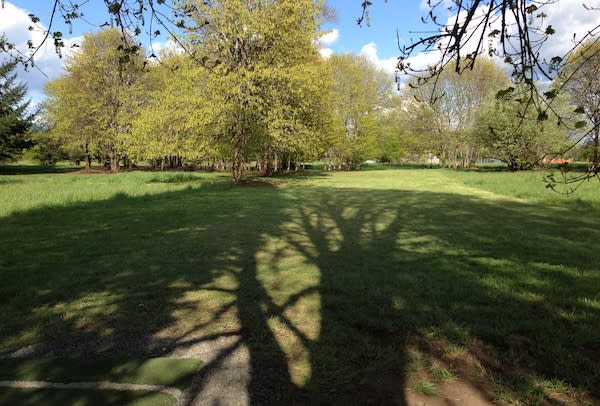 Alton Baker Disc Golf Course, home of the Alton Baker Disc Golf Club, is built into a city park Just two miles north of the University of Oregon in Eugene. This 18-hole course provides slight elevation and trees throughout the course making it challenging for even the most accomplished players. When on the course, one can catch glimpses of nearby Autzen Stadium, Pre's Running Trail and the local gardens scattered throughout the park. The course hosted several C-tier events in 2020 including the Eugene Disc Golf Celebration and the Monster Fall Series.
Stewart Pond Disc Golf Course is just five miles west of the University of Oregon. This 18-hole public course is in a Bureau of Land Management natural area with a good mix of both wooded and open holes. There is a variety of up and down elevation changes throughout and while the course layout is easy to navigate, players will still be challenged. 
Two miles west of the University of Oregon lies the Westmoreland Disc Golf Course. This very accessible, nine-hole course is in a mixed-use city park with some changes in elevation and scattered foliage. 
The Clearwater Disc Golf Course can be found in the popular Clearwater Park in Springfield. Spanning across 12 acres, this nine-hole course is played next to a beautiful river. The course is mostly flat and woodsy with a good mix of hole lengths requiring accurate throws.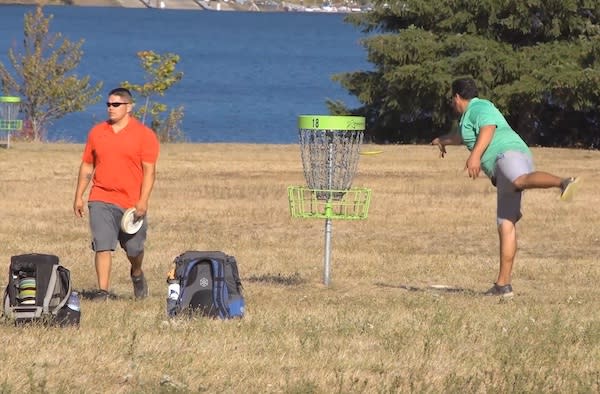 At Dexter Lake, just twenty minutes west of Eugene, is the Dexter Park Disc Golf Course. This 18-hole course offers a good mix of long open holes and narrow wooded ones. With many elevation changes, no two holes are the same and the course is challenging for all skill levels. Combined with ample parking and a great view of the lake when you arrive, the Dexter Park Disc Golf Course has everything to make for a rich Oregon disc golf experience.
Just off I-5 and 20 minutes south of Eugene, is the Cottage Grove Disc Golf Course. Conjoined to North Regional Park, this 19-hole course brings a good variety of holes and obstacles to the table. Most of the pins have multiple locations, allowing the course to change periodically to create different challenges. With both wooded and open holes, holes that have water hazards and even an island hole, this course gives a different experience to each player. Concrete tee pads, well-maintained fairways and open and tight throws help for different types of throwers. Experienced players will find it a unique individual challenge. Known to locals as "The Grove", this course was created through the partnership of dedicated volunteers, Cottage Grove Disc Golf Club members and the City of Cottage Grove. 
Camp Serene is a heavily forested, 18-hole course located on private land in Noti just 30 minutes west of Eugene. The course runs along a river with beautiful scenery and wildlife. The course is mostly tightly wooded lines with elevation change and requires lots of shot variety.
New Events
The Eugene, Cascades and Coast region's numerous and varied disc golf courses highlight local interest in the sport and demonstrate how the region is well-suited for future disc golf tournaments. The excitement for the continued growth of the sport is evident in the enthusiasm of local clubs. 
Contact us today and we will help you develop your next disc golf event in our beautiful region of Oregon.