Back To Previous Page
Day Trips Near Eugene
Published: July 04, 2022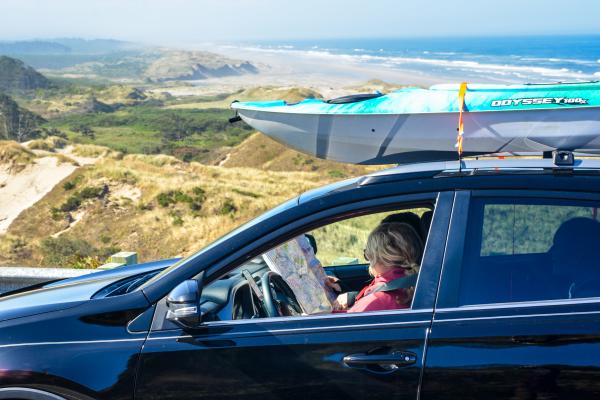 Eugene combines its urban arts, entertainment and dining scene with abundant natural landscapes and outdoor activities. One advantage to visiting Eugene is its versatile location, only an hour from the gorgeous Oregon coast and an hour from the verdant Cascade mountains.
From the city center, venture out on short day trips or overnight getaways for nearby sightseeing and exploration. Make it a relaxing journey, with quiet, slow-paced wandering through forests and meadows with gentle steps up to wide open views; or a day of action jumping from one exhilarating activity to the next like dune buggy thrill rides or white water river rafting trips.
Some quick trips are just fifteen minutes from Eugene, others may take ninety minutes, but many of these trips can all be completed in a day.  
Find the Simpsons in Springfield
5 minutes from Eugene
Springfield is just across the river from Eugene (Shelbyville). Spend an afternoon strolling Main Street searching out the similarities between the town and "The Simpsons" TV show. Hang out at a Main Street cafe or craft brewery, then cruise the riverfront paths nearby.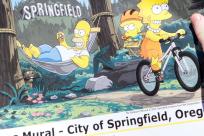 We are sure Springfield, Oregon is the real Simpsons' Springfield. Matt Groening has said so himself, once signing a plaque "To the…
More
›
Step Back in Time in Coburg
10 minutes from Eugene
Spend a day in a quiet, small town north of Eugene. Not only is the historic town of Coburg visually pleasing with its 1800s houses and manicured town parks, there are delightful shops and delicious restaurants to explore. For added things to do, drive the back country roads through farm land or book a jet boat tour on the Willamette River.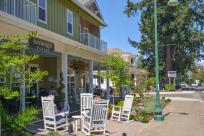 Coburg is a delightful historic town just north of Eugene that makes a perfect destination for the…
More
›
Birdwatch in Veneta
20 minutes from Eugene
The time-tested hobby of birding is once again trending as an enjoyable solitary and educational activity, easy to do in pandemic times. Pick up a birding book and some binoculars, maybe a folding chair or stool and venture out to the many wildlife preserves ringing Veneta's Fern Ridge Reservoir. Pack along a picnic and spend the day circling the lake and exploring its backwaters.
Go on a Covered Bridges Quest
30 minutes from Eugene
Lane County is known for its many preserved historic covered bridges. They are scattered across the county from the Oregon Coast to the Cascade Mountains, but you can do a driving tour of six of them just thirty minutes from Eugene — in Cottage Grove!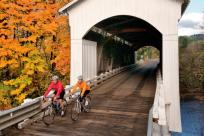 Cottage Grove is the "Covered Bridge Capital of the West." Who can resist the romantic allure of…
More
›
Spend the Day in Oregon Wine Country
30 minutes from Eugene
Territorial Highway stretches from Veneta to Junction City with dozens of vineyards and winery tasting rooms along the way. Plan a day soaking up the country vibes, enjoying wine on the tasting room patios and shopping the farm stands along the way.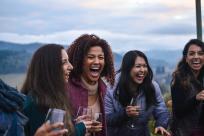 When is the best time to visit Oregon Wine Country? Each season brings something new: the golden…
More
›
Field Trip to the Willamette Fish Hatchery
40 minutes from Eugene
Plan a pleasant day trip to Oakridge and visit the working fish hatchery. (Call ahead to confirm open hours.) This facility offers a fascinating look into the life cycles of our local fish and the practice of stocking rivers. Then go fishing nearby or explore the uptown section of Oakridge for lunch.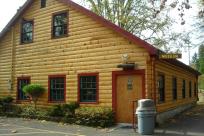 Enjoy the fish hatchery's park-like facilities, museum, picnic area and upland game birds! View the salmon and sturgeon and feed the trout.…
More
›
Explore the Oregon Dunes
60 minutes from Eugene
The gigantic stretch of sand dunes along the Oregon Coast are a perfect day trip destination. Explore these rolling hills on hikes from easy access points in Dunes City. Take a dune buggy tour or try the unique sport of sandboarding. Augment this sandy adventure with lunch in Historic Old Town Florence.
Touch the Pacific Crest Trail
60 minutes from Eugene
The trail made famous by Cheryl Strayed's "Wild" book and subsequent movie, has two trailheads near Eugene. Drive up to Pacific Crest Trail (PCT ) and take a short hike along it. Choose the trailhead at Willamette Pass or in the McKenzie River area (check road conditions and access first).
View the Heceta Head Lighthouse
90 minutes from Eugene
The iconic beacon on the rugged Oregon Coast overlooks a beautiful day park. Plan a picnic at the beach, admire the lighthouse and then with your extra-time stop at the Sea Lion Caves for wildlife watching including sea lions, whales and birds.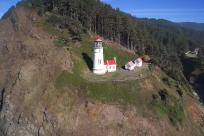 This is a lighthouse for all seasons! An Instagram-worthy lighthouse on the Oregon Coast, the…
More
›
Go with the flow
With a day trip, your time is bounded, so when things don't go as planned, be flexible. After all — all you have is today! Enjoy every minute by having a Plan B, and even a Plan C, for when Plan A doesn't measure up. These days there may be surprises like unexpected closures, crowding you wish to avoid, or modifications that make the experience different from last time. Maximize your enjoyment by practicing kindness and consideration. No matter what is going on or where you are, Oregon is beautiful! Roll down the window, breathe in and enjoy!
Bring a picnic
Pack snacks or lunch for enjoying along the way. With a picnic lunch you can linger in a beautiful spot whether its a park picnic table or the summit of a strenuous hike. With so many restaurants now geared for take out, the menu options are plentiful.
Plan carefully
When you are heading out for the day, make sure to bring along water, layered clothing and basic supplies to make sure your adventures are safe and fun. Packing well means you won't have to cut your trip short because of the unexpected. Browse our Adventure Checklist to make sure you have all the essentials and remember to always pack out what you pack in.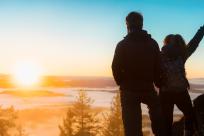 Don't leave home without checking this handy list of local tips for outdoor adventures!…
More
›
Where to Stay
Eugene-Springfield is the natural hub from which to venture forth, and you'll find convenient accommodations from downtown Eugene to Springfield's Gateway neighborhood. Or choose to stay in one of the nearby communities and immerse yourself in its unique atmosphere.