Back To Previous Page
Hotels with Open Swimming Pools
Published: June 03, 2021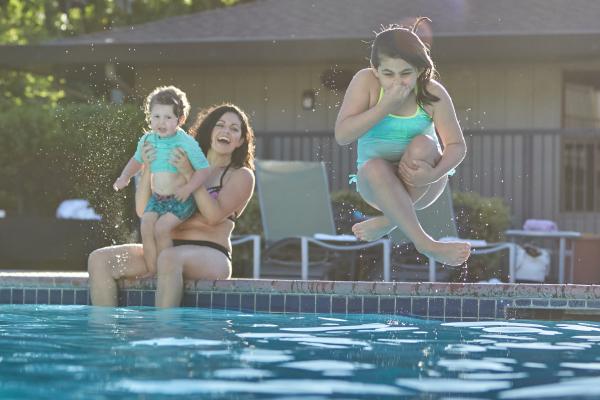 Warm, sunny days are back and that means swimming pools. Get the kids splashing and squealing or float by yourself in the sunshine at one of these inviting hotel pools. Combine pool time with a great summer getaway in the Eugene, Cascades & Coast region! 
Here is a list of the Eugene - Springfield hotels with pools open now and what to expect. 
Holiday Inn Express Eugene-Springfield
Indoor pool with a maximum of one family or household at a time. Reservations are required for one hour of pool time. The Holiday Inn Express is conveniently located off the Beltline near the I-5 in Springfield.
EVEN Hotel
This indoor pool is open from 7 a.m. to 11 p.m. No reservation required. Maximum of six people allowed in the pool area at a time. Masks may be required when not in the pool.  EVEN Hotel's focus has always been health and wellness and that passion is present even during these times. 
Best Western New Oregon
Indoor pool is open from 9 a.m. to 9 p.m. Bring your pool towel with you. For the maximum number of people allowed, check with front desk at check-in. No time limit and no reservation required. The Best Western New Oregon is across Franklin Boulevard from the University of Oregon and near the Willamette River, Ruth Bascom Bike Path and many parks. 
Courtyard by Marriott
Indoor pool open from 9 a.m. to 10 p.m. Forty-five minute reservation with six people or less allowed in at a time. A cleaning staff attends the pool between sessions. The Courtyard by Marriott offers so much and is located near I-5 in Springfield. 
Hampton Inn
Indoor pool open from 8 a.m. to 9 p.m. One room or party per one hour reservation. Hampton Inn is in West Eugene near shopping and the Fern Ridge Bike Path. 
Hyatt Place Eugene
Indoor pool open from 8 a.m. to 9 p.m. for six people or less with 45-minute reservations. Staying at the Hyatt Place in Eugene means being in the heart of some of the best dining and shopping in town.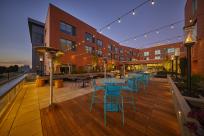 Need a getaway? Check in and enjoy two complimentary cocktails, freshen up in your spacious guestroom before heading to the Sky Bar –…
More
›
Quality Inn Springfield
Sunny outdoor pool open from 10 a.m. to 9 p.m. Ten people in pool area per half-hour reservation. Quality Inn offers an easy escape in Springfield. 
Residence Inn by Marriott
Outdoor pool open from 7 a.m. to 9 p.m. Limit one family or one guest per one hour reservation. Residence Inn by Marriott is in Eugene near the large Alton Baker Park and the Ruth Bascom Riverbank bike path. 
Valley River Inn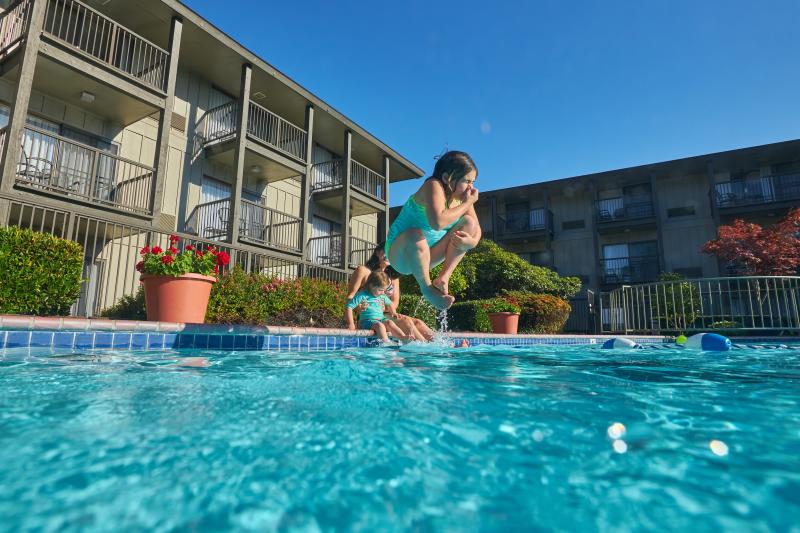 Outdoor pool with a limit of one room or five people per two hour reservation. Valley River Inn offers rooms with views of the Willamette River near the Ruth Bascom Bike Path, shopping and downtown. 
Things may change as the businesses in our community continue to create new protocols for our safety. For the most up to date information on the safety procedures in place, please call the hotel directly.