Back To Previous Page
Prost to Oktoberfest!
Published: October 03, 2020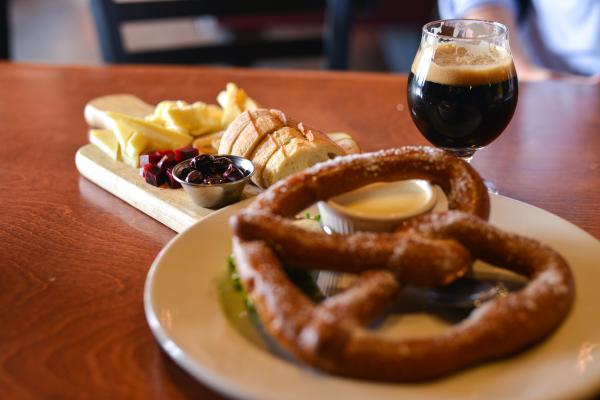 Craft your own Oktoberfest experience this fall! With Eugene's amazing local beers and the valley's farm-to-table abundance, this is a fun, easy thing to do. First select the perfect German-style experience for your celebration. From tented beer gardens with heat lamps, to spacious inside beer halls with distanced seating, to take-home dinners and growlers-to-go, there are lots of options to choose from. Who needs to travel to Germany this year? Eugene has brewed up plenty of distinctive wheat beer, Kölsch and German-style pilsners, stouts and ales for a satisfying and local taste tour. Go ahead, enjoy the season!
1. The Bier Stein Pub & Bottleshop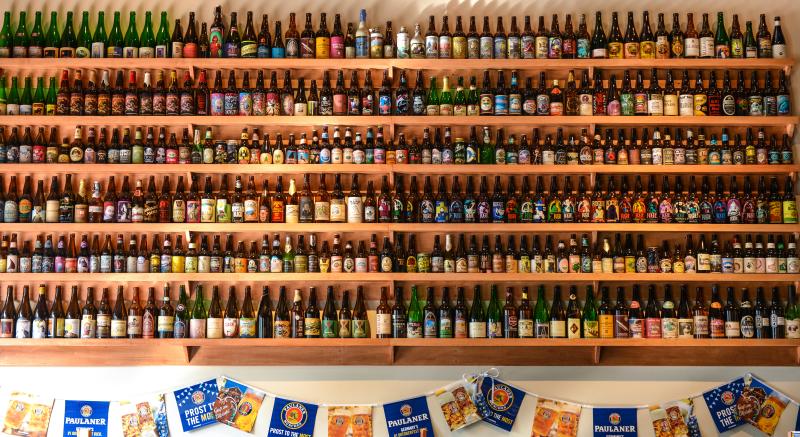 If you have a hankering for a specific German beer, The Bier Stein Bottle Shop and Pub is your best bet for finding it amongst their huge selection of bottled beers. Currently on tap they are featuring Weihenstephan Festbier from Freising, Germany and the always popular Paulaner Hefe-Weizen from Munich, Germany. Dip a Bavarian soft pretzel in The Bier Stein's signature cheese soup and two-mustard dipping sauce. Enjoy a German-style, beer braised bratwurst served with sauerkraut and a kosher pickle. The beer garden experience is complete with physically-distant outdoor tent seating now set up in the parking lot outside their beer hall.
2. Pig & Turnip at PublicHouse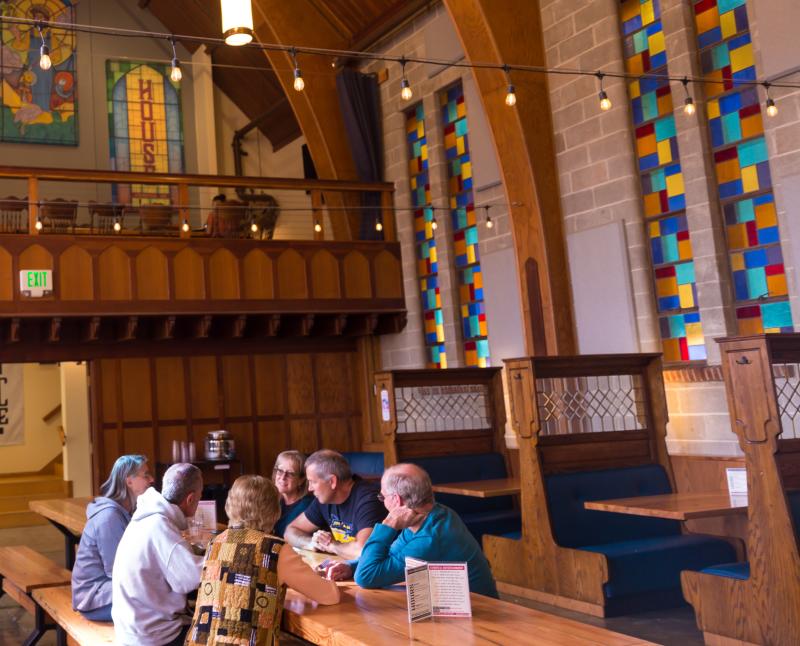 A converted Springfield church just off Main Street, now serves as a large beer hall with a spacious beer garden. Open for limited dine-in, patio dining and take-out from multiple food vendors, PublicHouse is reminiscent of the friendly, German beer hall experience (now physically distanced!). It's long tables and soaring ceilings create the perfect vibe. Order a frothy mug and pair it with Pig & Turnip's delightful German menu. We recommend the hand twisted Bavarian pretzels, traditional schnitzel and the käsepätzle. Check the PublicHouse entertainment calendar for live music.
3. Falling Sky Delicatessen

Open only for pre-orders, delivery and pick-up; Falling Sky is pairing growlers of their great craft beer with a special Octoberfest menu available through November 1. A farm-to-table gastropub, Falling Sky is known for their housemade meats and breads. Imagine how good an Octoberfest picnic at home will be when you order smoked beer brats with caramelized onions, sauerkraut, beer mustard; a side of German hot potato salad comprising seasoned potatoes, red onions, radish, peppered bacon and scallions; and a Bavarian pretzel "Laugenbrezel". Complete your meal with their apple strudel "Apfelstrudel" dished up with cinnamon whipped cream. It's likely a few food photos, along with "bravo!" will end up in your social media. 
4. beergarden.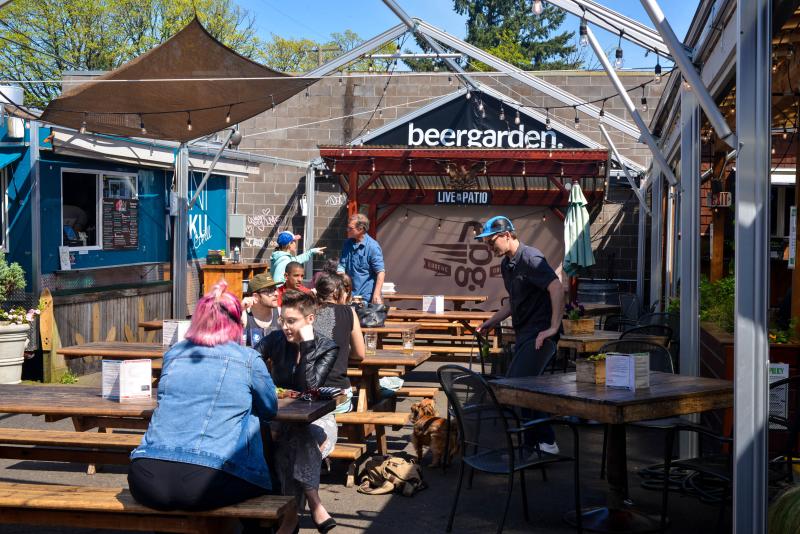 Gather outside to enjoy live music on the beergarden.'s tented and physically distanced patio (their inside dining room is closed for now). Select your favorite German beer from their diverse selection of 42 taps and hundreds of bottled beers. It's all contactless-ordering through a mobile app. A variety of food trucks ring the beer garden, but for the month of October the Bounty Cheese & Meat Food Truck is a logical thematic choice. Relax in the casual atmosphere and enjoy the hum of fellow beer aficionados sampling their favorite beverages. Check their entertainment calendar for current shows.
5. First National Taphouse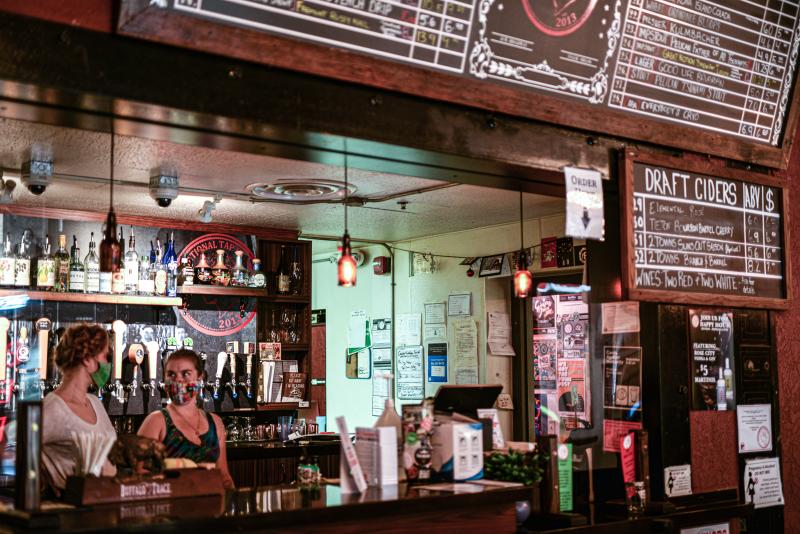 Smack in the middle of downtown Eugene, the First National Taphouse dishes up an extensive German menu full of comfort foods from mushroom stroganoff to stout braised reubens. First National Taphouse is also participating in the Broadway Streatery — a festive outdoor solution for safe dining. With streets closed to traffic, downtown Eugene restaurants have set up tables on the sidewalks and in the streets to accommodate more diners. Open air eating fits in well with the "Oktoberfest" spirit, so pull up a chair and raise your glass to the season.
6. Ninkasi Better Living Room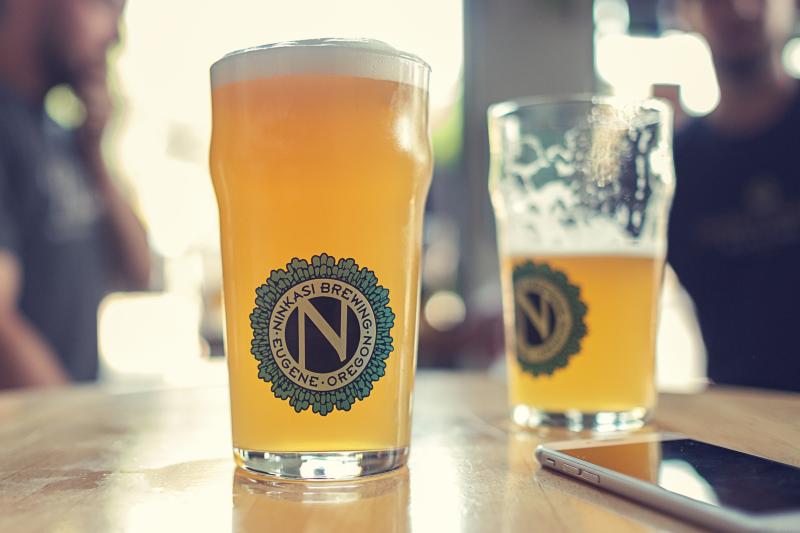 You can't have a brewery list without highlighting Ninkasi, Eugene's most well known brewery. For October they have two excellent German-style beers — the Ninkasi Pislner and their special Oktoberfest Märzen which you can pick up in a growler, six-pack or by the case. Now, the Ninkasi Better Living Room is currently closed to dine-in, but they have a fun, hands-on alternative for dinner— the Ninkasi Dinner Club box. Pre-order a culinary experience for a family of four to six which includes the ingredients, recipes and beer pairings. As if that wasn't enough, Eugene's House of Records has compiled a suggested playlist for your evening ambiance. Now that's getting all the details dialed in.
Pretzel Pairings
Stash some of your favorite bottled German-style beers, toss a few local pretzels in the freezer and you can re-create Octoberfest anytime of year. Imagine after a long hike, an exhilarating dune buggy ride or a thrilling river rafting trip, coming home to this delicious comfort! Here are a few more places to pick up really, really, good pretzels.
Creswell Bakery
A road trip must-stop, Creswell Bakery has ham and Oregon Tillamook cheddar-stuffed pretzels. Their provisions also often include meat pies, housemade bratwursts and sauerkraut. Creswell Bakery is a family-owned, farm-to-table bakery just twenty minutes south of Eugene. Fill that freezer!
Reality Kitchen Pretzel Wagon
A grassroots effort to help all people on the path to employment, the Reality Kitchen provides jobs and really good pretzels! Order them to-go for a home-centered Octoberfest celebration and feel good about every bite you take.