Back To Previous Page
October Beer Gardens
Published: October 01, 2020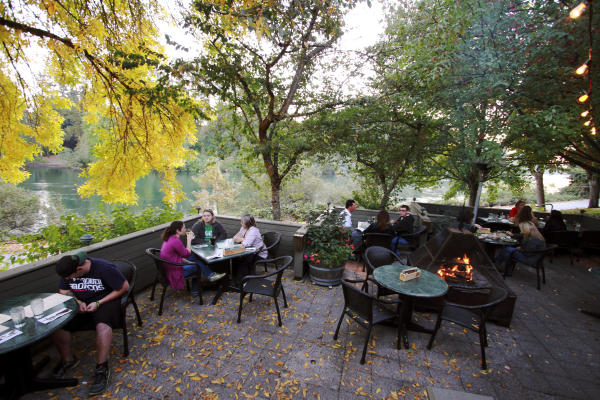 During crisp autumn months, sipping a local craft beer on a sunny patio with the smiling people of the community is a really special experience. Find the right beer and patio combo with this guide to the top beer gardens in Eugene. 
McMenamins North Bank
The riverfront dining space at McMenamins North Bank restaurant, brewpub and tiki bar is a great way to get a feel for this vibrant river city. You can ride your bicycle right up to the patio from the Ruth Bascom Riverbank Path System. On a temperate autumn evening, McMenamins offers roaring fire pits and cozy throws to wrap up in while you enjoy your meal and a tasty pint.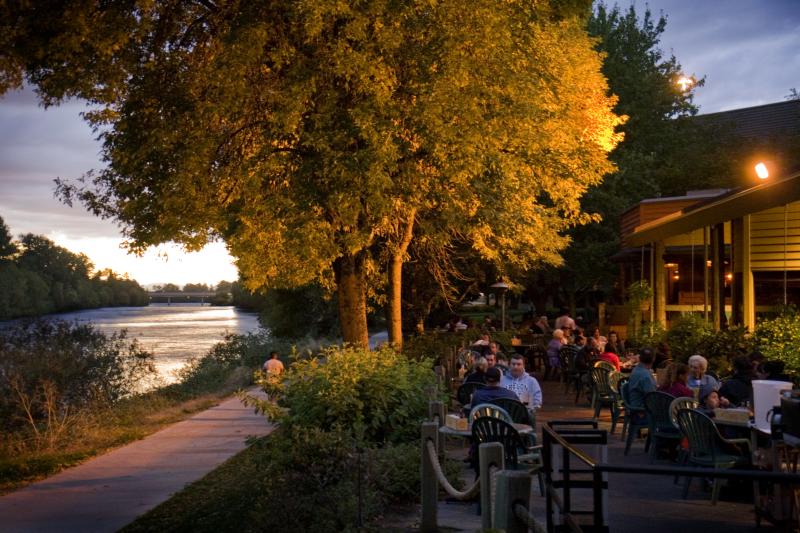 McMenamins North Bank outside dining by the river. Photo by Liz Devine  
Falling Sky Brewing House
Tucked away on Oak Alley is the original of the three Falling Sky locations. Here, guests can see the large copper-plated brewing equipment. Falling Sky makes over 400 different kinds of beer and offers a delicious seasonal pub menu. The small outdoor space is well-loved year-round. And when it rains — that's okay! Because when the weather is wet, Falling Sky offers a discount on pints. Reservations suggested.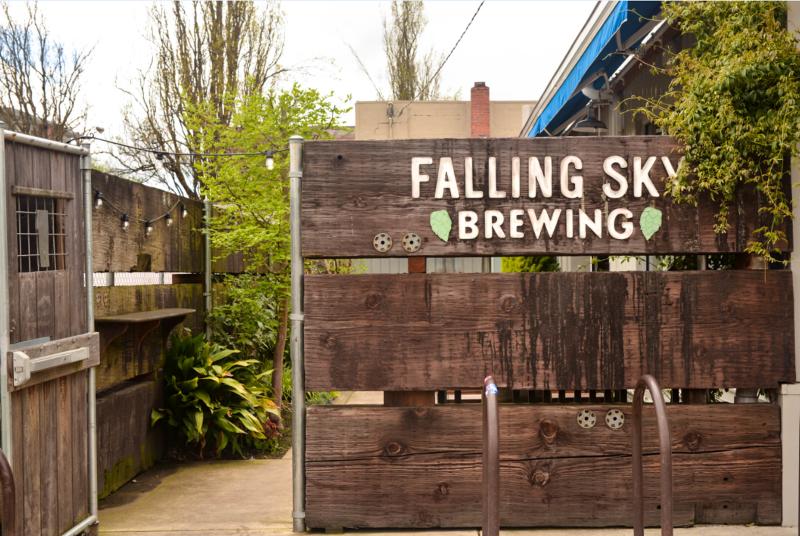 Falling Sky Brewing House patio by Melanie Griffin  
Viking Braggot Company
Drink like a Viking in the Westside Warehouse District of Eugene. Braggot is a traditional brew of hops and honey first used by Vikings. Viking Braggot Company is bringing inspired new techniques to this beverage of the ancients. Sip on a refreshing pint on the patio and play a game of bean-bag toss. This location is open on weekends only.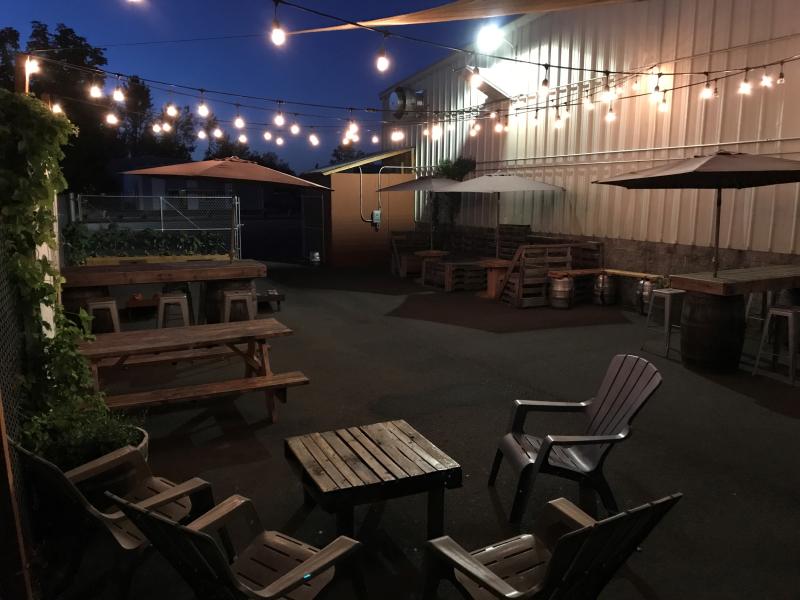 Viking Braggot's outdoor urban patio by Daniel McTavish  
Oakshire Brewing
Oakshire Brewing is located in the heart of the Whiteaker neighborhood - a unique community full of art and counter-culture history. Join the locals for a pint on the open patio. The outdoor space is dog and kid-friendly so the whole family can enjoy a stroll down to this welcoming pub. Food trucks commonly roll-up beside the outdoor picnic tables. Oakshire gives one percent of the profits from sales of their flagship Watershed IPA to protecting the pure McKenzie River which makes the beers in Eugene so special.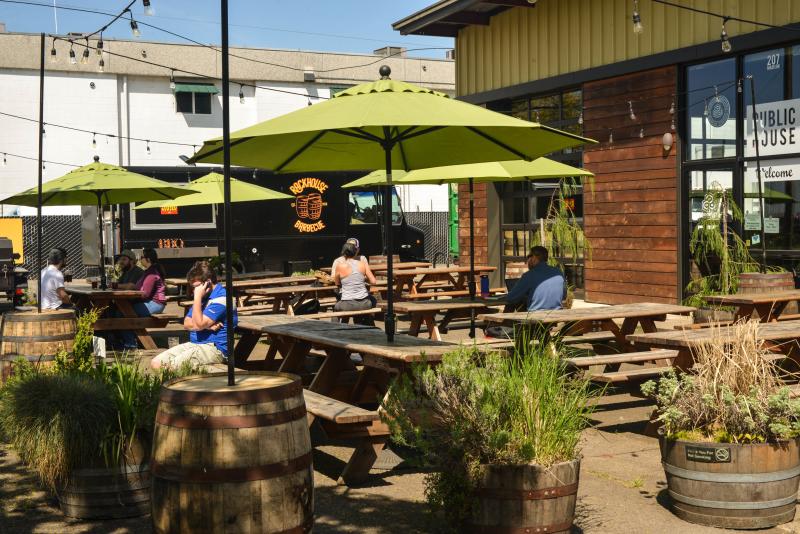 Oakshire Brewing's dog-friendly patio by Melanie Griffin  
Hop Valley Brewing Company
Soak up the sun in the sprawling outdoor space complete with hop vines and bike parking galore in Eugene's Whiteaker neighborhood. The Mango & Stash IPA is a great all-weather sipper that pairs well with the Hop Valley house nachos.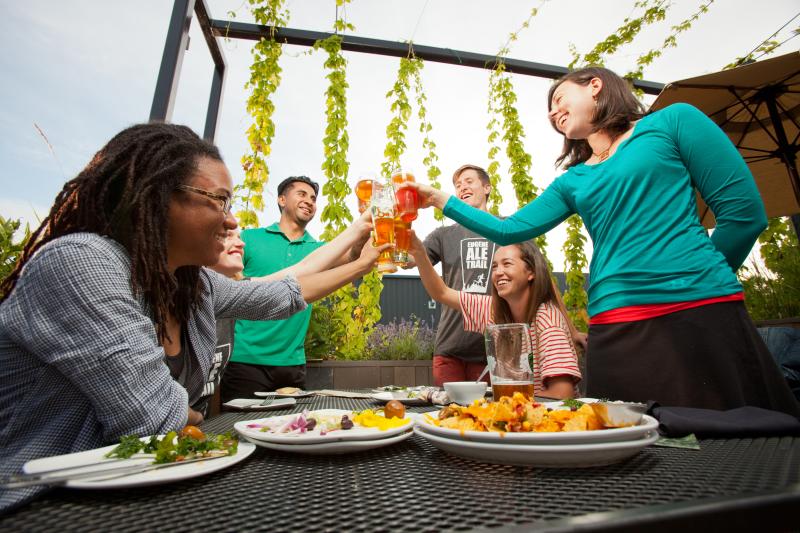 Hop Valley Brewing Company's hops-landscaped patio by Eugene, Cascades & Coast  
Alesong Brewing & Blending
Alesong is the only Eugene brewery in wine country. The views here are matched only by the incredible and carefully crafted oak barrel-aged beers. The patio is kid-friendly. Let the experts on staff help you find the perfect beer for your tastes. Alesong is the ideal place for converting wine-lovers to beer-believers with their farmhouse ales matured on wine grapes.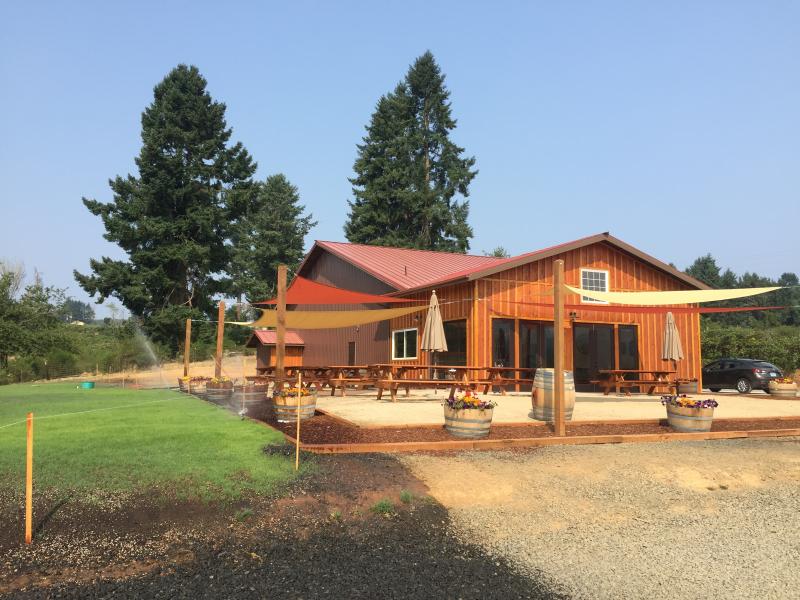 Alesong Brewing in Wine Country  
Wildcraft Cider Works
Wildcraft makes ciders differently. Expect to be wowed by the unique flavor such as wild rose or beet cider offered in a beautiful space. The crafters here care as deeply about the ciders they make as the lands from which the fruits are harvested. You can relax on the outdoor deck located below the basalt rock climbing columns of Skinner Butte with a glass of cider and a friend.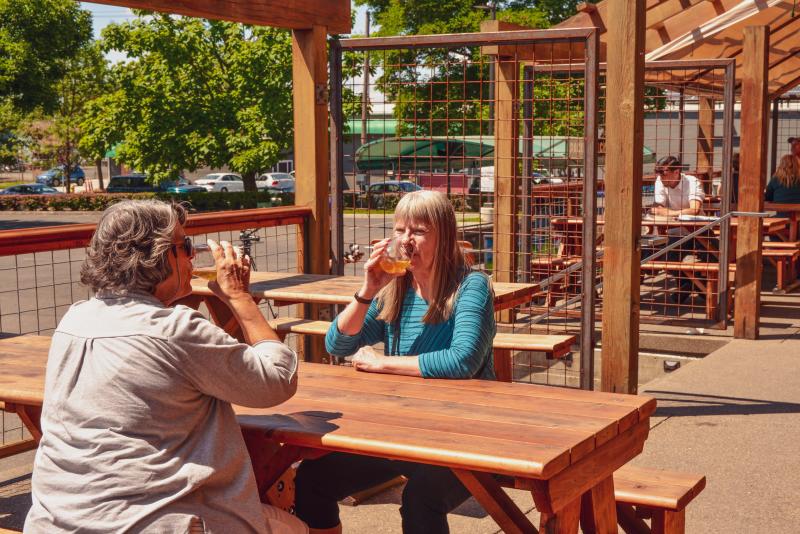 Wildcraft Cider Works patio by Melanie Griffin  
Claim 52 Kitchen
Claim 52 Kitchen is located near downtown Eugene and has some of the town's favorite hazy beers. The fruity beers and crisp IPAs pair well with a little sunshine and their delicious tacos.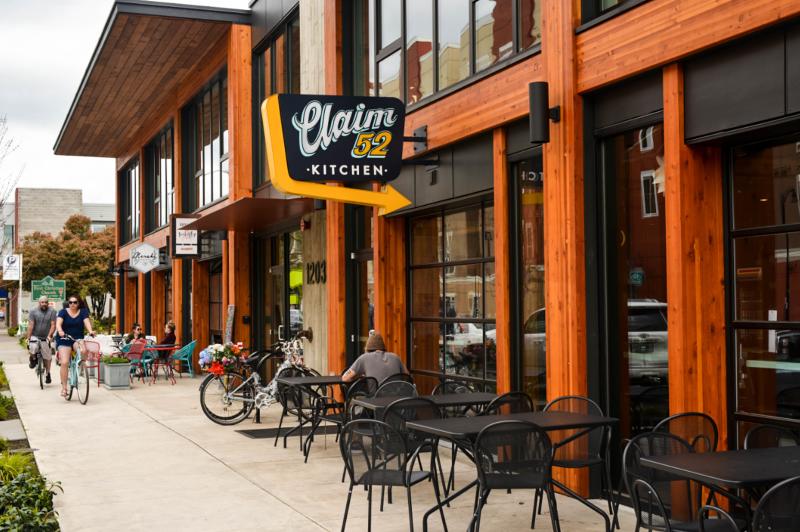 Claim 52 Kitchen sidewalk dining by Melanie Griffin  
Manifest Brewing 
Manifest Brewing is located downtown right on the edge of the Broadway Streatery where the street is closed to traffic so that restaurants can expand their dining outdoors. There are games and music and mood lighting making your dining and drinking experience even more perfect.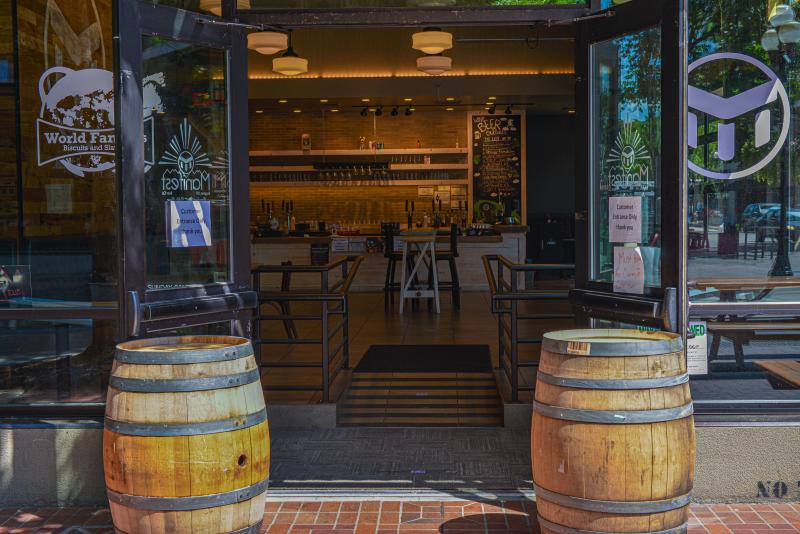 Manifest Brewing by Melanie Griffin
Other great patios to check out include the beergarden, First National Taphouse and McMenamins High Street Brewery & Cafe.