Back To Previous Page
Guide To Old Town Florence Shopping
Published: October 19, 2020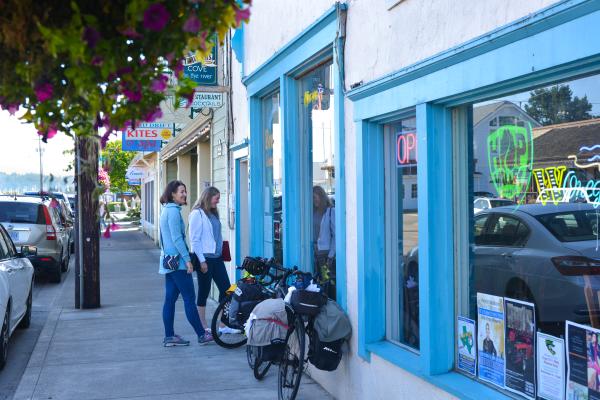 One of the finest collections of boutique shops along the Oregon Coast is found in Historic Old Town Florence. A stroll along Bay Street offers the traditional taffy and t-shirt shops along with unexpected specialty stores including a store dedicated to olives, one jam packed with kites and another serving up ice cream sandwiches alongside vintage hats and gowns.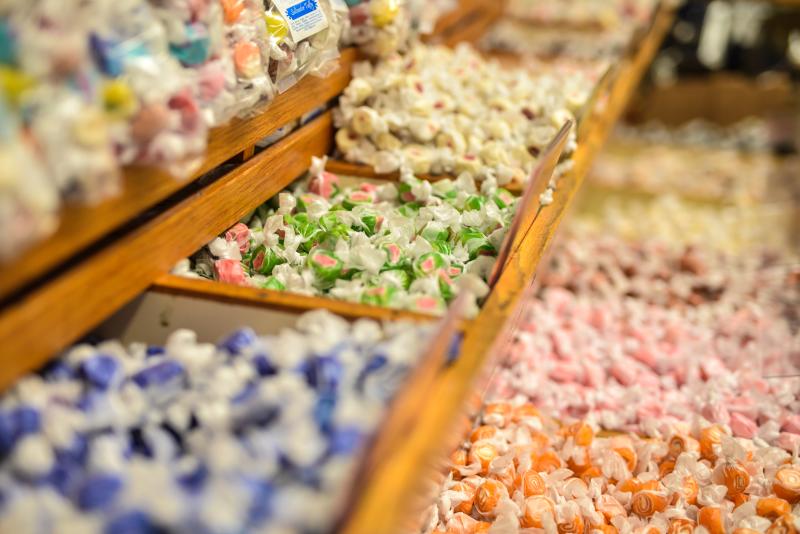 Salt Water Taffy at Wind Drift Gallery by Melanie Griffin

 

Come here for beach toys, kites, logo-wear, glass floats, sunglasses, polished agates, gourmet foods, artisan crafts, fashion brands and more. A few favorite "must-visit" shops are shared below. Enjoy the fresh ocean air and the river views while making some rewarding shopping discoveries of your own.
All About Olives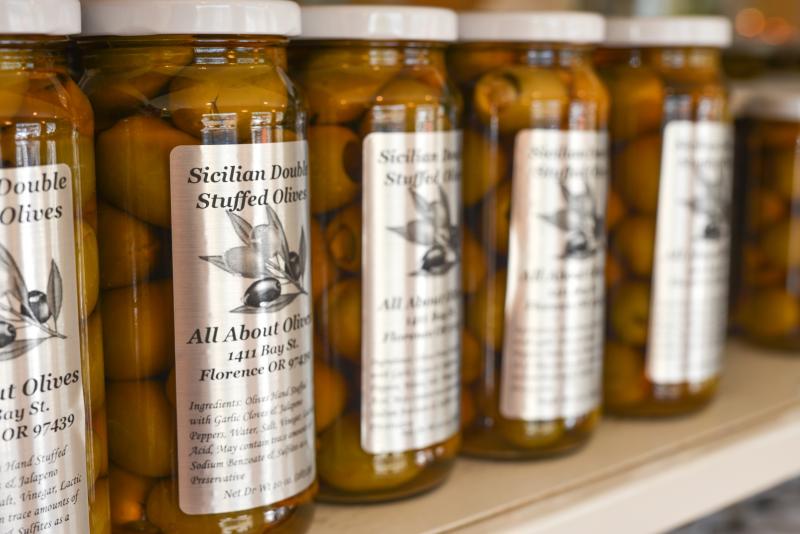 All About Olives in Historic Old Town Florence offers every imaginable pickle, ferment, oil and vinegar. Photo by Melanie Griffin

 

If you love olives, pickling and preserves; All About Olives will make your mouth water. Luckily there are free samples! In fact, you can pretty much taste whatever you'd like. Discover an amazing array of olives and other gourmet goodies that add flavor to coastal picnics, complete your home pantry or shine as social gifts. Besides the amazing olives stuffed with peppers, garlic, almonds and blue-cheese; favorites include quail eggs, asparagus and balsamic vinegar.
Milk & Cookies at Found Vintage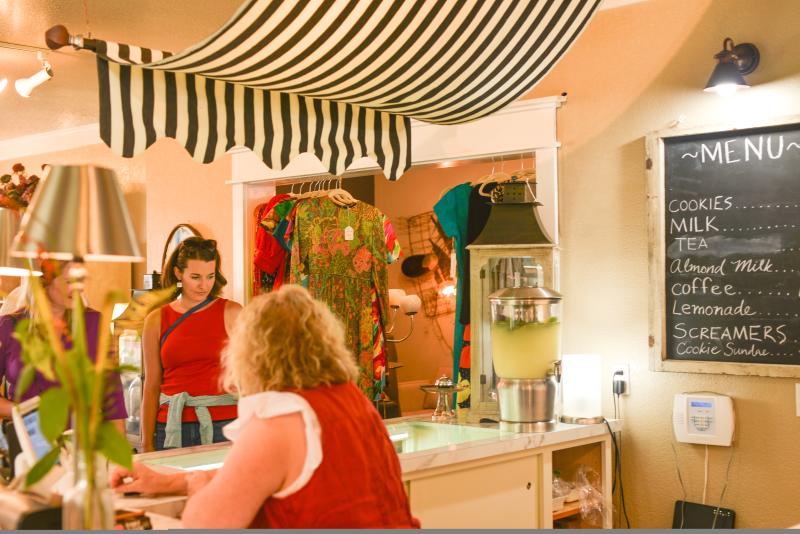 Milk & Cookies at Found Vintage dishes up "Screamers", a scoop of ice cream between two freshly baked cookies. Photo by Melanie Griffin

 

Whether you come here for the vintage clothing, household treasures or the freshly baked cookies sandwiching ice cream - you'll leave satisfied. This welcoming boutique and shabby chic store is stocked with happy discoveries. Found Vintage favorites include vintage furs, long gowns and fancy hats. Eat your cookies next door at the gazebo overlooking the Siuslaw River.
Kitchen Klutter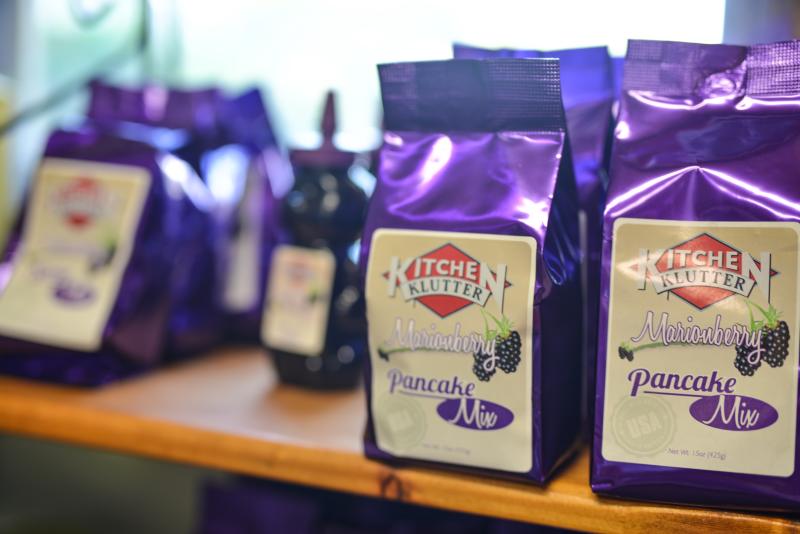 Kitchen Klutter Marionberry Pancake Mix — The Oregon State University-bred Marionberry is a beloved "Oregon-exclusive" blackberry. Photo by Melanie Griffin

 

Every culinary enthusiast's dream, Kitchen Klutter is full of specialty kitchen items and tableware for cooking and entertaining. Pick up all the things you need to make Scandinavian aebelskivers (a Scandinavian Festival favorite), the best holiday ginger bread or a feast of fresh Dungeness crab. Shop here for gag gifts (a purse that doubles as a wine dispenser), host/hostess gifts (hand forged artisan knives) or souvenirs (a beautiful Oregon-shaped bamboo cutting board). From travel mugs and aprons to espresso machines and crockpots, this kitchen store is well equipped.
Wind Drift Gallery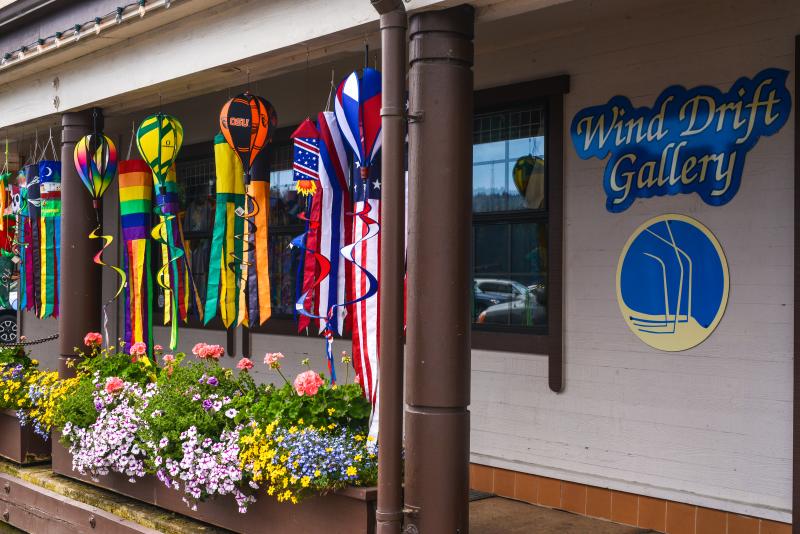 Wind Drift Gallery in Historic Old Town Florence is one of those must-visit storefronts for coastal shopping. Photo by Melanie Griffin

 

Part fine art gallery, part gift shop and part candy store, Wind Drift Gallery is often filled with customers looking for a fun souvenir. Find novelties from driftwood and glass wind chimes to shifting sand art. Take home an Oregon Coast logo sweatshirt and a bag of salt water taffy. Visit their sister store across the street for an array of colorful kites.
Books 'N' Bears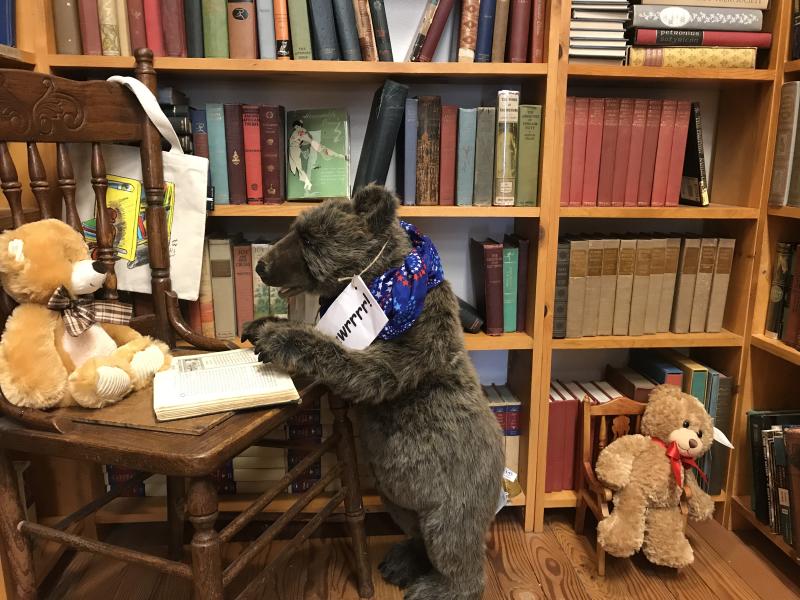 Reading teddy bears brighten the book aisles at Books 'N' Bears in Historic Old Town Florence. Photos by Taj Morgan

 

For book lovers, nothing delights more than cozy bookstores like this one. With both new and used books, browsing the Books 'N' Bears shop is the perfect thing to do when the coastal fog rolls in. 
The Jolly Egret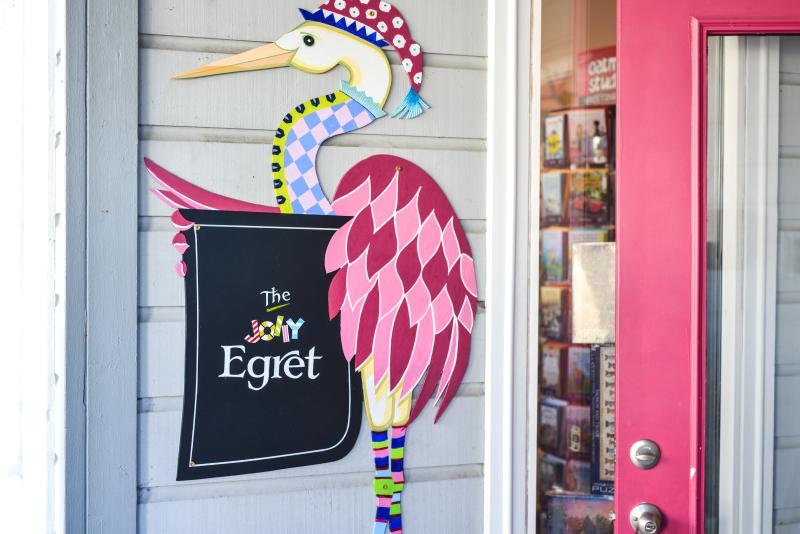 The Jolly Egret in Historic Old Town Florence appeals across generations with puzzles, games, books and more. Photo by Melanie Griffin

 

Duck in here for a variety of coastal gifts. If its a rainy day on the coast, fill your time with their amazing 3D puzzles from VW buses to castles. Pick up guide books on Oregon and the coast, local postcards of Heceta Head Lighthouse to send to friends or a Christmas ornament to remember your Oregon Coast trip.
Bonjour! Inc. Boutique
This international clothing store is a favorite with locals and visitors alike. Shop for women's smart styles, sophisticated jewelry and accessories. Please note that Bonjour! Inc. is closed on Saturdays.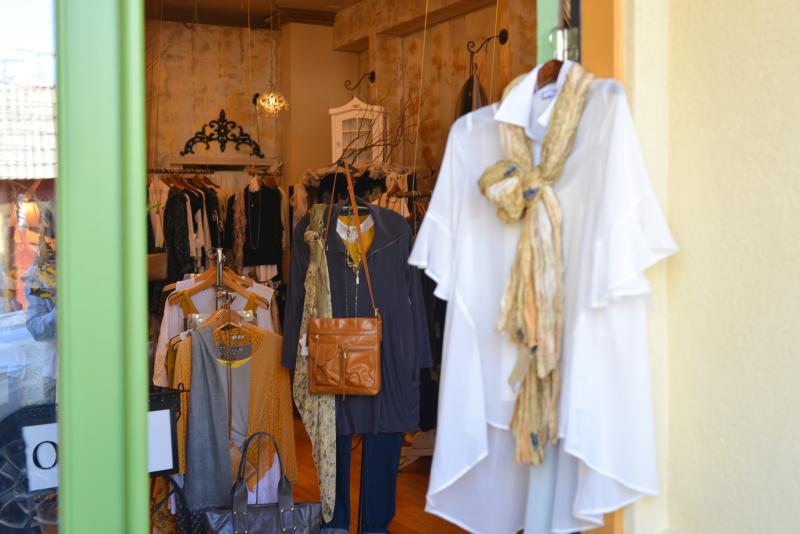 Bonjour! Inc. women's fashion brings international flair to Historic Old Town Florence. Photos by Melanie Griffin

 

Plan to spend at least one full afternoon shopping in Historic Old Town Florence — or better yet, make it all day with a start at River Roasters for coffee overlooking the Siuslaw River Bridge. (Most shops open at 10 a.m.) In addition to the wonderful boutiques, explore the bountiful antique stores and art galleries you'll find on side streets. Lunch at one of the great local restaurants — or enjoy a full tea experience at LoveJoys and shop for fine teas from around the world to take home.