Back To Previous Page
It's raining. What to do with the kids?
Published: September 20, 2016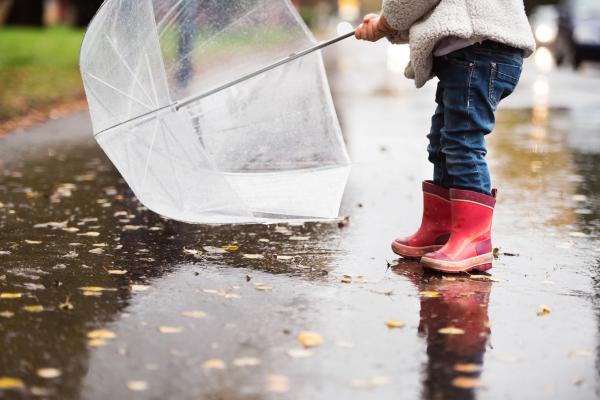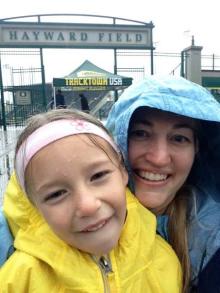 Eugene is an active outdoor town and most of the time we don't notice a few sprinkles. But sometimes a downpour can get you down, especially when the kids are bouncing off the walls. When my ex-husband comes into town for a visit and it's raining, here is the list of suggestions I give to him:
Malls
Out of the weather and lots of room to romp
People often use malls like indoor tracks, strolling in big loops for their exercise. Valley River Center is an excellent destination for that; plus Dad can get a coffee and even pick up a new baseball cap from the Duck Store or a computer gadget from the Mac Store. Sometimes there are special exhibits here, like model trains, which are delightful. And the Adventure! Children's Museum just opened here too. The kids enjoy the extensive stimulus of bright lights, shop displays and people. My six-year-old daughter loves the mall play areas which offer a few colorful contraptions for children to climb on while parents watch from the perimeter. And there are all those coin-operated rides. Mom might be tight with the quarters but Dad isn't!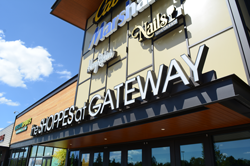 The recently remodeled Shoppes at Gateway still have a small indoor "mall" section featuring a play area adjacent a movie theater and an antique-filled tea room called Indulge. Put on your fancy clothes and enjoy sandwiches and bakery treats under the chandeliers. The Shoppes at Gateway are also home to Cabela's, which is akin to taking your child to a natural history museum. Scout the taxidermy mounts of deer, wolves, beavers and even a world-record Roosevelt Elk.
You might not think of the Fifth Street Public Market for children, but with its charming atmosphere, toy store with more coin-operated machines, candy store and excellent international food court options – it's always a hit for both parents and kids. Toss pennies into the interior courtyard fountain and as the rain taps down against the old glass windowpanes, cuddle up in a booth with biscuits and gravy, or munch on baklava – however the mood strikes you.
Museums
Educational with an air of awe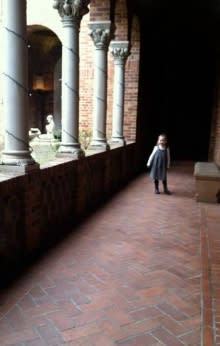 Perfect for rainy days, museums offer a journey into other worlds. The Jordan Schnitzer Museum of Art is a stand out for its classically grand and gorgeously austere atmosphere with high ceilings, echoing halls and intriguing exhibits. The 18th century Qing Dynasty throne room and the nine-foot-tall jade pagoda can inspire little imaginations (what if that was my throne? What if little people lived in the pagoda?). Children can pick up "ArtPacks" backpacks for interactive self-guided explorations through the gallery, and there are frequent family-friendly programs. A romantic myself, something about shaking off a wet umbrella and ducking into a large solemn building to tiptoe among art masterpieces thrills me… 
Another "must visit" is the Museum of Natural and Cultural History. This museum is much more hands on. There are many interactive, child-center displays that function like very cool play places. Simultaneously parents can enjoy in-depth presentations of our local natural and cultural landscapes. The dioramas are exquisite.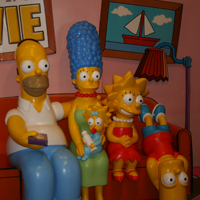 The Springfield Museum offers a life-sized Simpsons Family for a memorable photo opp and the Lane County Historical Society and Museum is a hidden treasure with pioneer era household items that kids can handle.
The Oregon Air & Space Museum and The Science Factory are also bonafide rainy-day destinations. The last time we visited The Science Factory there was a mock lemonade stand and a print your own "money" machine (at that time the exhibition theme was "commerce") and my daughter refused to leave until the staff started turning off the lights. We came home with a bundle of "money" imprinted with her likeness – she was quite proud. For her the hours had flown by too quickly (not quite as quickly for Mom).
Must Move About & Wiggle
For pent up energy and to burn off parental steam
There are several gymnastic studios around town that offer "open gym" with trampolines, balance beams and rope swings. The National Academy of Artistic Gymnastics is known for its cool pirate ship that you can jump from into a sea of foam. And Bounce has a parent's night off program – drop your child and head out solo for a little "me" time. There is also Get Air Trampoline Park that offers wall-to-wall trampolines as well as a "kiddie court" area for the wee ones. So if you and your kids like to bounce, you are in luck.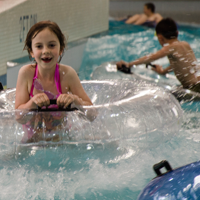 And another fun thing to do when it is raining outside is get wet inside – at an indoor pool. Splash! At Lively Park is a wave pool that offers a kiddie play area with water features, water slide and hot tub. Bop about in an inner tube as the waves roll. The hours just wash away while you are here and before you know it, you're as wrinkled as a prune and it's time for dinner.
Or check out Tamarack Aquatic Center which is an indoor warm water (92 degrees) saltwater therapy pool and hot tub. Perfect for those cold, rainy evenings. I particularly like to go when it's snowy outside and steamy inside – like a gigantic sauna.
And for those with short attention spans, Putters Family Entertainment Center includes a bevy of things to do under one roof: laser-tag, mini-golf, bowling, an arcade, pizza and even a pub for parents. Think of the exercise you'll get hopping from one thing to the next!
Mentally Calming
Sometimes it's time to quiet down
The Eugene Public Library and its surrounding branches offers toddlers to teenagers an array of story times, music and art programs. Some are also offered in Spanish. The library has its own cafe and there is a outdoor courtyard right off the children's section (so if a melt down strikes, and the rain isn't too bad, just move outside until everyone is calm again.) 
At the Springfield Public Library, children love reading to dogs on Saturdays (first come, first serve). Even if there is nothing on the calendar, a visit to the library to browse for books can turn a restless rainy day around. Find a page-turner and settle into a quiet corner with your kids. Barnes and Noble also offers story times, table top games and special event presentations - and a cafe as well. Used bookstore fans will enjoy browsing at Tsunami Books or one of the Smith Family Bookstores' two locations.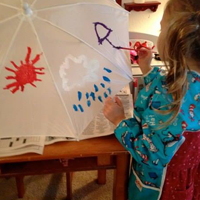 Sometimes all that's needed is a change of environment and someone else's art supplies. Materials Exchange Center for Community Arts (MECCA) is the answer. Drop into the studio for free-range crafting projects from mixed media to sewing. Along with gaining new skills and flexing your creativity, you can feel great about re-purposing used items and breathing new life into passed along art supplies.
Older children and parents can also get a mental work-out at one of the region's escape rooms. Dare Escape & Adventure Rooms and Escape The Room Oregon offer a variety of mysteries in clever settings. Check your phone at the door and enjoy bonding over a shared mission.
And Finally - What's Wrong with Rain?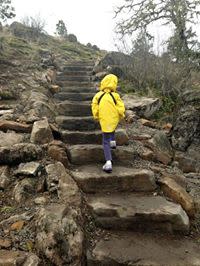 Don't fight it – get outside. Stomp in mud puddles, dance and run. Popular places to play outside include city and county parks. You can get particularly muddy hiking up Spencer Butte. I found a child's head-to-toe zip up rain suit at a thrift shop. When I pull that on her, clean up becomes a non-issue. But since getting wet and dirty is part of the fun, don't worry about rain gear – just go.
In celebration of playing outdoors, no matter what the weather is like, there is a "Play in the Rain" festival every year at Mount Pisgah. Gather around a roaring bonfire and roast hot dogs and marshmallows. Meet Smokey the Bear and Nearby Nature's Franny the Frog. There are booths touting many family-friendly things to do and usually a fire truck to climb in. We always attend.
Dry off, Warm Up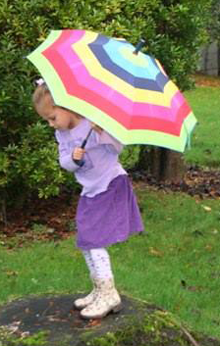 Most likely after playing in the rain everyone is hungry. And nothing pleases like hot, cheesy pizza. Roaring Rapids Pizza Co. is our favorite solution. There is an indoor carousel, arcade games (once again, mom is tight with quarters and dad is not) and tables with views of the Willamette River. I like to watch the muddy currents swirl around the river rocks, and listen to the drumming of the rain on the large glass windows combined with the tinkle of the merry-go-round. It is very cozy.
So, if anyone in your family starts whining about how there is nothing to do in the rain… simply don't believe it.
Need more inspiration? Stop by the Eugene, Cascades & Coast Adventure Center in Springfield for suggestions from our Adventure Specialists.
Comments