Back To Previous Page
Rainy Day Things to Do
Published: November 04, 2020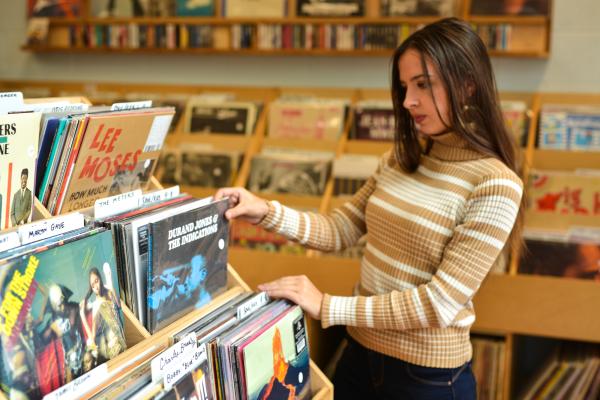 Eugene doesn't slow down in the rain. That's what keeps our hiking trails green and our rivers flowing. We know all you really need is rain boots and a hood and you can do all the things you would do on a sunny day. But when you are ready to be inside and out of the weather, try this list of favorite indoor activities.
1. Barcades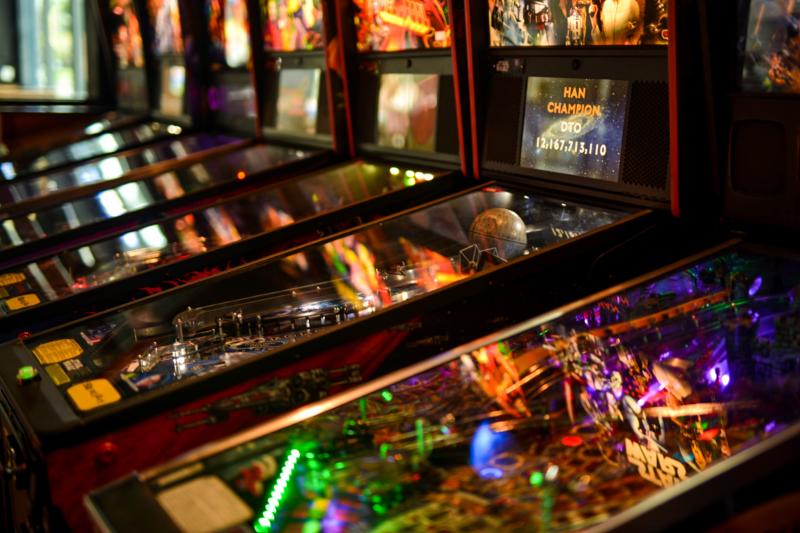 BlairAlly Vintage Arcade in the Whiteaker neighborhood is a fun place to spend some time playing classic games like Mortal Kombat and Pac-Man while listening to music from the 80s and 90s and sipping a beer. Look for their new Space Invader themed floor markings to help you keep a safe 6ft distance and not invade someone's space. Level Up is another barcade you'll love. Level Up is in downtown Eugene and offers a little bit of everything. Come on a Friday or Saturday to enjoy a live DJ while you play pool or blast bad guys. Hand sanitizing stations throughout the building help you stay safe. 
2. Art Galleries
Step out of the rain and into a world of art at one of these great local galleries.
Maude Kerns Art Center, Emerald Art Center, New Zone, White Lotus Gallery- Asian Arts, Four Winds Gallery - Native American Arts, Out on a Limb Gallery and Raven FrameWorks. Some of these galleries may be open limited hours, require reservations or are closed. Please call directly for more information. 
3. Museums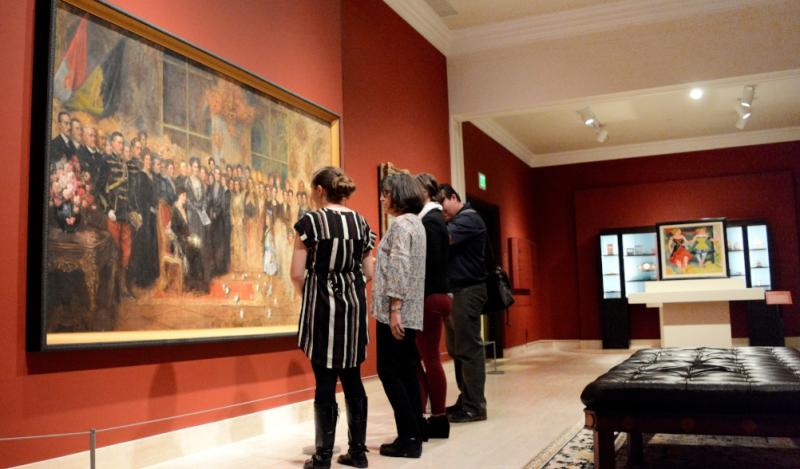 Visit two of Eugene's finest museums on the lovely University of Oregon campus - Jordan Schnitzer Museum of Art for collections of historic and contemporary art from around the world and Museum of Natural and Cultural History for hands-on learning about Oregon's past which includes artwork and traditions of the indigenous Kalapuya people and extinct wildlife such as the woolly mammoth and saber-toothed cat. Lane County History Museum tells the story of a unique place and the tough folks who made it here. The Shelton-McMurphy Johnson House is a Victorian-era mansion and local landmark where visitors can get a taste of what life was like for some of Eugene's first families. Also, tour the historic Mims House to see the first Black-owned home in Eugene and learn about the resourceful family that lived there and their famous guests. Some of these museums may be open limited hours, require reservations or are closed. Please call directly for more information. 
4. Theaters & Performance Halls
Broadway Metro is a downtown art cinema house where you can enjoy great independent movies as well as some of the top releases out today. Right now, you can even rent an entire theater for your private screening with friends. The Shedd Institute is a music school that stages classic, world and American music. They are currently offering shows to smaller audiences. Buy your tickets in advance. Hult Center for the Performing Arts is where you will find performances from some of the largest acts that come through the city. Right now, shows are still happening but audiences are smaller for safety. Visit their website for a full schedule. 
5. Farmer's Union shops
The shops at the Farmer's Union building include Down to Earth home goods store, Oak Street Vintage and Mountain Rose Herbs Mercantile. Shop for gifts at Down to Earth, find a unique treasure at Oak Street Vintage and delight your senses at Mountain Rose Herbs. All of these are housed in old buildings that were once a mill and warehouse. Enjoy coffee from Farmer's Union coffee shop as you browse. 
6. 5th Street Public Market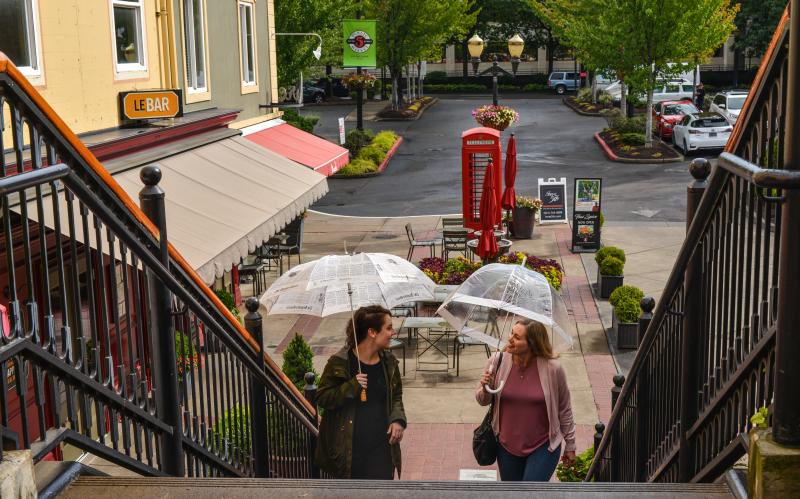 At the 5th Street Public Market, you can find a variety of shops from the popular Pendleton Woolen Mills to local souvenirs at Made In Oregon and more. Sixteen unique stores in total. And when you are finished shopping, grab a bite at one of the many eateries on-site or enjoy a glass of wine at the Sweet Cheeks urban wine bar.
7. Record Stores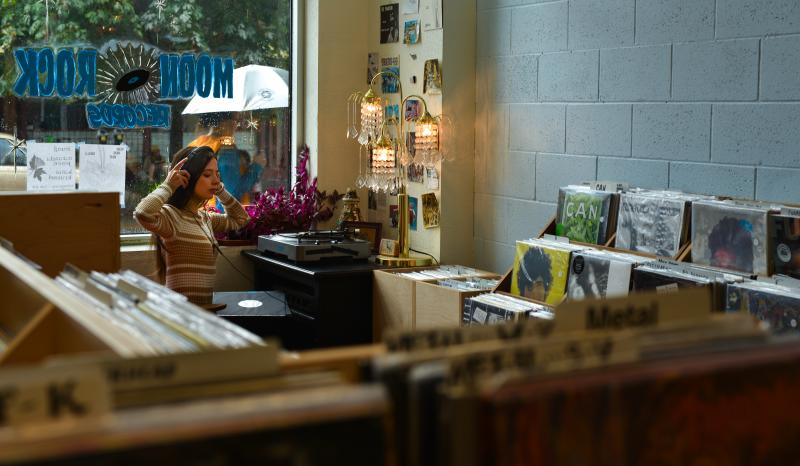 Eugene is a great place for crate-digging for a unique addition to your record collection. House of Records has been supplying rare cuts to Eugenians since 1971. Moon Rock Records is a small space in downtown which currently allows you to browse their online catalog of music. Epic Seconds is a great place to buy, sell and trade movies and video games. But head upstairs and you'll find an epic record collection.
8. Smith Family Bookstore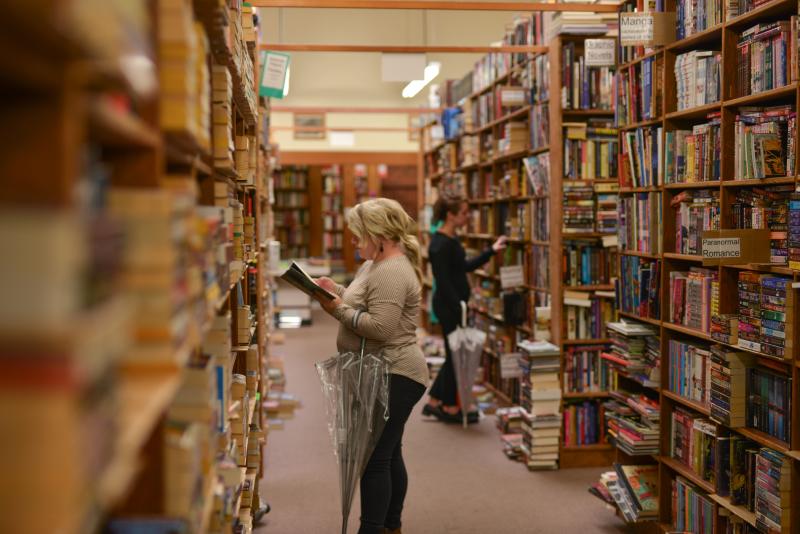 Another great way to spend a rainy day is to browse at a local bookstore such as Tsunami Books or Smith Family Bookstore. Tsunami is open for in-person shopping while Smith Family is offering their online store. 
9. Oregon Axe
Can you stick it? Learn to throw an axe like a true Oregonian at this indoor club. Oregon Axe is a lot of fun and just a little bit challenging. By the end, their "axeperts" will have you throwing bullseyes. 
10. Escape the Room
The whole crew will need to work together to Escape the Room before the time is up. Search for clues and solve the riddles in the themed mystery rooms as a team and win. 
11. Northwest Ninja Park
Train like a ninja at Northwest Ninja Park. This massive facility features many of the well-known obstacles from the hit show American Ninja Warrior. Test your grit running these obstacles or just have some fun during the open gym hours. Reservations are required.
12. Climbing Gyms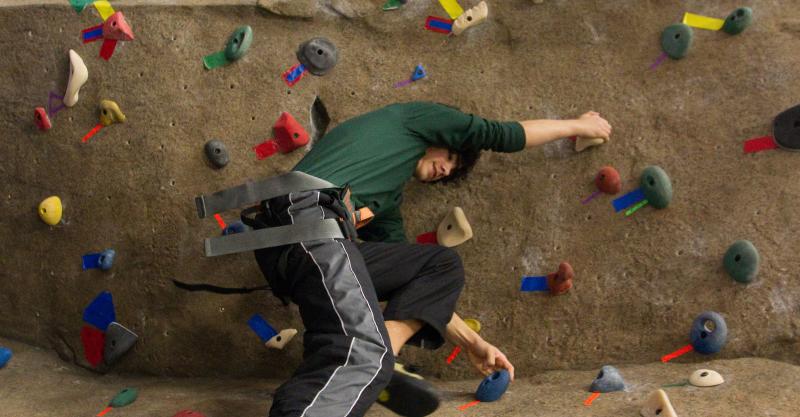 Willamalane Climbing Wall by Chris Pietsch  
Crux has been the go-to playground for climbers in Eugene since 1994. There are easy walls for beginners and more challenging routes for the advanced climber.  Elevation Bouldering Gym offers next level rock climbing for all ages. Both gyms are located at the foot of Skinner Butte where, on sunny days, climbers can be seen scaling the natural basalt columns.
13. Coffee & Teahouses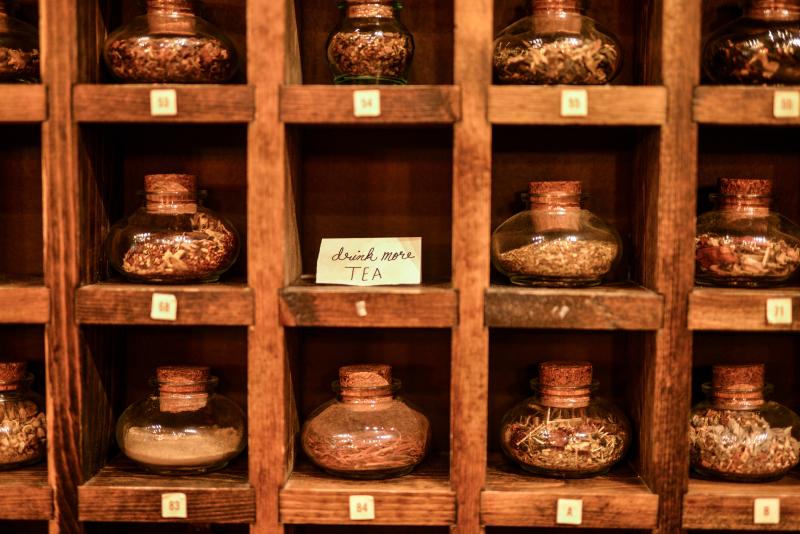 Brew DR. Teahouse is located in the heart of Eugene and is a popular spot to sip tea, kombucha or even to try their house-made spirits. Oolong Bar near the University of Oregon campus offers fine teas and the option to include CBD in any drink. Coffee lovers will enjoy the beautiful downtown coffeehouse and wine bar, Perugino where you can sit and watch the rainfall with a latte or a glass of wine. Explore all of Eugene's most popular coffeeshops. Many of these shops are not offering sitdown service so be prepared to take your beverage with you. 
14. Spirits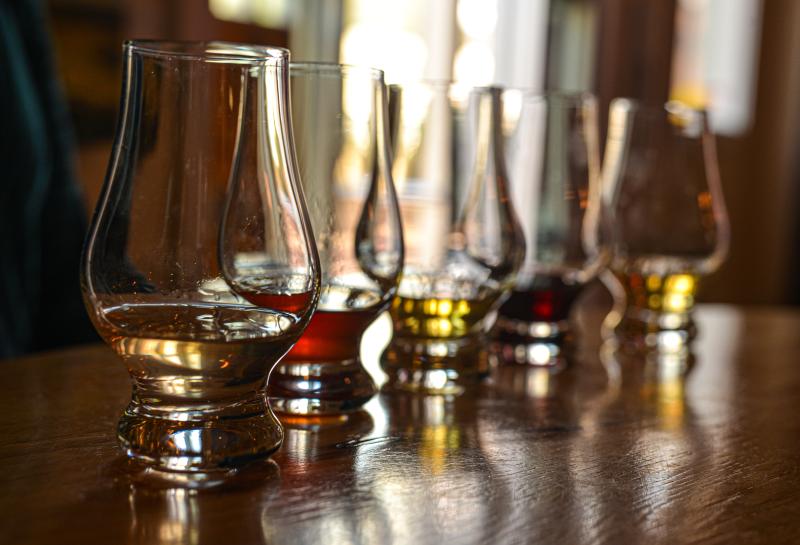 Thinking Tree is a craft distillery in the Whiteaker neighborhood. Do a tasting of their incredible gin, rum or vodka or enjoy a cocktail in this intimate space full of art.  Heritage Distilling Co. is known for its delicious Brown Sugar Bourbon but also offers flavored vodkas, rum, whiskey and gin.  The Whiskey Lab at PublicHouse hub in Springfield is the ultimate rainy day food & drink destination. Here, you can enjoy a cocktail, grab food from one of the many food vendors (from German cuisine to Hawaiian and beyond) or a craft beer all in a renovated church with beautiful stained glass and a covered and heated outdoor seating area. Order your drinks and food right from your phone for safety and convenience. 
15. Beer & Wine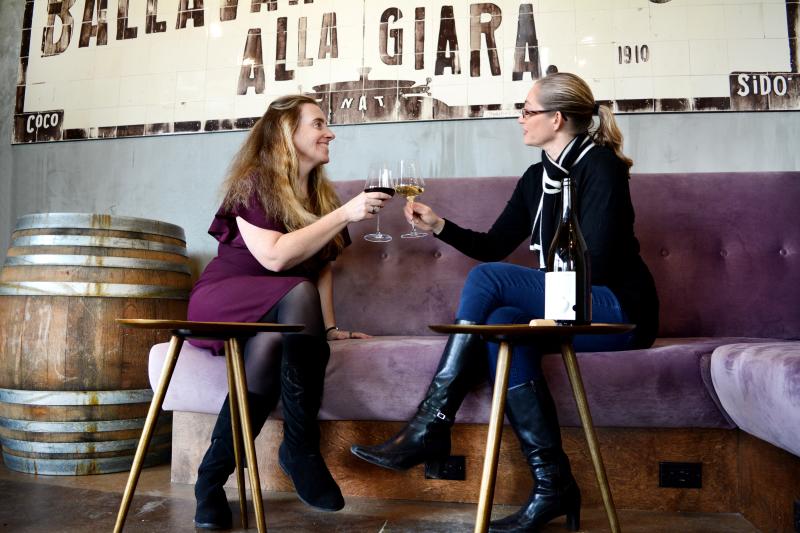 Falling Sky Brewing House is a great restaurant and brewery but the discount on beer anytime it rains is the best reason to add it to your schedule.  The Bier Stein is one of the largest beer halls in Oregon with more than 20 beers on tap and 1,000 bottles in the cooler. Shop the different beers from around the world and find a favorite to enjoy by the fireplace. Civic Winery & Wines is one of the newest wineries in downtown Eugene. Taste a wine made in clay pots as the ancients did in an urban tasting room which includes a graffiti wall. Head out into wine country on a rainy day for a cozy tasting experience. Some wineries require reservations before visiting. Call ahead for more information.  
16. Food
Embrace the cool weather and choose something warm and spicy at a local Thai restaurant like Chao Pra Ya. Or pretend like it is summer in Eugene with a visit to McMenamins North Bank restaurant and tiki bar. Downtown Eugene and the Whiteaker neighborhood are culinary treasures where you can savor farm-to-table comfort food.
17. Surprise Art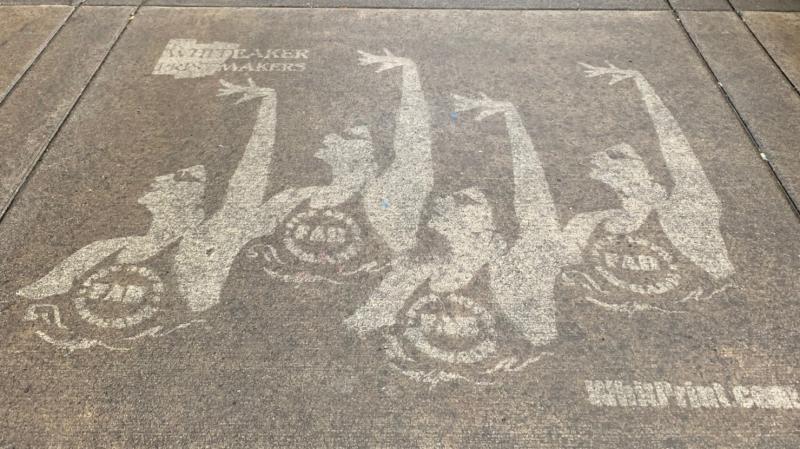 An added treat for venturing downtown in the rain is the Rain Play Art on the streets. These magical sidewalk installations only appear when the ground is wet. So stay alert for rainy day art as you move between shop to barcade to the theater.
18. Pottery Painting
Create a holiday gift for someone or make something special for you. At The Potters Quarters in the Oakway Center you can choose from hundreds of pre-sculpted items to paint however you like. Want to be even more involved? Take a weekend ceramics, porcelain or stone setting class at Clap Space to learn a new skill that you can take with you.