Back To Previous Page
Rainy Day Hikes
Published: November 01, 2022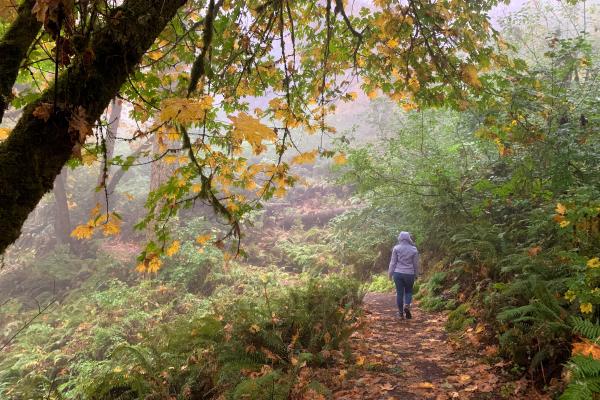 Hiking in the rain is an invigorating Oregon experience. All you need are some good hiking boots for puddles, a steady step (it can be slippery on the trails), a water bottle (always) and a rain jacket with a hood. See our Adventure Checklist for more hiking tips. 
Once you are out in the rain, on a beautiful green hiking trail — breathe in deep. The air is fresh and cool and nature is quiet except for the musical drip drip drop of rain on the leaves, the song of a bird, or the a rustle of the breeze. Here are some great rainy day hiking destinations near Eugene and Springfield.
Ridgeline Trail
The Ridgeline Trail is a network of trails with many neighborhood trailheads in Southeast Eugene. The trails meander along the low hills and ridges skirting the edge of town. Zigzagging up wooded hillsides, plunging through wide open meadows, crossing small creeks and cresting along sweeping viewpoints, the trail system provides easy access and diversity of hiking experiences. Plan short or long hikes depending on your mood and ability.
Spencer Butte
Spencer Butte is one of the jewels of the Ridgeline Trail system but stands out on its own too. This short but steep hike can be muddy in the rain and several streams and rivulets may flow across the path. Stone steps near the top of the summit make the final ascent easier. Depending on the weather patterns you may break through the clouds for a view of the socked in valley below, or you may remain with your head in the clouds. In the winter, you may even find that the trail is frozen near the top. Wear your hiking boots and be ready for an adventure!
Downtown Eugene
So maybe you don't think of an urban walk through downtown Eugene as a "hike" — but it can be a great way to stretch your legs. Downtown in the rain offers blocks of wet streets, window shopping, parks and street art to admire. Sidewalk art that only pops up when wet is a fun bonus to discover. Tour the brightly colored murals or historic buildings, plaques and memorial tributes. Along the way you'll pass cozy coffee shops and inviting wine bars, so you'll have to walk with resolve or you'll find yourself enjoying the afternoon inside. 
Covered Bridge Hikes
More of a ramble than a hike, touring Lane County's covered bridges is a great rainy day excursion. In Cottage Grove there are six covered bridges and you can cycle or hike between them.
For the best hike, follow the Row River Trail on foot. The remaining county bridges require some road tripping.
The great thing about covered bridges in the rain is that they are covered! Enjoy a respite from the rain as you walk through them (some still allow car traffic but many don't, so be discerning). Bring a picnic and listen to the sound of the rain on their roofs.
Heceta Head Lighthouse
A coastal hike can't be beat in the rain. With the swirl of mist, the roar of the waves and the steady beat of the rain, you'll have all your senses alive. There are many great options here from beaches to wooded trails. We recommend the hike to the Heceta Head Lighthouse. This shorter, gravel trail handles wet weather well and provides some historic intrigue.
Hiking in the Rain
Oregonians aren't stopped by a little water. Get out and about on many of our easily accessible hiking trails. Just remember to plan ahead and take care out there:
Stay on the path to avoid trampling vegetation.
If a particular section of the trail is waterlogged, it's time to turn around and find another path.
Wet trails and slopes are more vulnerable to erosion and rock slides, so tread respectfully.
Do not ride bikes on muddy trails — the ruts could damage the trail.
Storms may bring down trees, limbs or debris that may block trails. Don't attempt to cross moving water as currents may be deceptive.
As you hike up to higher elevations, trail conditions may change. Rain at the bottom could become snow at the top. Be prepared!
Always have a back-up plan in case your first hike choice isn't accessible due to weather, crowding or closures. 
Oregon is such a beautiful place with its temperate climate and abundance of natural spaces. Aren't you glad you're here?