Back To Previous Page
Spring Wildflowers
Published: April 19, 2021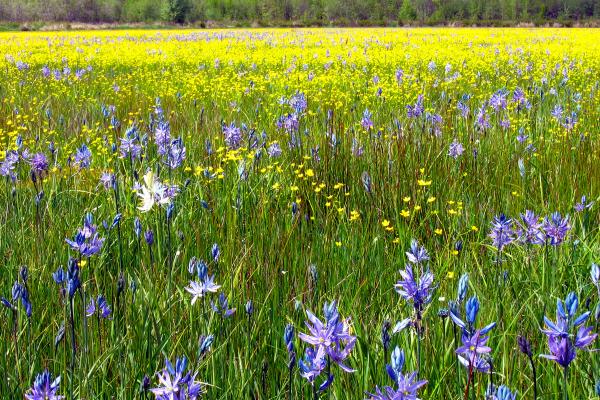 Wildflowers are one of the many splendid delights of springtime. As you trek gloriously muddy hiking trails to gushing waterfalls, keep a look out for the region's beautiful blooms. 
Wildflower Season
The wildflower season is heralded by wild daffodils as they spring up alongside country roads and across farmers' fields in the Willamette Valley. It is a local tradition to cruise the country roads around Junction City every March, admiring the blooms. 
Wildflower season is best April through early June. In April, beautiful purple camas and pond lilies in the low wetland areas of the Willamette Valley start budding. Birding excursions at the Delta Ponds or West Eugene Wetlands promise flora as well as feathers. Another splash of purple is the wild iris concentrated around Wild Iris Ridge but found trail-side throughout the region.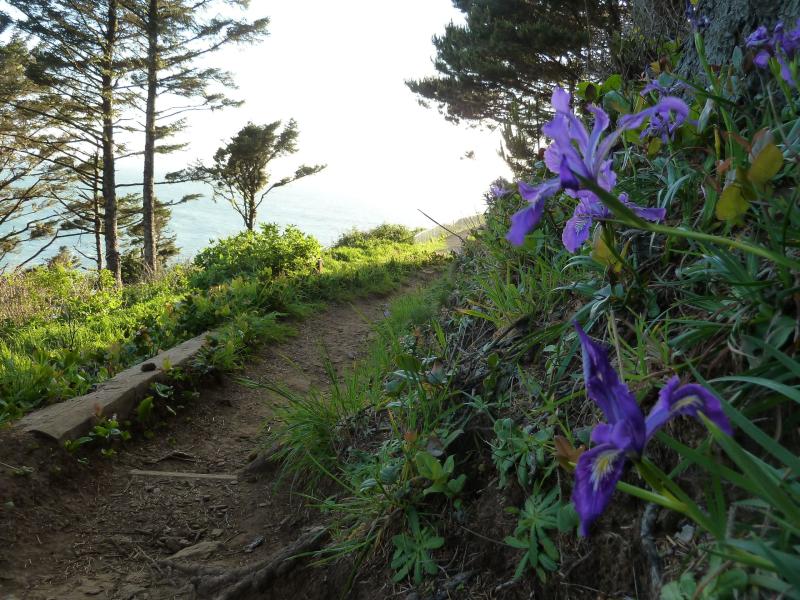 Wild Iris on the Cape Creek Hike by Jennifer Archer
Some of the flowers you might see include coast fawn lilies, cut-leaved goldthread, flowering currant, Hartwig's wildginger, Indian plum, Oregon grape, Oregon fawn lilies, Oregon fetid adder's tongue, Oregon selaginella, Marshall's saxifrage, saucer bishops cap, spring gold, trillium, violets, western wood anemone and many more.
Wander through the wildflower meadows at the Mount Pisgah Arboretum and pick up a copy of their local plant list. Mount Pisgah is a natural destination for wildflower hunting. Hiking trails crisscross the two-hundred-acre park preserve from the banks of the Willamette River to the top of the mountain. In fact, Mount Pisgah Arboretum has been featured in Grant's Getaways as a premier natural area of Oregon. In May, the arboretum typically hosts an annual Wildflower Festival with plant workshops, exhibits and wildflower walks by local botanists. Due to pandemic protocols, there may be virtual offerings instead.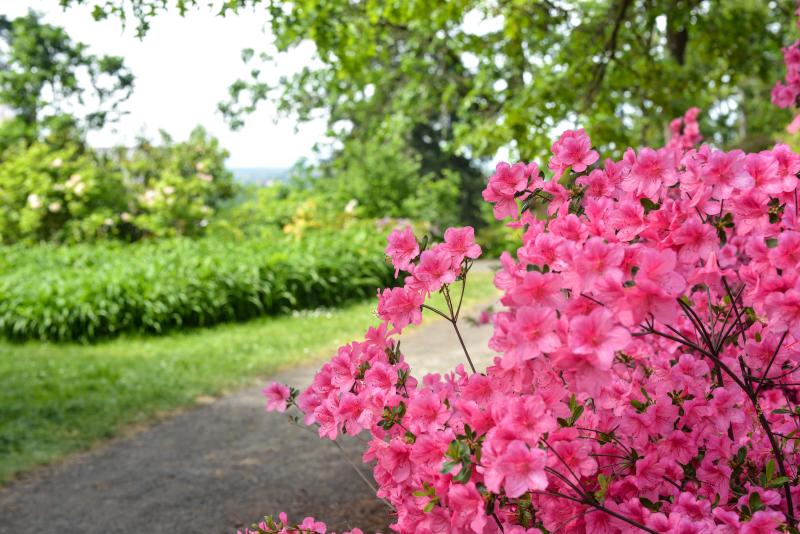 Hendricks Park in the springtime by Melanie Griffin
Gardens
May is also the time for cherry blossoms in shades of white to deep pink. Visit the century-old black tartarian cherry tree in Eugene's Owen Rose Garden. Over 4,000 roses burst into bloom in this riverside garden, peaking with glorious color in June. Not wild, but still a treasured sight for flower enthusiasts.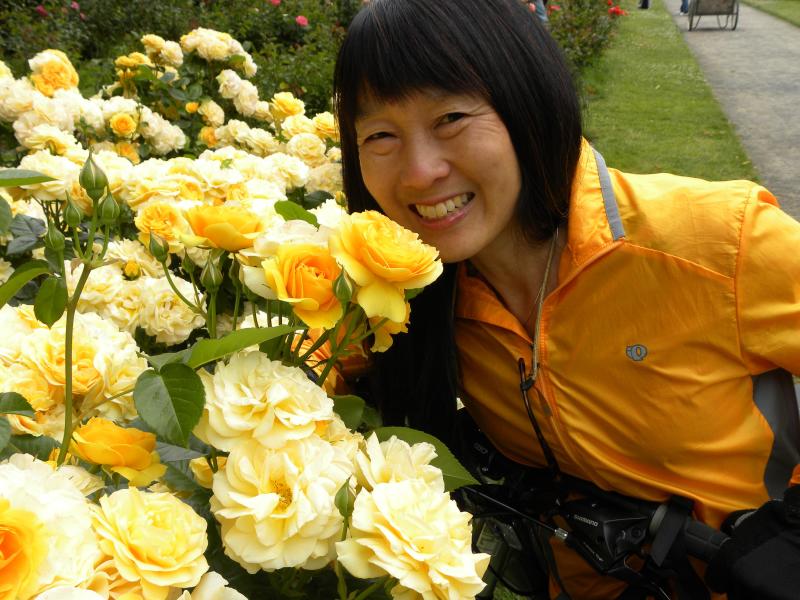 Owen Rose Garden by Sally McAleer
On the McKenzie River, Belknap Hot Springs Resort offers sprawling mountain gardens. Graveled paths lead to forested riverside glens, moss-covered water features, pretty flower beds or open sunlit meadows.
And don't forget Oregon's native rhododendrons. In Eugene, Hendricks Park's 80-acre woodlands includes a manicured rhododendron and native plant garden — just perfect for a springtime stroll. Inspired by the beauty? Visit one of the region's nurseries for your own garden planning.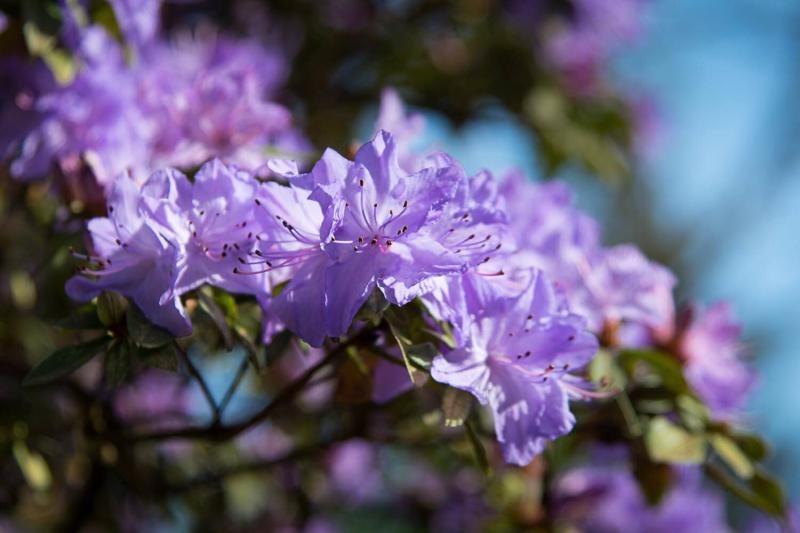 Rhododendrons at Hendricks Park by Thomas Moser
Oregon Coast Blooms
Since 1908, Florence has been celebrating every May with a spectacular Rhododendron Festival. While this has been suspended due to pandemic protocols, you can still spot beloved "rhodies" all along the Oregon Coast and in home gardens and parks throughout the region.
Rhododendrons aren't the only magnificent flower on the Oregon Coast - with the advent of spring, the Darlingtonia Californica, a red and green carnivorous bloom, sends up single, nodding flowers followed by larger pitchers to trap their pray. This fascinating flower can be viewed at Darlingtonia Wayside in Florence, a state park dedicated to this rare flora's preservation.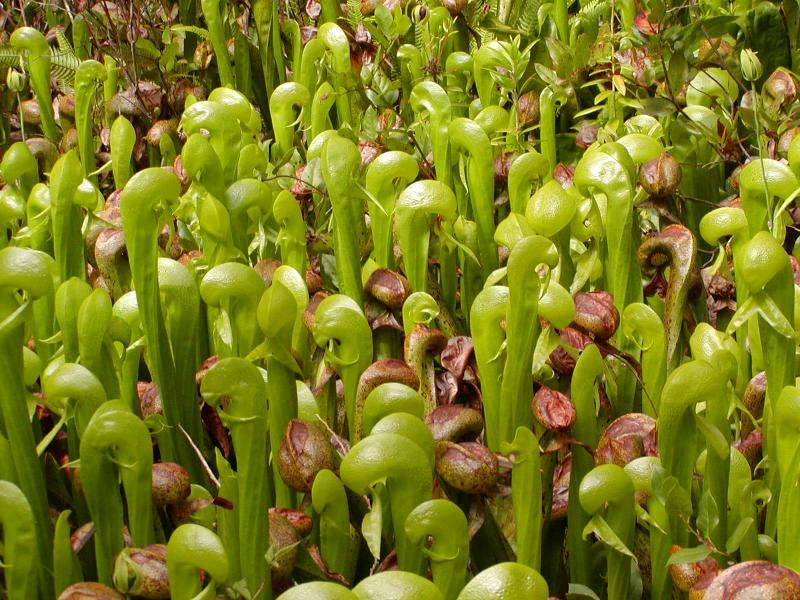 Cobra Lillies at Darlingtonia State Natural Site by Jennifer Archer  
Cascade Mountains
And wildflower scouting isn't over yet! As spring eases into June, head into the Cascade Mountains for wildflowers and butterflies along Oakridge's mountain biking trails. Through late July, discover meadows of buttercups, tiger lilies, orchids, bunchberry, Oregon boxwood and groundsel. The higher elevations stretch the wildflower season out until late summer when the terrain starts to turn golden. Places to go include Tire Mountain, Patterson Mountain Meadow and Waldo Lake. Above Cottage Grove, explore Bohemia Mountain.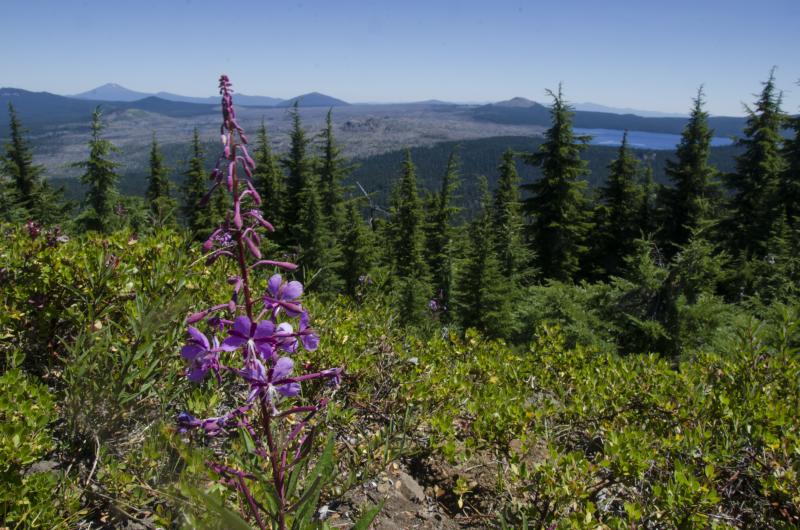 Wildflowers in the Waldo Lake Wilderness by Katie McGuigan
In July, visit the McKenzie River Lavender fields which hosts the annual McKenzie River Lavender Festival, at this time by advance reservation only due to pandemic protocols. The festival is a rich sensory experience where sweet-smelling rows of deep purple buzz as lazy bumblebees gather nectar which will be next years local honey. Take home a piece of this early summer festival with a u-pick bundle of fresh lavender, hand-crafted skincare products or delicious local produce. For wildflowers, wander Horsepasture Mountain nearby.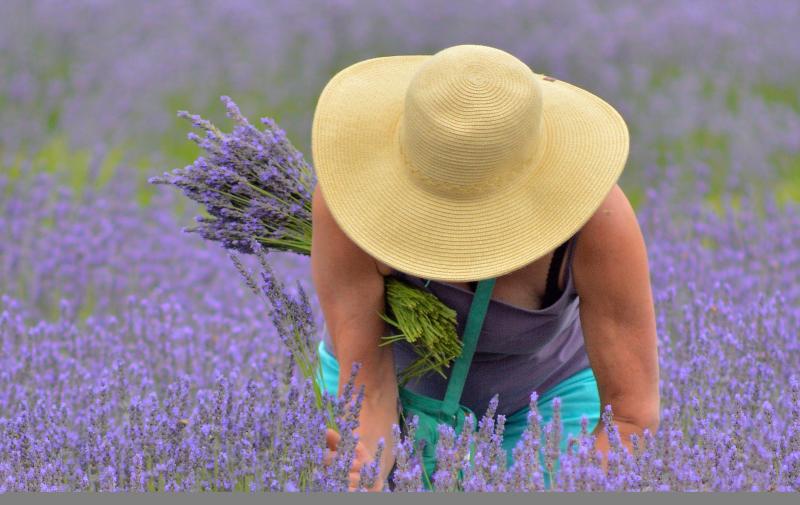 Lavender Festival, McKenzie River by Thomas Moser
U-Pick Flowers
Since picking wildflowers or cultivated flowers in parks or on public lands ranges between illegal (where and what being the key factors) to poor trail etiquette (please leave them for others to enjoy) to foolhardy (wildflowers are delicate and the bloom may wilt quickly); the best way to bring home a flower's beauty is from local farms. All along the South Willamette Valley Food Trail are vegetable and fruit farms that also grow fields of tulips, sunflowers, dahlias, snapdragons and zinnias. With a basket, scissors and your camera – because the photo opportunities in flower fields are amazing – gather armfuls of flowers to brighten your day or someone else's! Hanging flower baskets are also a popular take home and can be found at summer farmers' markets and farm stands across the Willamette Valley.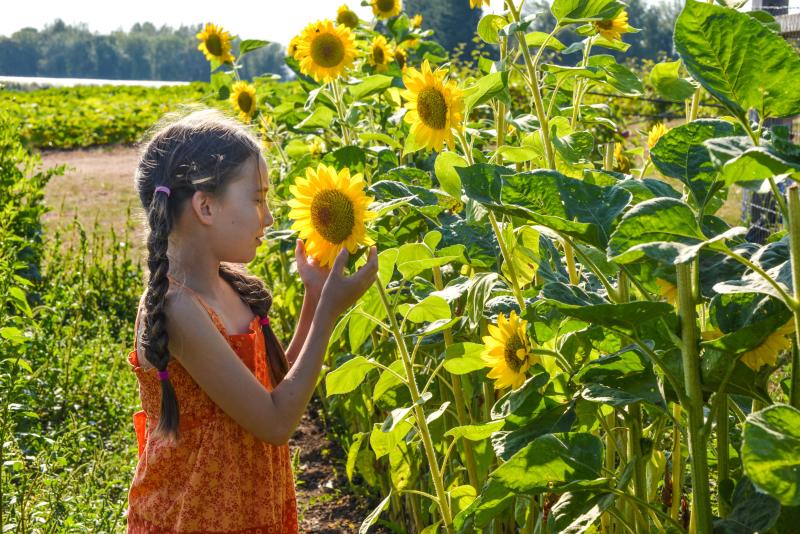 U-pick Sunflowers at Groundwork Organics by Melanie Griffin
For detailed local information on wildflowers, connect with the Emerald Chapter of the Native Plant Society of Oregon. They maintain lists of rare plants and invasive plants. Please do not pick or disturb wildflowers, plants or animals.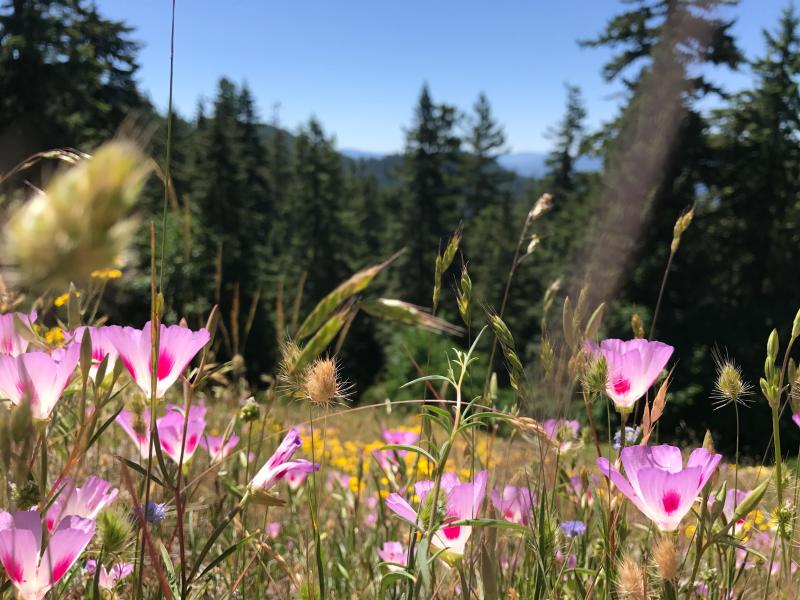 Tire Mountain wildflowers by Logan Dralle  
Top Photo: Wildflower Field in Veneta by Jeff Dimmick