Back To Previous Page
A Three-Day Weekend on the Coast
Published: July 07, 2017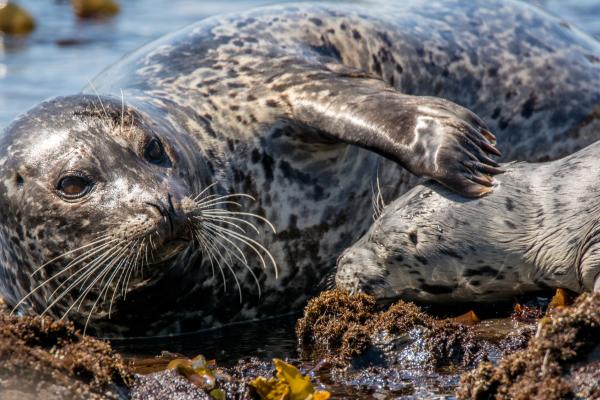 Revitalize your soul on the beaches of the Pacific. Put your feet in the sand. Feel the ocean wind in your hair.
Whether it's winter weather with fog, rain and thundering waves or summer weather with brilliant blue skies and sea, warm sunlight and salty air; a trip to the coast will be memorable.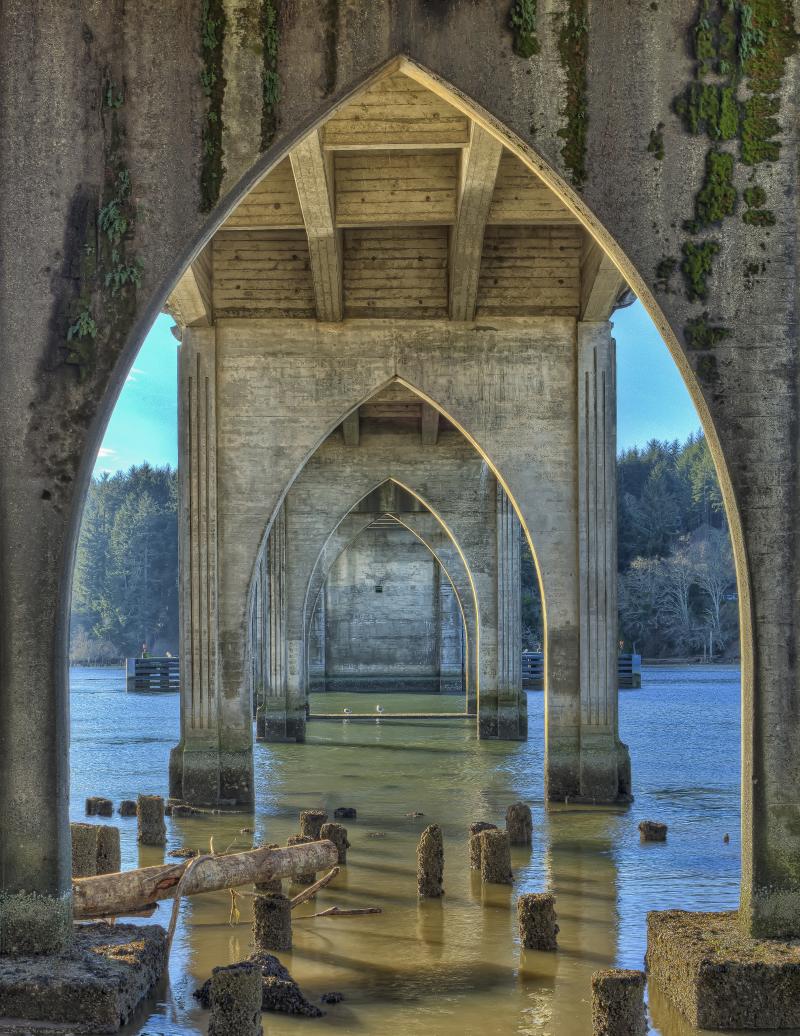 Under Siuslaw River Bridge by Deigh Bates

 
Day One
Sightseeing
Drive the craggy cliffs of Hwy 101 north, taking in stunning views and stopping to beach comb on the miles of empty sand beaches.
Along the way visit a rare carnivorous flower, a hundred-year-old lighthouse and a marine cave home to sea lions. 
During whale migration, watch Gray whales cavorting just off shore. Enjoy the views from Cape Perpetua and have lunch in the small oceanfront town of Yachets. 
MAP IT
This 350-mile (560-km) drive from border to border takes travelers along the magnificent Oregon coastline. One of the first National Scenic Byways, Highway 101, constructed in the 1930s and 1940s over wagon roads and native trails, offers breathtaking ocean panoramas and abundant recreation opportunities.

Hwy 101, Florence OR 97439

P: 541.574.2679
MAP IT
An 18-acre botanical park dedicated to the preservation of the Darlingtonia californica, a rare carnivorous flower nicknamed "cobra lily." The wayside park provides parking and an accessible boardwalk trail into the midst of the red and green pitcher-style stalks and blooms. The park is open all year and offers interpretive signage, a picnic area and restrooms.

Hwy 101, Florence OR 97439
MAP IT
A walking trail leads you under the highway to a five mile sandy beach and day-use area. Great for whale watching, agate hunting, beach combing and picnicking. Another trail connects you to the Heceta head trail, which you can use to reach the historic Heceta head Lighthouse.

Hwy 101, Florence OR 97439

P: 541.547.3416
MAP IT
Oregon's Heceta head Lighthouse was built in 1892, listed on the National Register of Historic Places in 1978 and restored in 2013. It is the brightest light on the Oregon Coast with a signature 1,000-watt flash every 10 seconds. And because of its iconic beauty, it is also the most photographed lighthouse on the West Coast. There is a half mile hike up to the lighthouse and boutique gift shop. The nearby Assistant Keeper's House operates as a B&B, interpretive center and special event space popular for weddings. Seasonal daily tours inside the lighthouse currently suspended due to pandemic protocols. Day Use Fee Area. (Formerly Devils Elbow State Park.)

92072 Hwy 101 S, Yachats OR 97498

P: 541.547.3416
MAP IT
A cavernous sea cave adopted by a herd of Steller sea lions, some years numbering as many as 200. Take an elevator ride 200 feet (61 m) down into the cave as tall as a 12-story building and as wide as a football field. During the fall and winter barking sea lions lounge around inside the cave's natural amphitheater and during the summer months they sprawl along outside rock ledges with their young. Believed to be America's largest sea cave and the only known mainland home of wild sea lions in the world. Outside paths and viewing platforms. Gift and snack shop.

91560 Hwy 101 N, Florence OR 97439

P: 541.547.3111
MAP IT
Towering trees looming through a coastal fog. Frothy surf crashing upon jagged shores. Majestic headlands offering clear views for miles. Located two miles (3.22 km) south of Yachats, this coastal wonderland - where the forest meets the sea - captivates locals and visitors alike.

2400 Hwy 101, Yachats OR 97498

P: 541.547.3289
Camp or Cabin
Along the coastline are plenty of campgrounds and cabins. Add a little rustic element to your adventures, but plan ahead as these popular lodging options fill up quickly in the summer season.
Day Two
Choose Your Own Adventures
Now that you've seen the sights, it's time to get active! Explore the dunes by buggy or learn to sandboard on the massive sand hills. Ride horses on the beach, play a round of golf or paddle a kayak through the Siltcoos Recreation Area. Whale watch by plane or cast out a fishing line at one of the many coastal lakes. 
MAP IT
Two miles (3 km) of sand dunes between the park and the ocean. ATVs and OHVs can access the sand dunes and beaches from H Loop. The park includes two natural freshwater lakes, Cleawox (great for swimming) and Woahink (with a boat ramp for water sports). Pink Rhododendrons bloom here in the spring and huckleberries and blackberries are plentiful in the fall. The second largest overnight camp in Oregon. The park is pet-friendly, open year-round and offers full RV hookups, showers, picnic tables, meeting halls, cabins, yurts, teepees and camp sites right on the edge of the dunes.

Hwy 101, Florence OR 97439

P: 800.551.6949
MAP IT
Part of the Siuslaw National Forest, the Oregon Dunes cover 40 miles (64 km) along the coast, North America's largest coastal dunes. There are many ways to explore this dramatic natural wonder: by air, foot or off-highway vehicle (OHV). Recreational opportunities include quiet nature trails through vegetation teeming with wildlife, birding, beachcombing, fishing, sandboarding or sand sledding, stargazing and camping. Dune buggy rides with a professional guide are encouraged. Recreation pass required or Day Use Fee. Cash is not accepted. Please purchase online in advance.

855 Hwy 101, Florence OR 97439

P: 541.271.6000
MAP IT
A unique opportunity to experience the Oregon Dunes by dune buggy. Enjoy an exciting guided Sand Rail Tour or a Professionally guided Interpretive Scenic Tour on one of the famous big purple buggies driven by skilled drivers. Located four miles (6.4 km) south of Florence, with direct access to the dunes offering guided tours, group tours, ATV rentals and RV/ATV camping.

83960 Hwy 101 S, Florence OR 97439

P: 541.997.3544
MAP IT
Choose an exhilarating dune ride on their Sandrails with up to 10 passengers or a more relaxing tour on their Giant Dune Buggies that can fit 27 people. After your dune ride, enjoy the family fun center, splashing on the bumper boats, racing on the Grand Prix style Go-Kart track, playing miniature golf or taking a ride on the Cloverline Railroad. Located just south of the Siuslaw Bridge along Hwy 101.
85366 Hwy 101 S, Florence OR 97439

P: 541.997.8087
MAP IT
C&M Stables offers horseback riding on the beautiful Oregon Coast beaches and dunes. Conveniently located just north of Florence and south of Sea Lion Caves, a variety of horseback riding experiences are available for beginning, intermediate and advanced riders. Choose an adventure that fits your style -- Beach Rides, Dune Trail Rides, Morning Adventure Rides and Sunset Beach Rides. Operating since 1981, C&M Stables has approximately 50 horses to match any rider and ensure everyone has the most enjoyable and memorable experience possible. Call 541.997.7540 to make a reservation today.

90241 Hwy 101 N, Florence OR 97439

P: 541.997.7540
MAP IT
Siltcoos Lake, south of Florence, is home to great warm water bass fishing, boating, hiking and the start of the Siltcoos River Canoe Trail. Fish species: coho salmon, black crappie, brown bullhead catfish, yellow perch, bluegill, largemouth bass, cutthroat and hatchery rainbow trout. Seasonally watch for algae blooms which may be harmful to people and pets.

South of Florence on Hwy 101, Florence OR 97439
MAP IT
Located in Honeyman State Park, west of Highway 101 just south of Florence. Popular for swimming and paddleboats. Big sandy shoreline. Boat ramp, picnic area and restrooms available. Fish species: largemouth bass, yellow perch, brown bullhead catfish, hatchery rainbow trout and hatchery cutthroat trout. Recreational permit or day-use fee.

Hwy 101, Florence OR 97439
MAP IT
Ocean Dunes Golf Links is a favorite for locals and travelers alike. With a unique course layout, breathtaking scenery, and a few unexpected turns, visitors will enjoy a challenging and invigorating golf experience. With a par-71, and a slope of 132, it is set in the sand dunes of the Oregon Coast. Offering links-style pot bunkers, sand dunes, beach grass and beautiful views. Complete with a clubhouse with snack bar, 18 fun and exciting holes, carts available for rental, and a vista of dunes, mountains and forests, your experience will be unlike any other.

3345 Munsel Lake Rd, Florence OR 97439

P: 541.997.3232
Florence overnight
Rest your tired body in an oceanfront or riverfront hotel in or near Historic Old Town Florence. When you stay in the heart of the hub, you can walk to coffee in the morning!
Day Three
Historic Old Town Florence
Meander the charming riverfront town, visiting the local museums and shopping for mementos. Florence offers plenty of entertainment from the movie theater to the casino. Enjoy a farmers' market, the performing arts or gaming. Dine on fresh seafood at some pretty amazing little eateries.
MAP IT
With the motto "Honoring our veterans by educating our public," the Oregon Coast Military Museum is focused on preserving personal stories from our Oregon military veterans. The unique exhibits highlight all periods of military conflict and all aspects of military service. This volunteer-based museum features a remembrance garden, gift shop and a wall of bricks donated by friends and family of veterans. The museum is available for class tours, meetings and events. Admission is $5 per person, groups of 10 or more is $4 per person, kids 12 and under and members are free.

2145 Kingwood St, Florence OR 97439

P: 541.902.5160
MAP IT
Located in historic Old Town Florence. Displaying relics and historical information from the area. Featuring the Siuslaw River and its pioneers. Wheelchair accessible building. Admission of $3 per person and under 16 free. Closed Mondays and all of January.

278 Maple St, Florence OR 97439

P: 541.997.7884
MAP IT
An independently-owned, four screen movie theater showing popular current releases, independent films and high definition performing arts fare on the Oregon Coast. All new digital projection in the former Florence Cinemas building. Enjoy concessions in the lobby lounge and spice up your popcorn with complimentary seasonings on the condiment bar. Memberships to support this hybrid movie house concept are also available at the box office.

1930 Hwy 101, Florence OR 97439

P: 541.305.0014
MAP IT
The Florence Events Center is a 21,000 sq. ft. state-of-the-art entertainment and events venue. We can host your event—from 4 to 400+ people—with professional sound, lights, catering, and support staff, plus custom set-up and take-down, free parking, free wi-fi, and excellent proximity to award-winning lodging and fun things to do before or after your event. We welcome your event whether it be a small executive board retreat in one of their conference rooms, a big-time concert or stage production in their 450-seat theater, or a convention/tradeshow that attracts hundreds of visitors to our 7500 sq. ft. flat floor. Enjoy a stress-free event and let our friendly professional staff help you put on a memorable event for family, friends, employees, or the general public.
Whatever you need for your event, we've got it! Free wi-fi, variety of customizable floorplan configurations, PA and sound systems, lights, pipe-and-drape, display tables, banquet tables, bistro tables, chairs, chair covers and table cloths, punch bowls, place settings, flatware, room dividers, podiums, projector and screen, a dance floor (seriously, we've got that too) and stuff you don't even know you need—right down to the flip chart on an easel with colored markers.
715 Quince St, Florence OR 97439

P: 541.997.1994
MAP IT
Florence is home to the Northwest's newest, friendliest and most advanced gaming experience. Offering craps, blackjack, live poker, restaurants including a buffet, 93-room hotel, live entertainment and major headliners in the Events Center. This state of the art Casino is open 24 hours a day. Three Rivers is a family-friendly property is owned and operated by the Confederated Tribes of the Coos, Lower Umpqua and Siuslaw Indians on 100 acres surrounded by beautiful coastal dunes and forests. Three Rivers Casino Resort offers free bus service from Eugene, Springfield, Veneta and Mapleton to the casino four days a week.

5647 Hwy 126, Florence OR 97439

P: 541.997.7529