Chambers Railroad Covered Bridge
This is the only remaining fully covered railroad bridge in Oregon and perhaps the only one west of Mississippi. It is believed there are only eight covered railroad bridges in the nation, and of those remaining, the Chambers Bridge is the tallest.
It was built in 1925 by lumberman J.E. Chambers to cross the Coast Fork of the Willamette. In 2011, the bridge was restored to its original state and can be crossed on foot or by bicycle. It is listed on the National Register of Historic Places and serves as an interpretive center. There is parking at the southeast end.
History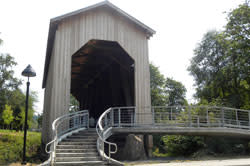 The Chambers Railroad Covered Bridge was part of the rail system used to haul logs from the Lorane Valley to the J.H. Chambers Mill in Cottage Grove. The bridge was built to endure the massive weight of the lumber trains and built tall to accommodate their stacked loads.
The mill burned down in 1943 and use of the rail line subsequently ceased. In 1951, the tracks were removed and sold for scrap, and the bridge was abandoned. Eventually the western approach was removed to accommodate South River Road. The bridge slowly rotted and was subject to vandalism.
In 2006, the City of Cottage Grove secured ownership. In 2008, residents raised funds and the national Historic Covered Bridge Preservation Program provided a matching grant for the complete overhaul of the bridge. But in 2010, before work had begun it was noted the bridge had moved significantly after a storm and it was listing precariously upstream. It appeared likely to collapse. An emergency was declared and the city working with OBEC sped up their rehabilitation plans. The bridge was carefully dismantled and reconstructed bit by bit on-site. Original material was reused when feasible and the rebuilding was done as historically accurate as possible.
Land on both ends of the bridge was secured for a park and the bridge re-purposed as a pedestrian and bicycle footbridge. Interpretive panels were installed along with iron artwork depicting the steam engines that once passed through.
This is the only remaining covered railroad bridge in Oregon and possibly west of the Mississippi River! The Chambers Bridge was built in 1925 over the Coast Fork of the Willamette River to…