The Eugene, Cascades & Coast region of Oregon offers incredible adventures for groups meeting in the region before, during and after your conference. Here are some fun, half-day itineraries to consider.
Coastal Adventures
Beach Horseback Riding and Heceta Head Lighthouse

One of the best ways to unwind after a meeting is taking a trip to the coast for a scenic horseback ride. Beginning at C&M Stables, the group will trek through stunning sand dunes and beaches. After trotting around this coastal oasis, drive north to one of the most famous lighthouses in America, Heceta Head Lighthouse. Standing tall at 56 feet, this lighthouse towers 205-feet on a bluff over the Pacific Ocean. Impressive views and coastal breezes that permeate through the property create an unbeatable environment. Round out the day by heading south along Highway 101 looking at rolling sand dunes, crashing waves and large Douglas firs.
Trip Tips: Comfortable walking shoes, appropriate clothing, reusable water bottle.
Sea Lion Caves and Devils Churn
About 20 minutes north of Florence, the famous Sea Lion Caves await your group. The largest sea cave in North America boasts stunning views, adorable sea lions and a one-of-a-kind experience, unique to the central Oregon coast. These wild animals will win you over with their adorable barks, grunts and other funny mannerisms. Once the group has gotten enough cuteness at the sea lion caves, drive north to the charming coastal town of Yachats to experience the Devil's Churn.
The Devil's Churn is a must-see destination for adventure seekers and nature lovers. Crashing waves and dramatic churning actions of the incredibly strong Pacific Ocean will surely leave a long-lasting impression. To finish the day, the group will drive back to Eugene through beautiful old growth forests and views of popular sites like the Siuslaw River.
Trip tips: Comfortable walking shoes, reusable water bottle, appropriate clothing.
Buggies and Boards
Sand Dunes Frontier offers group tour buggy rides for all the adrenaline seekers. Your attendees will boast about speeding through towering sand dunes and rolling hills for the remainder of the trip. Head over to Sand Master Park to get a taste of the growing sport sandboarding, popularized in the Oregon Dunes National Recreation Area. Take a lesson from one of the skilled riders at Sand Master Park before carving down the historic sand dunes. This day trip may be short, but the memories will last a lifetime.
Trip tips: Comfortable walking shoes, windbreaker, reusable water bottle.
Coastal River Kayaking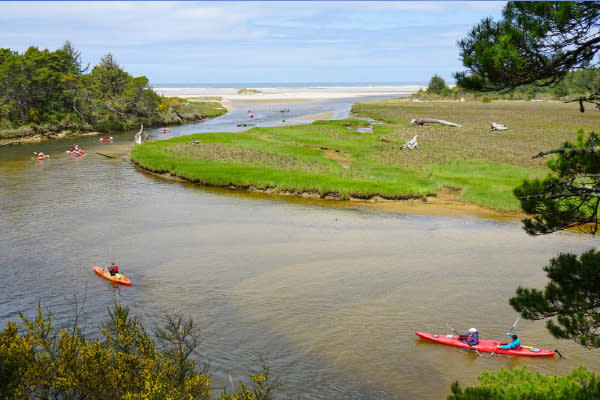 When you bring your group to the Oregon coast, one of the most memorable experiences available to attendees is the chance to paddle the Siltcoos River. Your group will have the chance to experience the full length of a river without having to commit to a weeklong expedition. The trip begins at Siltcoos Lake just 30 minutes away from Old Town Florence. The group will kayak among old growth coastal forests, ancient sand dunes and natural scenic beauty before reaching the Pacific Ocean. Paddling back upstream is just as easy as floating down which makes this short trip such a favorite. This unforgettable river experience suits groups with varying levels of kayaking experience and is one of the coast's true highlights that can't be missed.
Trip Tips: You must be able to carry your own kayak. Bring water and appropriate clothing.
Eugene-Springfield Metro Adventures
Foodie Tour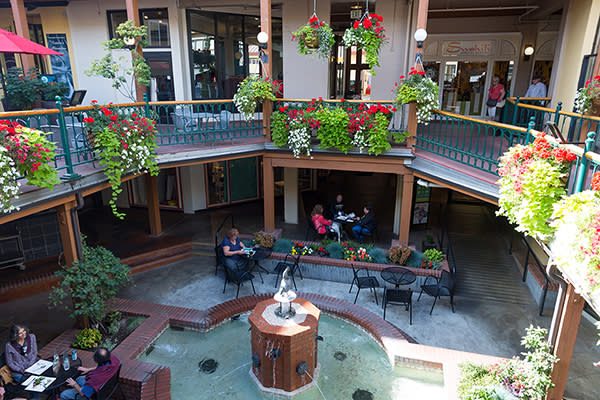 Your group will love the fact that they can get a full taste of Eugene's growing culinary scene in just half a day. Attendees will fully immerse themselves in everything delicious Eugene has to offer. Starting at Morning Glory Café, attendees will appreciate the extensive menu featuring a wide range of options including omelets, French toast and other tasty comfort food. After Morning Glory Café and a walk through the city, stopping at Provisions Market Hall in the 5th Street Public Market offers tasty and convenient options. Pizza, soup, salad, pot pies and more are all on the menu. Don't miss out on the curated wine shop and cheese shop for some goodies to go. After Provisions, Skinner Butte Park and the Willamette River are just a few minutes' walk away. The fresh Pacific Northwest air will have everyone feeling refreshed before wine and dessert at Pfeiffer Winery and Euphoria Chocolates. Nothing says a night cap like chocolate and wine, so head back to 5th Street Public Market to grab a box of incredible artisan chocolate to pair with Pfeiffer's amazing Pinot Noir.
Trip Tips: Come hungry, wear comfortable shoes and dress for the weather.
Urban Hiking and Cascades Raptor Center
Starting in the early afternoon, a hike to Spencer Butte's 2,055-foot summit is one of the best ways to see stunning views of South Eugene. Other notable sightings include Autzen Stadium and Hayward Field at the University of Oregon for all sport enthusiasts to enjoy. Make your descent down the eastern side of the hike until hopping on Eugene's Ridgeline Trail System; a local system that connects multiple parks via 12 miles of hiking trail. An afternoon in South Eugene is not complete without a trip to the Cascades Raptor Center. Some of the Pacific Northwest's most impressive birds of prey live at this educational nature center and wildlife rehabilitation center. Enjoy getting to know these beautiful birds by name and seeing them up close and personal.
Trip Tips: Wear comfortable shoes and bring a reusable water bottle.
Sustainable Biking Tour
There are unique and sustainable ways for your group to explore Eugene; PeaceHealth Bikeshare being at the forefront. PeaceHealth Bikeshare is a network of bike share stations where users can pick up and drop off publicly available bicycles for one-way trips across the city. For a relatively short, 12-mile ride, attendees will get a chance to see some of Eugene's highlights. Starting in downtown, riding past Skinner's Butte the Willamette River Path is the perfect place to begin. Making your way through Alton Baker Park, the group will be at the University of Oregon (UO) before they know it. Known for its track and field history and home of the Ducks, the UO is an impressive campus to ride through. Notable sights at the UO include Hayward Field and the Museum of Natural and Cultural History.
Trip Tips: Closed-toed, comfortable shoes and appropriate clothing.
Willamette Valley Adventures
Wine Country Tour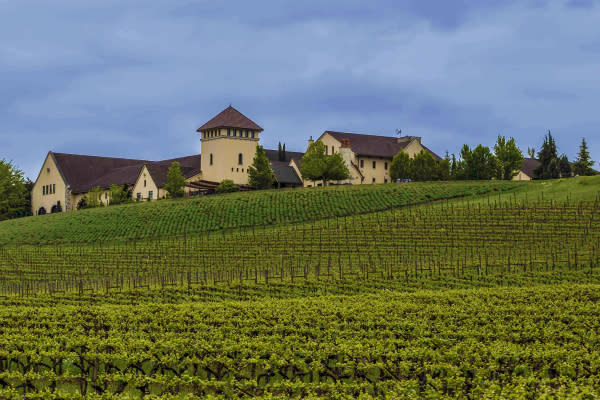 The South Willamette Valley Wine Trail is home to some of the region's most impressive wineries. The Willamette Valley shares a similar climate to that of France, so you can guarantee the wine is delicious and well respected. Attendees will love making their way-out Territorial Highway for an afternoon of wine tasting in wine country. The first two stops, Silvan Ridge and Sweet Cheeks Winery, offer stunning views of the valley and delectable Pinot Noir and Pinot Gris. Once wrapping up at Sweet Cheeks, the group will love King Estate Winery (pictured above), North America's largest biodynamic winery. Friends and family will thank you for taking an extra bottle or two to go.
Trip Tips: Comfortable walking shoes, appropriate clothing, reusable water bottle.
Covered Bridge Scenic Bikeway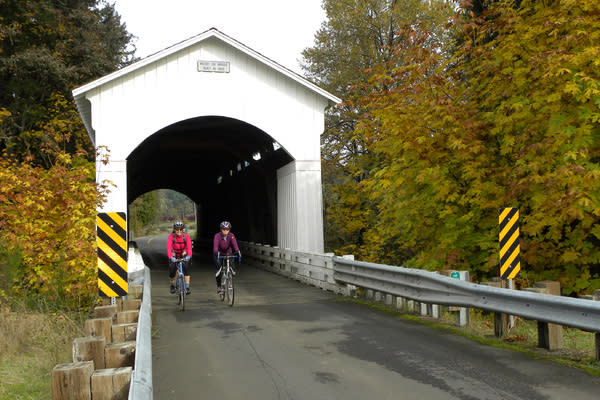 About 30 minutes south of Eugene is Cottage Grove; the covered bridge capital of the Pacific Northwest. A bike ride along the Covered Bridges Scenic Bikeway is a great way team building experience. The 36-mile route connecting historic Cottage Grove to the nearby Dorena Lake is filled with rich history and beautiful views. Riding past old film locations for movies such as Animal House and Stand by Me will reel back the years and be a talking point for years to come.
Trip Tips: Comfortable shoes, appropriate clothing, reusable water bottle.
Cascade Adventures
Whitewater Rafting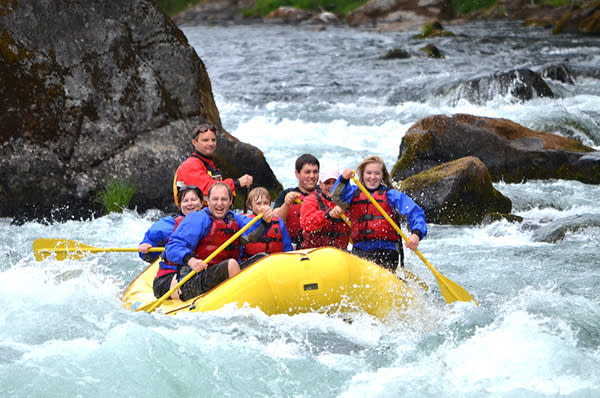 McKenzie River
White-water rafting is a unique way to get your group on the water for building team chemistry or getting to know each other more. Rafting down Class II and III rapids along some of the cleanest water in the U.S. is what makes the McKenzie River so special. Attendees can expect eddies, rapids, beautiful views and extremely cold water. No rafting experience is necessary for this rafting trip on one of the most beautiful rivers in Oregon. A. Helfrich Outfitter is one of the most reliable and well-known outfitters for trips on the McKenzie.
Willamette River
The Middle Fork of the Willamette River is another fantastic river to explore on. This five-and-a-half-mile trip features Class II rapids and views of Diamond Peak on a clear day. This adventure starts about 50 miles outside of Eugene at Greenwaters Park in Oakridge. Leaving from Oakridge, stunning views of the Willamette National Forest will start to appear. This relatively 'easy' rafting experience will allow the group to float past relics of Oakridge's timber heritage. Once back on land, the Westfir Lodge will ensure your group is well fed with delicious pierogis, sandwiches and beer.
Trip Tips: You should be comfortable in/on the water and know how to swim. Bring extra clothes.
Hiking at Clear Lake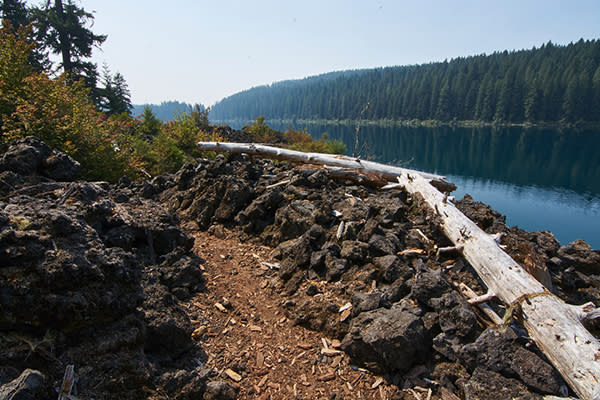 Hiking around Clear Lake is one of the most spectacular hikes in Western Oregon. What makes Clear Lake so incredible is the fact that the water stays at a consistent 34 degrees Fahrenheit all year-round. This near freezing water preserves trees, making them still visible after thousands of years. The 5-mile loop with roughly 230 feet of elevation gain is one of the most satisfying ways to see the Cascade Mountains. From Eugene, drive west along the scenic McKenzie River for about an hour and a half before reaching Clear Lake.
Trip Tips: Hiking boots, appropriate clothing, reusable water bottle, hiking poles (optional).
Adventures Await
Bring your group to the Eugene, Cascades & Coast region of Oregon and let our team put together the perfect adventure itinerary for your group. Your group will want to come early and stay late to take in all the Pacific Northwest beauty.