Covered Bridges Scenic Bikeway
A scenic bikeway that begins and ends in the All America City of Cottage Grove, Oregon. Looping around Dorena Lake and up to Culp Creek, the route totals 36 miles (57.94 km) for an all-day cycling excursion. Easily shortened to accommodate all skill levels or time frames, the smooth, paved bikeway appeals to families and recreational riders as well as seasoned cyclists.
The bikeway is based on the Row River National Recreation Trail ("row" rhymes with cow, supposedly after a "row" or quarrel between two neighbors along the river), which traces a defunct rail line. Movie buffs will love spotting the orange train trestle from Stand By Me.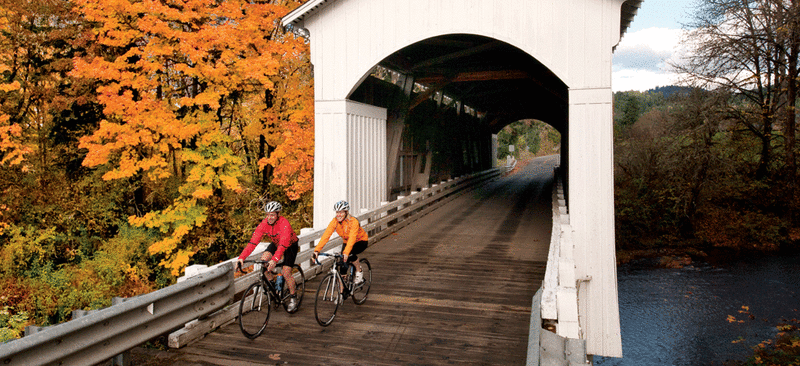 The pleasant path overlooking the spectacular deep blue reservoir (at its highest level in spring) is further enhanced by the area's many covered bridges. Pedal past four historic covered bridges along the loop and view two more right in town. You can even ride through the Mosby Bridge and the Chambers Bridge - which is the only covered railroad bridge west of the Mississippi. Romantic icons of a previous era, these preserved landmarks distinguish Cottage Grove as the "Covered Bridge Capital of the West."
Cool off at Baker Bay Park on Dorena Lake. A summertime concessionaire rents inflatable watercraft and toys. With a seasonal snack shack, picnic areas, showers and 80 beautiful acres, this is an excellent mid-point to pitch a tent and camp for the night. Or push on after an enjoyable picnic on the reservoir's grassy banks.
If you continue up to Culp Creek, an old logging community at the top of the steepest incline on the route, your reward is the beautiful Brice Creek Road and Wildwood Falls.
After the ride, relax in a casual pub or restaurant, play a round of golf or attend a performance at the Cottage Theatre. Enjoy a walking tour of the town's many murals and drop by the Cottage Grove Museum. With so much to do and explore in Cottage Grove, you may want to spend a few extra days.
MAP IT
This state-designated 36 mile (57.94 km) scenic bikeway follows the Cottage Grove Covered Bridge Tour Route and features an all-ages and all-abilities cycling experience of bridges, Dorena Lake and Cottage Grove's historic downtown. Of particular interest for families, the bikeway offers a no-traffic cycling experience along the 16 mile Row River Trail, an off-street, paved path through diverse landscapes and over moderate terrain. Map & Cue Sheet: https://traveloregon.com/wp-content/uploads/2019/11/SB-Covered-Bridges-Map-and-Cue.pdf

Begins at 10th and Main, Cottage Grove OR 97424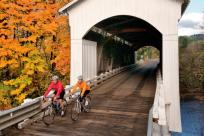 Cottage Grove is the "Covered Bridge Capital of the West." Who can resist the romantic allure of…
More

Info

›
Pedal a pub cycle between craft breweries on a one-of-a-kind tour where "the pedal meets the pub"…
More

Info

›

Plan your trip to Eugene, Cascades & Coast.