Real Estate Neighborhoods
Eugene - Springfield neighborhoods vary in terrain, landmarks, character and residential/ commercial composition. The local real estate industry uses basic geographical markers to identify general locations within the greater Eugene - Springfield area. The boundaries offered below are approximate. The neighborhoods may be comprised of one or more neighborhood associations and the described boundaries do not necessarily match electoral, school districts or other city divisions.
The City of Eugene's neighborhood associations list is another useful resource. In 2013, Eugene's Santa Clara and Harlow Neighborhoods were Neighborhoods USA national award finalists. Harlow was also named the 2013 Neighborhood of the Year Award for their Feed Hope program.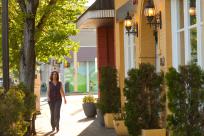 Explore all the neighborhoods that comprise the Eugene-Springfield area and just beyond. The…
More

Info

›
DANEBO
Level, rolling pasture land offers newer residential development at lower price points and convenient proximity to the Eugene Airport and light industrial districts. The Petersen Barn Community Center is a hub of events and activities. Other highlights include Fern Ridge Lake with its seasonal boating, birding and outdoor recreation. Danebo is located to the west of Eugene.
RIVER ROAD/SANTA CLARA
With scenic "countryside" charm this neighborhood retains its original small farm appeal intermixing established older farmhouses with newer home construction. Roadside stands still offer fruit and vegetables, while Santa Clara Square is a convenient area mall with a variety of shops and services. Riverside bike paths and a central park provide plenty of outdoor recreational opportunities. The River Road area boundaries are south of Randy Pape Beltline, west of the Willamette River, north of Chambers Connector and east of The Northwest Express Way and Prairie Road. The Santa Clara boundary is north of Randy Pape Beltline, west of the Willamette River and east of Prairie Road. In 2013, Eugene Neighbors, Inc. won the Multi-Neighborhood Partnership Projects' second place for their Santa Clara River Road Outreach & Learning Project at the Neighborhoods USA conference.
Downtown & WEST EUGENE
Partially downtown, the West Eugene neighborhood includes historic residential and commercial districts, including classic old turn-of-the-century bungalows and shady tree-lined streets. Recent restoration has turned some of the beautiful old homes into businesses. Newer construction borders the west. This neighborhood is convenient to Eugene's business sector, Lane Events Center, the Hult Center for the Performing Arts, the colorful Saturday Market and downtown dining and shopping. Sub-communities within this area include Churchill, Whiteaker and Jefferson. West Eugene is west of Willamette St., north of 18th Ave. and south of Roosevelt Blvd.
SOUTHWEST EUGENE
Lovely Southwest Eugene crowns gentle rolling hills with older, diverse architecture, beautiful views and select shopping and dining. This neighborhood includes one of Eugene's original vintage districts called "College Hill." While close to downtown Eugene, Southwest Eugene is also a gateway to rural countryside with its picturesque vineyards and award-winning wineries. The described boundaries are west of Willamette St. and south of 18th Ave and includes the Friendly Area Neighborhood.
FERRY STREET BRIDGE
Primarily level terrain, Ferry Street Bridge has large residential tracts and bustling shopping districts including Valley River Center and the upscale Oakway Center. Housing ranges from 70s construction to newer buildings along the northern boundary. Ferry Street Bridge includes Alton Baker Park, Eugene's largest riverfront park which is popular for river access, running, biking and family entertainment. Other highlights are the Eugene Country Club, Oakway Golf course and the UO's renowned Autzen Stadium. The neighborhood's namesake bridge connects the Ferry Street Bridge neighborhood to Eugene's downtown district. The boundaries are west of 1-5, south of the Randy Pape Beltline Road, north and east of the Willamette River. Includes Harlow Neighborhood, 2013 Neighborhood of the Year by Neighborhoods USA.
EAST EUGENE
Encompassing the University of Oregon campus and surrounding residential blocks, East Eugene is a vibrant hub of student housing, large fraternal and University buildings, and beautiful older homes, many pre-dating WWII. Neighborhood eateries and little parks make this area pleasant for residential strolls. The neighborhood continues with 60s and 70s era homes built up the steep hillside of Hendricks Park. The 78-acre park is known for its extensive rhododendron garden and tranquil terraced trails. Laurelwood Golf Course on the southern boundary rounds out East Eugene's robust recreational resources. The general area is east of Willamette St., north of 18th Ave. and south of the Willamette River including portions of the Glenwood neighborhood.
SOUTHEAST EUGENE
Within cycling distance of the UO, Southeast Eugene includes diverse housing from pockets of older duplexes to large magnificent estates sweeping up the hillsides. The neighborhood's textured terrain of creeks, wetlands and woodsy trailheads offers quintessential Pacific Northwest property. Neighborhood highlights include beautifully groomed running trails, spectacular views of the landmark Spencer Butte, the natural park-like campus of Lane Community College and many community programs offered at the Amazon Pool and Community Center. Continued development is pushing out the southern boundary. Southeast Eugene is generally east of Willamette St. and south of 18th Ave.
SPRINGFIELD/THURSTON
The City of Springfield also offers a great neighborhood video.
The Springfield neighborhoods are east of Eugene and Interstate 5, loosely bounded by the beautiful and wild McKenzie River to the north and large riverside parks along the Willamette River to the South. Comprised of eight distinct neighborhoods (Gateway, Glenwood, Mohawk, Downtown, Thurston, and the Washburne Historic District), Springfield integrates residential neighborhoods with a range of commercial enterprises. The Gateway Mall and surrounding businesses right off Interstate 5 provide convenient shopping with Big Box and chain stores. In the heart of Springfield and its historic district, a plethora of antique stores draw treasure seekers. The McKenzie-Willamette Medical Center and the Sacred Heart Medical Center at RiverBend offer state-of-the art medical resources. Springfield also serves light industrial business.
THE "COUNTRY"
Large parcels on the city outskirts or beyond are often called country properties. These rural areas may include McKenzie, Mohawk Valley, Camp Creek, Coburg, Crow, Veneta, Fern Ridge, Oakridge, Junction City, etc.
Oregon Coast
From the coastal range to the beaches, the coastal properties include a diverse setting of in-town residences, lake or riverfront cabins, mountain properties and ocean view homes.
Get to Know the Area
Whether you are considering the area schools, retirement communities, educational institutions, healthcare or job opportunities; connecting with a local real estate broker and the regional chamber of commerce can be very helpful. And one of the best ways to learn about a community is to immerse yourself in it. Come drive around the neighborhoods, take a walk, dine at an eatery and see how it feels to be here.