About Springfield, Oregon
Springfield, Oregon is believed to be the famous "typical American town" behind the acclaimed Twentieth Century Fox Film Corporations' "The Simpsons."
Take a self-guided and unofficial Simpsons tour around the city. Snap a photo with a life-sized Homer, Marge, Bart, Lisa and Maggie at the Springfield Museum. And see the new Simpsons mural on 5th and Main St.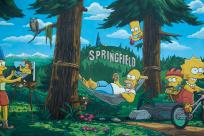 Is Springfield, OR the inspiration for The Simpsons?…
More

Info

›
Perceived by some to be in Eugene's (Shelbyville) shadow, Springfield hasn't always had its due credit. Turns out that Springfield may also have a rival claim with Eugene as the birthplace of Nike. The waffle sole that made the shoes revolutionary was likely perfected in a Booth-Kelly lumber mill workshop. 
And legendary runner Steve Prefontaine actually lived in a trailer right here in Springfield. Olympians Maria Mutola, Annette Peters and Bill Dellinger also lived in Springfield.
Track star Nick Symmonds certainly claims Springfield as his neighborhood, and has established the first ever straight 800 meter road race right through downtown.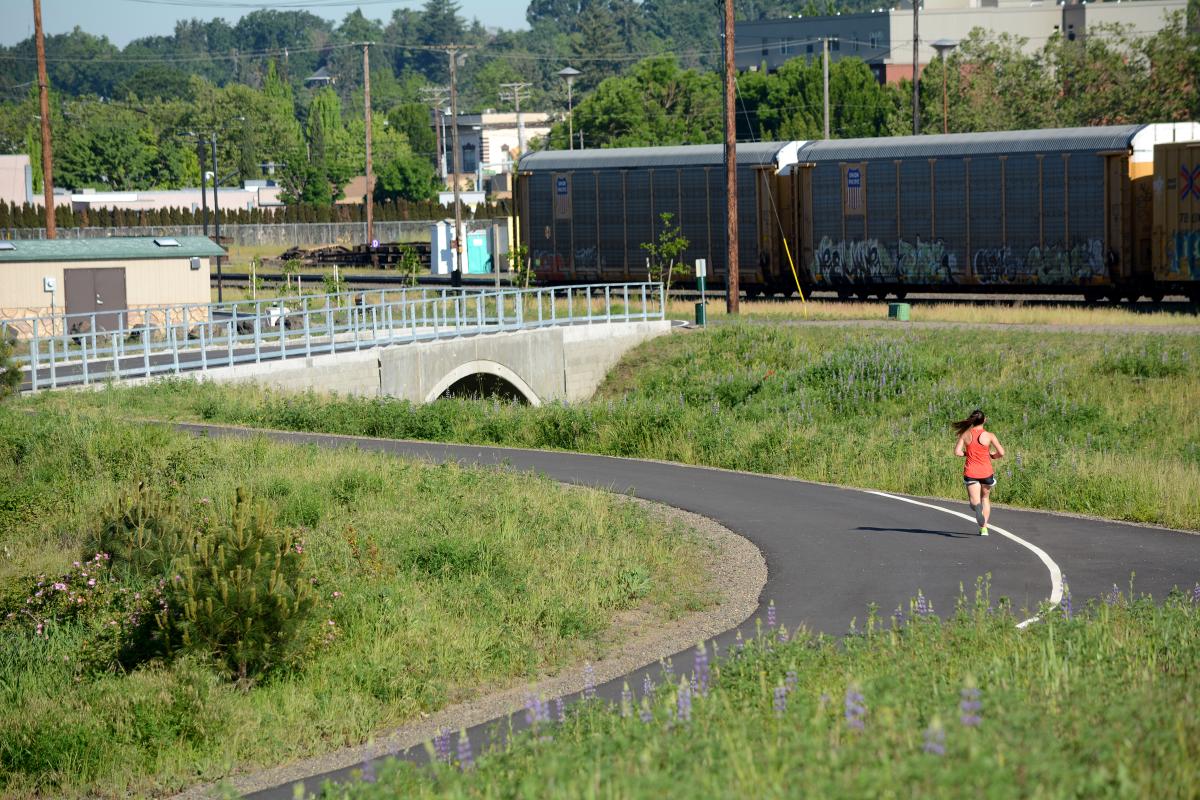 Washburne Historic District & Downtown
Pioneers first rolled into Springfield in 1848, choosing the location based on spring water and pasture land. Elias and Mary Briggs ran a ferry service across the Willamette River and built a flour and a saw mill. The city was incorporated in 1885. The Washburne Historic District was named after banker and miller C.W. Washburne and comprises 84 acres (34 ha) adjacent downtown Springfield. The neighborhood was added to the National Register of Historic Places in 1987.
The Mill Race, a channel connecting Mill Pond with the Willamette River, was constructed by Elias Briggs to support his mills. In 1901, the saw mill property and Mill Race were purchased by the Booth-Kelly Lumber Company. Weyerhaeuser soon owned 31,000 acres (12,545 ha) of local forest and opened an additional mill in 50s. Springfield was a booming industrial town during timber's heyday, and Lane County was known as the "Timber Capital of the World." In the 90s, the Weyerhaeuser Company drastically downsized its operations. The Booth-Kelly Center which had been bought by Georgia-Pacific now belongs to the City of Springfield.
Author Ken Kesey ("One Flew Over The Cuckoo's Nest") attended Springfield High School, and his family has many ties to the community.
Ken's brother Chuck, along with Chuck's wife Sue, started the brand "Nancy's Yogurt" at their Springfield Creamery in the 70s. Nancy Van Brasch Hamren, the company's bookkeeper, provided her grandmother's yogurt recipe. Now a multi-million dollar company, the Springfield Creamery has moved to larger facilities in Eugene.
Learn more about the city's colorful past at the Springfield Museum's Historic Springfield Interpretive Center and immerse yourself in the Dorris Ranch Living History Farm, the nation's oldest commercial filbert (hazelnut) farm in continuous operation.
The Gateway Area
Embraced by the scenic Willamette and McKenzie Rivers, Springfield has always been a natural gateway to the region's outdoor adventures. The Eugene, Cascades & Coast Adventure Center and Cabela's Outfitters chose Springfield as the best location to cater to the large number of outdoor enthusiasts that pass through the community each year.
This Springfield neighborhood, right off Interstate 5, offers high density hotels, restaurants and shopping. Eugene residents enjoy close proximity to Springfield's The Shoppes at Gateway, two of the region's top hospitals (McKenzie-Willamette Medical Center and Sacred Heart Medical Center at RiverBend) and the community's extensive recreational sports and swimming center, Willamalane Park and Recreation District.
Likewise, Springfield residents have easy access to many of Eugene's amenities, from the UO's Autzen Stadium and Matthew Knight Arena to Alton Baker Park and Oakway Shopping Center. Connected by miles of beautiful bike paths, the public bus system and the efficient EmX line; traveling between the two communities is a seamless experience.
MAP IT
Visitors, new residents and new businesses receive a warm welcome and information specific to the city of Springfield and adjoining areas. Get information on shopping, attractions, events and recreational opportunities.

101 S A St, Springfield OR 97477

P: 541.746.1651

Book Now
MAP IT
Springfield Economic Development is here to help your business grow. With the goal of bringing more businesses to Springfield, and helping the ones already located in Springfield to flourish, Springfield Economic Development is a great resource for you and your organization. The Springfield Economic Development office can help your business with building permits, business licensing, municipal codes, and much more. Take advantage of these resources as you and your organization work to navigate the ever-changing landscape of today's economy, and business real estate world.

225 5th St, Springfield OR 97477

P: 541.726.3700

Book Now
MAP IT
The Washburne Historic District in Springfield was added to the National Register of Historic Places in 1987. It covers over 29 blocks loosely bound by A St, Pioneer Pkwy, G St and 10th St (adjacent downtown Springfield). The neighborhood includes working class homes built between the 1890s and the 1940s. Names of the original residents are posted on many of the houses. The Historic District is named for C.W. Washburne who was a prominent banker and mill owner in Springfield. He was the owner and operator of Lane County's most successful grist mills.

Springfield, Springfield OR 97477