Lane County is brimming with development projects. A thriving tech industry, several colleges including the University of Oregon, and the coming World Athletic Championships 2021 at Hayward Field have thrust the Eugene-Springfield metro into an international spotlight.
Travel Lane County is leveraging the attention to market the Eugene, Cascades & Coast region as a premier visitor destination. The following list of development projects will help provide the infrastructure to attract and support tourism and enrich the quality of lives for our residents. This list includes just a few highlights, as our communities from the mountains to the coast are continuously thinking of ways to invigorate local stewardship, enhance accessibility for all, inspire and support local business, honor the arts, develop sports and strengthen the health and well-being of our residents.
Community & Business Development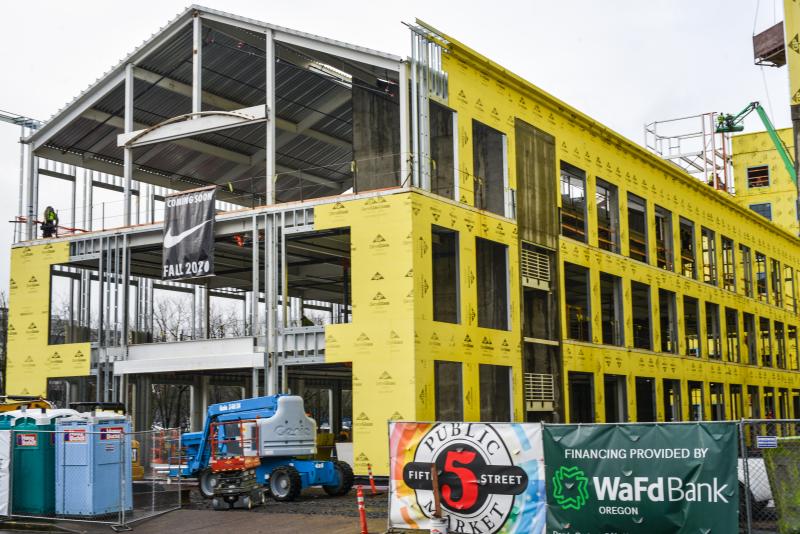 5th Street Public Market Expansion by Melanie Griffin

Location: Downtown Eugene's Market District, at 6th Ave & Pearl St
Status: Under construction / Completion scheduled for Fall 2020
Developer: Obie Companies

Vision: A mixed-use hub downtown that furthers the vibrancy and atmosphere of the current 5th Street Public Market. The Gordon Hotel adds 82 boutique hotel rooms to downtown along with 2,000 sq feet of meeting space. It will include a 4,063 sq ft restaurant and a 3,377 sq ft rooftop lounge. The adjacent Gordon Lofts will have a fitness center, rooftop garden and 127 apartments for urban living and extended stays. Retail space includes the "Market Building" with 11,000 sq ft of ground retail anchored by a new Nike store. The second and third floors will house HQ Office's co-working spaces. An all weather, glass-covered "Market Alley" will connect the venues with approximately 14 additional restaurant and retail spaces opening onto a covered promenade. This will include a "Makers Row" of  smaller 300 sq ft incubator spaces for business start-ups.
Location: University of Oregon campus on the north side of Franklin Boulevard 
Status: Under construction / Opening scheduled for Fall 2020
Architects: Ennead and BORA 
Vision: Beginning with a 160,000 sq ft phase one, this ten year, $1 billion project will culminate in a total of three science buildings dedicated to innovative research. The facilities are expected to attract graduate students focusing on bioengineering and precision medicine technology. A Knight campus skybridge crossing Franklin Boulevard will connect students, faculty and staff to the main UO campus science buildings. The first building to open in 2020 will include classrooms, meeting rooms, instructional laboratories, private laboratories, shared work space, wet lab spaces, dining and faculty offices. Architectural symbolism employs cascades of glass to represent water, in a nod to its site on the banks of the Millrace and its proximity to the Willamette River. The use of glass is also a tribute to "transparency in science" and augments the building's hyper-flexible and collaborative working spaces. Funding for the project comes from a variety of sources including a $500 million donation from Phil and Penny Knight.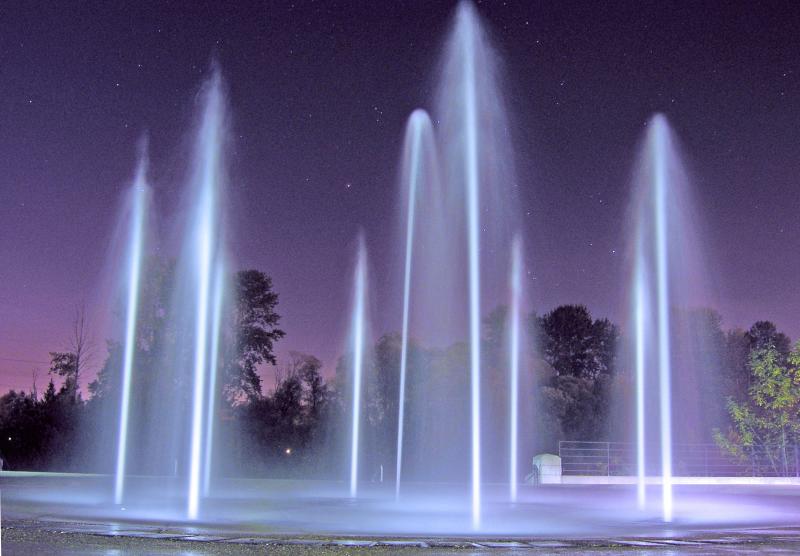 EWEB Fountain by G.R. Gracen

Location: Downtown Eugene, former EWEB property along the Willamette River 
Status: Infrastructure in progress / Completion scheduled for spring 2021
Developers: Williams/Dame & Associates, City of Eugene
Design Consultant: Walker Macy

Vision: Sixteen acres of downtown riverfront property will be transformed into a business and recreation hub featuring a three acre-riverfront park with pedestrian and cycling paths, river views, river access, natural areas, public amenities, gathering and play spaces. An adjacent one-acre public plaza will provide additional event and gathering space. The area around the park will be filled out with restaurants, retail, offices and public spaces.The estimated cost for the park development is $14 million.

Location: Downtown Eugene within the riverfront development footprint
Status: Design conception 
Developers: deChase Mikis Development, Mark Frohnmayer/Acrimoto

Vision: The preservation and transformation of the 88-year-old steam plant into a mixed-use center. The building on the banks of the Willamette River would combine a brew pub, small eateries with a shared kitchen, a performance stage, co-working spaces, offices and retail. Short term uses for the adjacent open space could serve as festival grounds for the World Athletics Championships in 2021.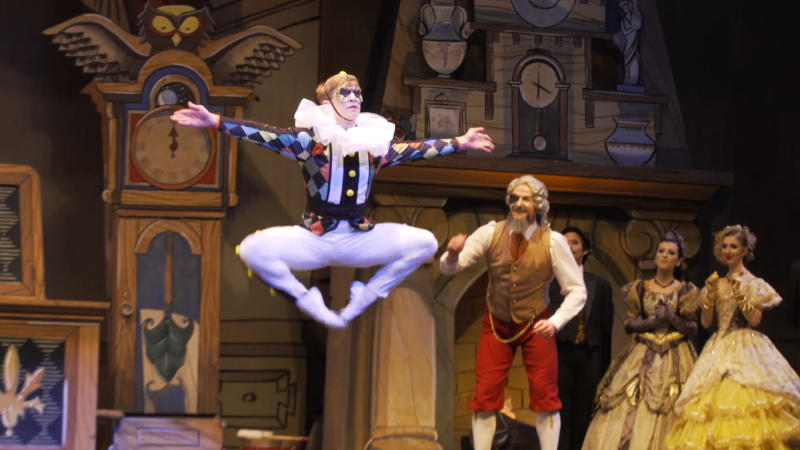 The Eugene Ballet Performs The Nutcracker

Location: Eugene's Midtown at 16th & Pearl
Status: Fundraising
Developers/Architects: Alex Haugland, Dustrud Architecture, Essex Construction
Budget: $4.2 million

Vision: A mixed use development that features large art studios and offices and 40 residential condominiums. Along with serving as headquarters for the Eugene Ballet with it's academy of over 250 dance students; the Midtown Arts Center will house the Eugene Opera, Eugene Concert Choir, Eugene Mozart Players, Chamber Music Amici, Lane Arts Council and Dustrud Architecture.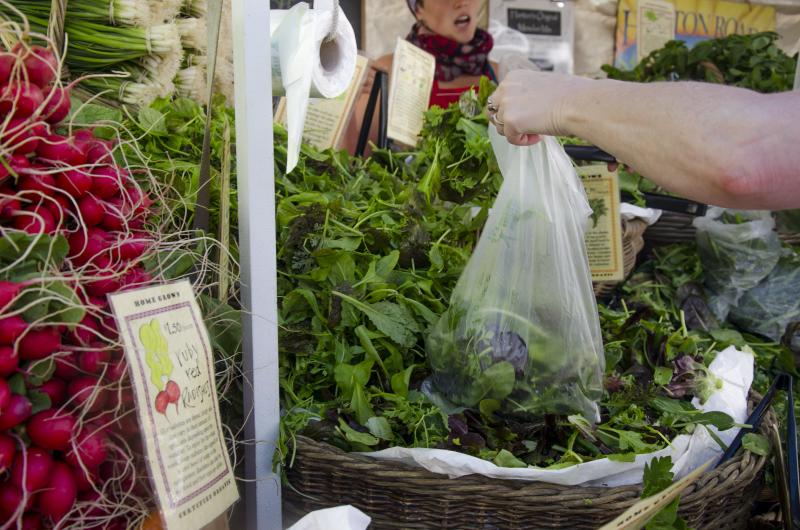 Lane County Farmers Market by Katie McGuigan

Location: Current "park blocks" at 8th & Oak, encompassing the "butterfly parking lot" and the Lane County Free Speech Plaza
Status: Design conceptions

Vision: Re-imagination of one of the most popular downtown spaces which currently hosts the Saturday Market and the Lane County Farmers Market. The plan includes creating an all-season permanent farmers market, an improved Saturday Market site, a new Eugene City Hall and more accessible, dynamic community spaces for gathering.
Top photo: Berwick Hall groundbreaking construction on the UO campus by Josh Gren.  
New sports facilities and parks are slated for development across Lane County.