The Eugene, Cascades & Coast region is home to many notable sports teams and sports. From our beloved University of Oregon Ducks to our proud TrackTown USA history, the local community turns out for everything from baseball to roller derby. With the leadership of the Eugene, Cascades & Coast Sports Commission and continued investment in our sports venues and programs, this region is a powerhouse of activity. Listed below are just a few of the upcoming projects that facilitate both incoming sports events and the diversity and quality of sports programs accessible in the community.
Sports & Recreation Development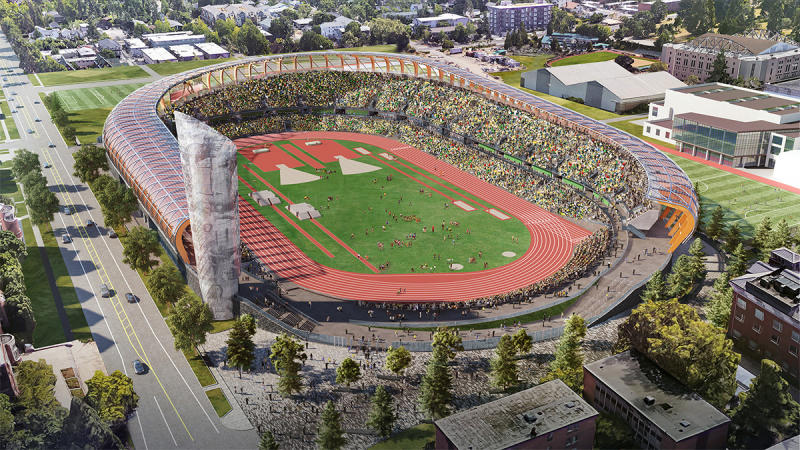 Artist rendering of Hayward Field at University of Oregon

Location: University of Oregon campus, South University Neighborhood, E 15th & Agate
Status: Completion on track for May 2020
General Contractor: Hoffman Construction

One of the most anticipated and eagerly watched construction projects is the Hayward Field renovation. This historic site on the University of Oregon campus has been home to track and field since 1921. Hayward Field's new stadium will be dramatic with an innovative design and advanced technology. A ten-story viewing tower, reminiscent of the Olympic torch, will house interpretive exhibits, offices and an observation deck. The stadium features 12,650 permanent seats and the capacity to expand seating to nearly 25,000 – a necessity for the World Athletics Championships scheduled for 2021 (which will be the largest sports event in the world that year). The new facility will include a nine-lane outdoor track, a six-lane indoor practice track, areas for field event practice, meeting rooms, locker rooms, equipment room, video room, treatment and training clinics and more. The renovation has been privately funded through donations from Phil and Penny Knight and 50 donors.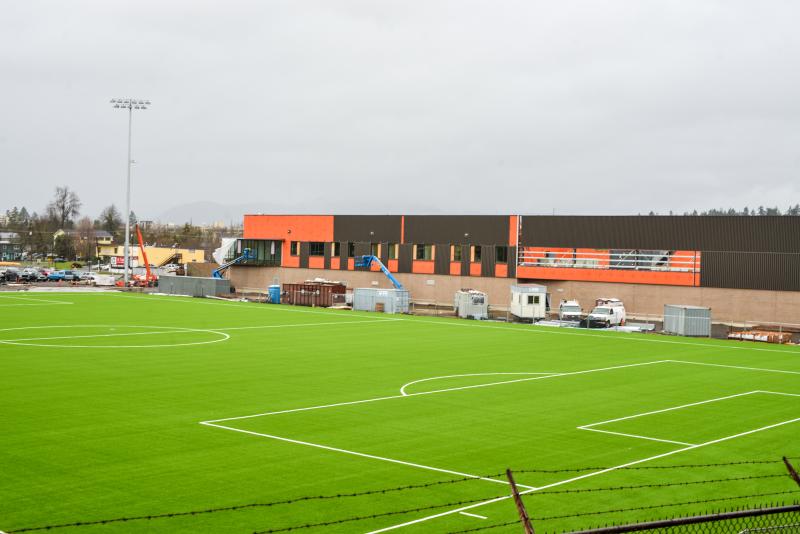 Civic Park Construction by Melanie Griffin

Location: Southeast Eugene, across from South Eugene High School
Status: Under construction, continued fundraising, opening June 2020

On the historic site of the former Eugene Emerald's baseball stadium, phased development of the Civic Park complex will include a multi-sport turf field, a 2,500-seat grandstand and a 40,000 sq foot fieldhouse with a gym for courtsports. The four indoor basketball courts will also accommodate volleyball, pickleball, badminton and futsal. The outdoor turf field will be utilized for soccer, football, rugby, lacrosse and ultimate frisbee. Additionally there will be a children's play area, bicycle parking, food court and broadcasting booth. The facility will be the primary headquarters for KIDSPORTS which serves 15,000 children citywide. 
Location: West Eugene, Bethel neighborhood, Golden Gardens St & Jessen Dr
Status: Design conceptions
Developer: City of Eugene
Vision: Continued preservation of this natural park area along with enhancing access with paths for walking, birding and wildlife observation around the ponds. Phased development of sports facilities will include baseball/softball diamonds and  rectangular fields for soccer and other sports. Outdoor courts along with a BMX area and an off-lease dog area are included in the plan.
Location: Southeast Eugene, 24th & Hilyard (former Roosevelt Middle School site)
Status: Fundraising
Vision: A 70,000 square foot complex that would include a gymnasium for basketball, volleyball, pickleball and more; an indoor aquatic center with a six lane lap pool, a recreation pool and spa; locker rooms; a preschool, kids' club rooms and child care; a community room and flexible teaching kitchen; staff offices and outdoor play spaces. The current YMCA Tennis Center on Patterson Street would be expanded to include two more indoor courts (where the current YMCA is now). Long term goals include the addition of branch locations, for example; in West Eugene at Bethel Community Park.
Location: Springfield, 7575 McKenzie Hwy
Status: Open
Developer: Willamalane
Vision: Dedicated trails through natural areas for mountain biking or hiking are free and open to the public. Trailhead amenities include a paved parking area, bike cleaning and repair stations and trail maps. Future expansion of the trail system, onto adjacent Bureau of Land Management property, is under evaluation.
Top photo: Track and field volunteers by Greg Lee.  
Lane County is brimming with development projects. A thriving tech industry, several colleges including the University of Oregon, and the coming World…