Back To Previous Page
Guide to Skiing From Eugene
Published: January 14, 2022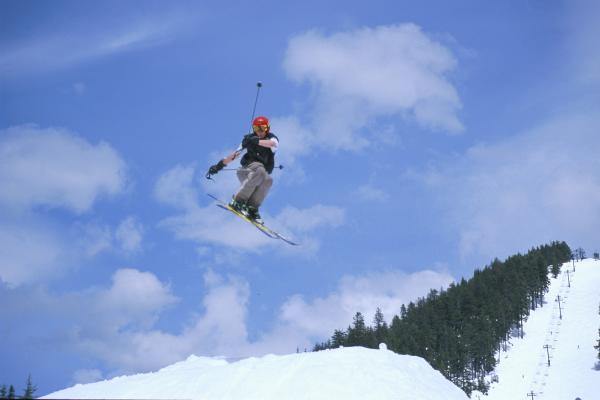 From Eugene there are two ski resort destinations: Willamette Pass and Hoodoo. Eugene's local ski shop, Berg's, rents skis and snowboards or you can arrange to rent on the mountains. Another awesome place to gear up is Eugene Gear Traders, which consigns gear including snowboards, snow shoes, snow pants, boots, goggles, hats, gloves and ski socks — ideal for rounding out your warm weather wear and equipment. A local shuttle service, PNW Rides, has shuttles on select days to nearby ski resorts with advance reservations. You can also stay in Oakridge or the McKenzie River area for a more leisurely skiing experience.
Willamette Pass Ski Resort
Willamette Pass is the closest, about an hour driving Highway 58 east at a base elevation of 5,120 feet (1.56 km). This smaller, family-friendly ski lodge is just above the mountain communities of Oakridge/Westfir where you can stop to dine or stay overnight. The ski resort offers over 500 acres (202 ha) of skiable terrain, with approximately half of it groomed. There are four lifts (including a six-person high speed lift) and one magic carpet for beginners. The mountain trails cater predominately to intermediate/beginner skiers, so this is a perfect place for family skiing. From the 6,683 foot (2 km) Eagle Peak summit take in the stunning 360-degree view of the Cascades and three glimmering lakes: Waldo, Crescent and Odell. Trails splinter off down all sides of the mountain, with many quiet woodsy runs in addition to the wide open face.
In addition to downhill skiing there are Nordic trails for cross-country and a terrain park for snowboarding. The lodge itself has locker rooms and lockers, a ski shop, a cafeteria and lunch room (you can also bring your own food) and a lounge with views of the "By George" run under the main lift to Eagle Peak.
Rent your gear in Eugene at Berg's or up on the mountain at the lodge (based on supply — so call ahead). Willamette Pass also offers two hour kids' camp (ages 4-12) on weekends, two-hour group lessons (ages 13+)  throughout the week, and private skiing or snowboarding lessons by appointment. Reservations for all camp and school programs recommended. The bunny hill is adjacent the ski school area and with its gentle slope and magic carpet it is an excellent hub for learning.
If you are looking for tubing or sledding, check out Salt Creek Sno-Park instead.
Please note that Willamette Pass Resort does not accept cash, American Express or personal checks. Back packs are not allowed on the lifts.
Hoodoo Ski Area
Hoodoo Ski Area is 90 minutes east along Highway 126 through the McKenzie River region. Stay in a riverfront lodge or cabin to be closer to the action. Stop for lunch at the Obsidian Grill or Takoda's restaurant. And to defrost after a day on the slopes, soak in the hot springs at either the mineral spring-fed swimming pool at Belknap Hot Springs or the natural multi-tiered pools at Terwilliger. 
The Hoodoo lodge sits at 4,668 feet (1.4 km) with five lifts whisking skiers to 34 runs, forty percent rated as "expert". The summit is at Oregon's Santiam Pass with plenty of wide open slopes across the gentle rounded butte and miles of Nordic tracks. Along with their 800 acres (323 ha) of terrain, Hoodoo's more extensive ski resort offers an autobahn tubing park – one of the largest tubing parks in the West. 
The lodge cafeteria and bar offers basic hot food and drinks. Hoodoo also offers ski school or daycare. Rent your gear on the mountain or shop their ski store.
Turn Your Ski Day into a Weekend
If a day on the slopes is not enough, stay close by in Oakridge/Westfir or along the McKenzie River. Imagine quiet evenings soaking in a hot tub or sitting by a crackling fire after a day on the slopes. Explore the nearby communities and discover farm-to-table dining, art galleries and hot springs. And most of all, enjoy the beauty of the staying in the mountains.