Back To Previous Page
How To Get To The Snow
Published: February 15, 2020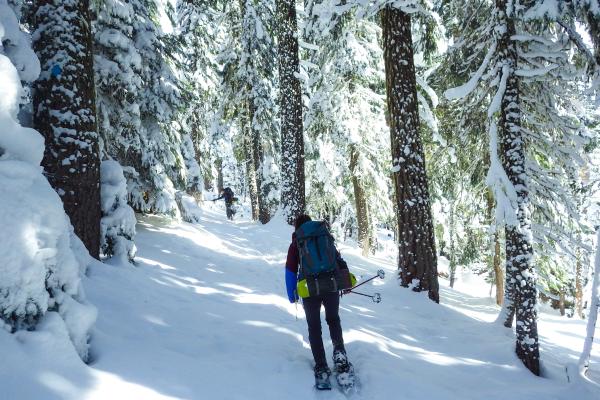 If you want to have a day or two to play in the snow this winter, the Cascade Mountains are calling! Just an hour from downtown Eugene, there are several options for making the most of a snowy adventure. Here are a few of our favorite ways to play in the snow.
Go with a Guide on a Customized Tour
Local tour guides make it easy to enjoy snowshoeing, snowmobiling, cross country skiing and even snow camping. As packages, transportation and group minimums vary, please check directly with the guide service. For example, the Cascades Outdoor Center based in Westfir provides snowshoeing expeditions with a picnic lunch. Gear is not included but they do have snowshoe rentals available.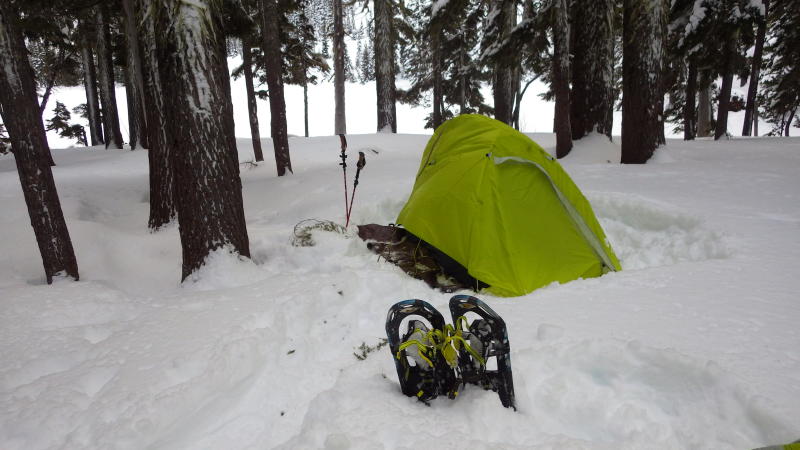 Snow Camping Tent Site by Joey Jewell
Take a Shuttle Bus to the Ski Resorts
Depending on snow levels and demand, Berg's ski shop offers a shuttle bus on some Saturdays, Sundays, Wednesdays and select holidays to Mt. Bachelor, Hoodoo and Willamette Pass during the winter ski season. Typically these jaunts depart early in the morning, arriving at the slopes just after the lifts have opened, and return to Eugene in the late afternoon or early evening. All bus trips require advance reservations. Berg's can also provide rental ski and snowboarding equipment and lift tickets to Mt. Bachelor and Hoodoo. Occasionally, Berg's will organize snowshoeing expeditions as well.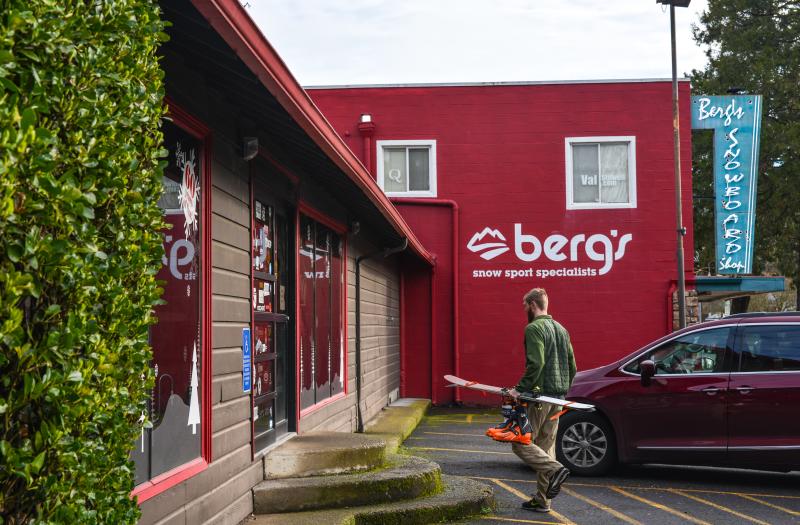 Berg's Ski Shop by Melanie Griffin  
Join an Adventure Group on an Outing
REI offers occasional cross-country and snowshoeing orientations at their Eugene location. Watch their calendar for group treks to nearby Sno-Parks.
The University of Oregon's Outdoor Program rents snow gear and leads field trips for snowshoeing, skiing and snowboarding. To participate, you must either be a UO student or join as a "community member" paying nominal annual dues.
In collaboration with Berg's, Hoodoo and the River House Outdoor Center; the City of Eugene also offers skiing and snowshoe tours.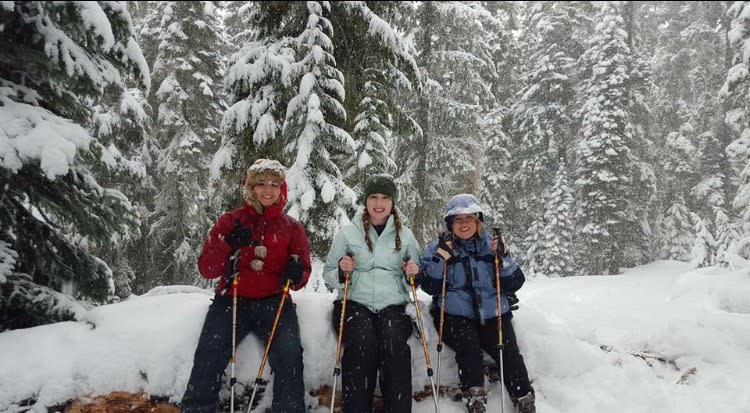 Snowshoeing at Willamette Pass by Hayley Radich
Drive Your Own Car
If you have a car with the required tires and/or chains, you can drive directly to the snow. Please check weather and road conditions first. The closest Sno-Park to Eugene is Salt Creek Falls which offers a maintained parking lot and restroom. Snowshoe to a spectacular waterfall or romp on the sledding hill. Other Sno-Park destinations include Gold Lake, ideal for cross country skiing; and Waldo Lake, most popular for snowmobiling. You will need to purchase Sno-Park permits in advance (required November - April), as passes are not sold onsite.
The closest ski resort is Willamette Pass, just past Oakridge/Westfir. They offer downhill runs and Nordic trails. Next there is Hoodoo, just past the McKenzie River region. Hoodoo has downhill runs, Nordic trails, night skiing and an autobahn tubing park. Further on is Mt. Bachelor.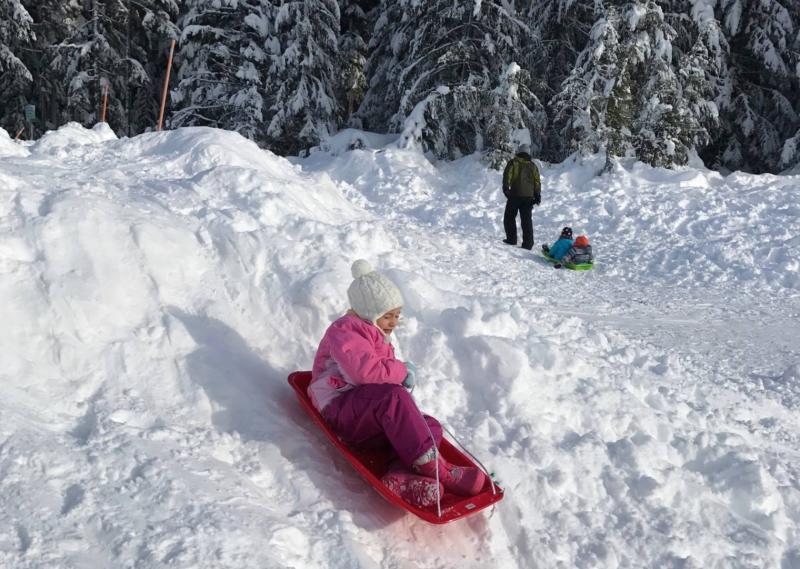 Salt Creek Sno-Park Sledding by Taj Morgan
Where to Get the Gear
If your guide doesn't provide it, you can rent or purchase snow equipment from local outfitters like Berg's, REI or UO's Outdoor Program, or purchase used equipment at Play It Again Sports. In Oakridge, inquire at the Willamette Mountain Mercantile, Willamette Pass resort or Odell Lake resort. In McKenzie River, Hoodoo is your best bet. Plan on bringing your own sled and equipment with you if you are heading to one of the Sno-Parks. Unlike the ski resorts, the parks do not have on-site rentals.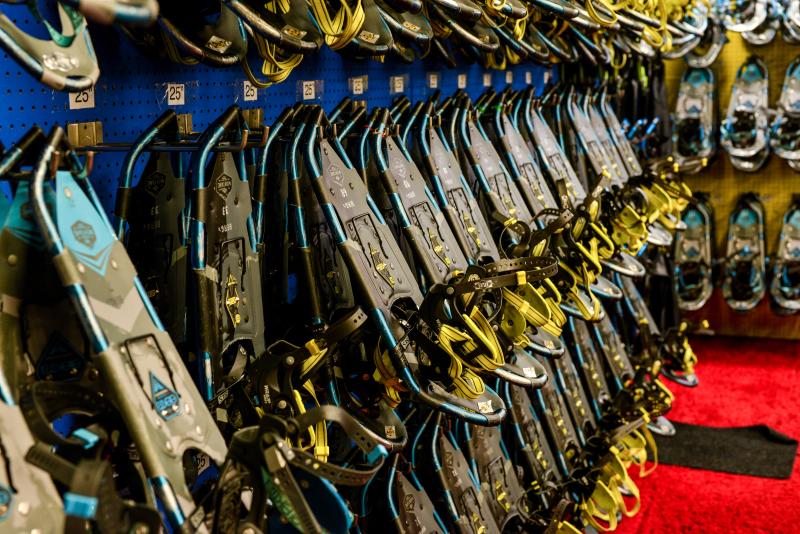 Berg's Ski Shop in Downtown Eugene by Melanie Griffin
Where to Stay
If you want to maximize your time in the snow, plan to stay overnight in the mountains.
What Else to Do
Before you head out, check out our Adventure Checklist to make sure you're prepared for the outdoors. Have fun in the snow!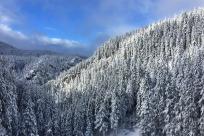 Spend a few days curled up in winter wonderland lodging, warming up with a steamy drink and a…
More
›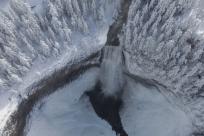 Sure, they're easy to visit in the summer – but intrepid road trippers who bundle up and visit…
More
›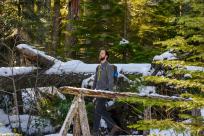 Bundle up, pull on a warm hat and boots that can handle the mud – you're going winter hiking!…
More
›